Analysis
Should We Be Concerned About the Milwaukee Brewers?
Currently in second place in their division, the Milwaukee Brewers are no longer looking like one of the best teams in the National League.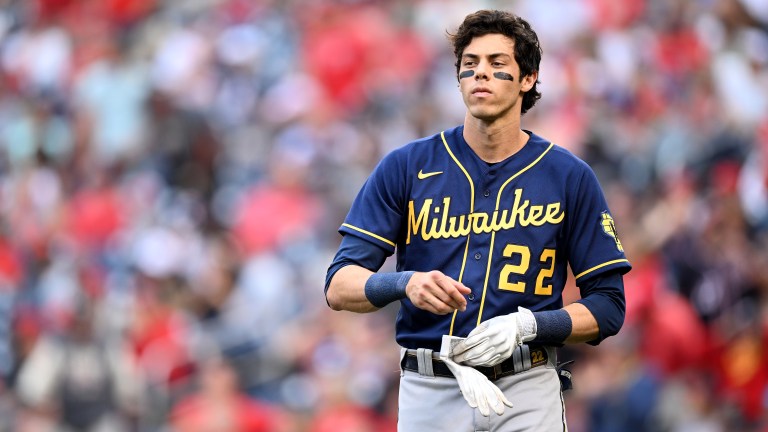 Following a 95-win season in 2021, the Milwaukee Brewers were the clear favorite in a mediocre NL Central in 2022. Not a soul wanted to see their favorite team match up against the monstrous three-headed gauntlet of Corbin Burnes, Brandon Woodruff and Freddy Peralta.
Their 3.13 ERA as a staff was the second-lowest mark in the sport. And if somehow you made it past this dominant rotation, Josh Hader and Devin Williams were waiting for you in the 8th and 9th innings.
Never a true offensive force of a team, their 91 wRC+ as a squad was the seventh-lowest in MLB. Still, behind such a dominant rotation and incredible pieces in the back end, they steamrolled through this division.
Then this team was bounced in the divisional round by the eventual World Series champion Atlanta Braves. Milwaukee only allowed twelve runs through the four games in this series, but the bats never came to play. Only scoring a combined six runs, the offense never gave them a chance to win.
There was a clear hole with this team heading into the offseason. Did they address it? Well, kind of. Trading for veteran outfielder Hunter Renfroe and signing former MVP Andrew McCutchen seemed like decent moves. But it simply hasn't been enough for the 2022 Milwaukee Brewers.
After a hot start, Milwaukee now finds themselves in second place in the NL Central. The Brewers have lost eight of their last ten. Dealing with a plethora of injuries and a regression from their starting rotation has left the team in shambles. With St. Louis beginning to surge and firing on all cylinders, it's a frightening time for Brewers fans.
So, it begs the question, should we be concerned with the future of this team? Let's find out.
A Decimated Starting Rotation
The 2021 Milwaukee Brewers found an incredible amount of success due to their pitching staff. This team was able to snag away a multitude of games, without their offense producing whatsoever, simply due to the heroics of this rotation. Possessing the Cy Young winner in Corbin Burnes, a top-10 pitcher in all of baseball with Brandon Woodruff, and a top-25 pitcher in the game with Freddy Peralta, this staff was electric. Their 3.29 FIP was the lowest mark in all of baseball to go along with the lowest home runs per nine, at 0.82. They were nothing short of incredible.
While I cannot say that this staff has now transitioned into being a poor rotation, we are now far removed from their 2021 success. Easily a top-three rotation in all of baseball last year, they've taken a step back this season.
The Brewers 3.72 staff ERA is the tenth-lowest in baseball, and Milwaukee's 3.65 FIP is the eighth-lowest in all of baseball. By no means are these numbers poor whatsoever. But with such a deflated offense that solely relies on its starters to win them games, it hasn't been good enough.
Reigning Cy Young award winner Corbin Burnes has replicated his incredible 2021, striking out hitters at a staggering 32.1% clip while pitching to the tune of a 2.52 ERA. Burnes isn't the issue. If anything, he's the best player Milwaukee has on their current roster, outside of closer Josh Hader. The issue here is with the aforementioned Woodruff and Peralta, who have been a shell of themselves in 2022.
Brandon Woodruff's breakout campaign in 2021 has unfortunately resulted in a complete fall off this season. Woodruff's 2.56 ERA last season was the fourth-best mark in the National League. He's seen far less success in 2022. His 4.74 ERA is the worst among Brewers qualified starters. He's walking more opponents this season at 7%, up from 6.1% the previous year. His WHIP is at a career-high 1.24, and his FIP is the highest it's ever been since his rookie year at 3.82. One of the best pitchers in baseball last campaign, we've seen a ghost of Brandon Woodruff this season.
Freddy Peralta is another name that we can dive into as well, as he's experienced a very similar decrease in production. Peralta was awarded with a five-year extension after the 2021 season. Tallying 4.0 WAR last year, his 2.81 ERA was among one of the best in baseball.
Peralta's 2022 has been odd to say the least. At it's core, it could be interpreted as a bad season, similar to Woodruff. A 4.42 ERA is bad yes, but an expected ERA of 2.98 suggests that there's been some unluckiness. His FIP of 2.13, a career-low, also suggests this notion. The walks are down from 9.7% to 7.9% this season as well. An odd dynamic really. Peralta is sadly dealing with a lat injury, placed on the 60 day injured list on Tuesday. So unfortunately, we won't see him for awhile.
A Mediocre Offense Continues To Be Mediocre
As previously stated, the Milwaukee offense was nothing to spout off about in 2021. With minimal additions coming into this campaign, the change has been minimal. As a team, they've upped their team wRC+ from 91 to 95 this season. While still below league average, it's a slight improvement. But nothing to boast about.
Former perennial MVP candidate Christian Yelich has continued to struggle this season. After hopes of a bounce back campaign from the 30-year-old, he's fell flat once again. Slashing .242/.327/.377 with a .704 OPS, it's hard to imagine that this was a player who was once a top five outfielder in the entire sport. Friendly reminder that Yelich hit 44 home runs in a season just three years ago. There is a possibility that we might've seen the best of Yeli, and it's sad to see.
The Brewers outfield as a whole has been lackluster. Yelich, Hunter Renfroe, Lorenzo Cain, Andrew McCutchen and Tyrone Taylor have all been league average or below average hitters this season. Renfroe is the only one out of that group that has a 100 wRC+, with the others all below that mark.
Both Brewers catchers have surprisingly created for a nice tandem in 2022. With both Omar Narvaez and Victor Caratini combining for a 120 wRC+, they've been a bright spot.
First baseman Rowdy Tellez has also been a nice surprise for this Brewers team to enjoy. Mashing 10 home runs and driving in 38 runners in his 60 games this year, he's provided a nice spark on offense for this team. The 38 Brewers he's brought home is already two more than he did last season, so it's been a nice improvement for him.
Names like Willy Adames and Kolten Wong have been decent contributors this season, but nothing special. The middle infield pairing has posted a combined 102 wRC+ season, driving in 45 runs all together. The two have combined for 16 home runs as well. Adames' 11 bombs leads the team, while accumulating the fourth-highest WAR on the squad at 1.4.
While there are some very specific bright spots in this Brewers' lineup, it's been a relative let down. Of course, there is always time for this team to turn it around and magically become one of the best offenses in baseball. But this has always been their issue. They've relied on their pitching staff to win them games without scoring a ton of runs. And it finally seems as if their luck has run out.
No Longer The Kings Of The NL Central?
The St. Louis Cardinals are flying. Winners of four of their last five series, the Cardinals are suddenly looking like the class of the NL Central. Is the reign of the Milwaukee Brewers coming to a close?
The advantage of playing in an extremely weak NL Central is very obvious. The Pirates, Cubs, and Reds all seem to be in rebuilding phases, allowing both St. Louis and Milwaukee to grasp relatively easy series wins against such weak opponents. The old saying goes, "To be the best you have to beat the best", and that statement holds immense value when discussing the 2022 Milwaukee Brewers.
Milwaukee obtains a poor 12-17 record against teams that have a record above .500. While it is incredibly fortunate to play in the division they do, they in turn don't see as many strong opponents as a team with such high aspirations should.
With the Cardinals looking like one of the best teams in baseball and Milwaukee seemingly in a free fall, it seems like there's been a power shift in the NL Central. A mediocre offense and a downturn in starting rotation production has left the Brewers wondering where it all went wrong.
We could be having a very different conversation in just a few short months about this team, but the future seems dark and hazy for the Milwaukee Brewers in 2022.