Analysis
Is Jakob Junis the San Francisco Giants Next Great Find?
After several years as a mop-up starter with the Royals, Jakob Junis is looking like the Giants latest successful reclamation project.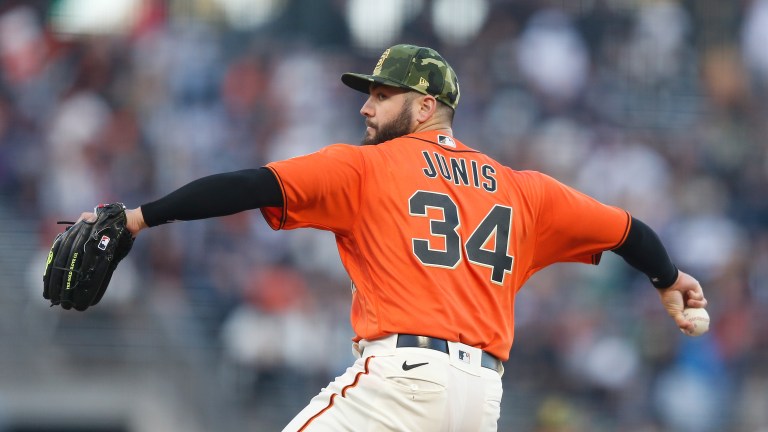 As the San Francisco Giants rotation continues dealing with multiple injuries, veteran righty Jakob Junis has emerged as one of the team's most consistent arms. Despite starting the year at Triple-A, where he struggled mightily, Junis has become a trustworthy starter in San Francisco. The veteran has recorded a 2.76 ERA across six appearances (four starts) this season. He's racked up 24 strikeouts across 32.2 innings pitched while surrendering just 26 hits, five walks, and four home runs.
Junis signed a one-year, $1.5 million contract with the Giants this offseason. A five-year MLB veteran, Junis had spent his entire professional career in the Kansas City Royals organization. From 2017-2021, Junis appeared in 105 games (89 starts) for the Royals striking out nearly a batter per inning but struggled to limit home runs and hard contact. Entering 2022, Junis had a 4.82 career ERA and was coming off his third-consecutive season with an ERA north of 5.00.
After the Giants optioned Junis to Triple-A at the start of the regular season, it looked like he could quickly find himself designated for assignment. In Junis' first three starts, he walked nearly 10% of the batters he faced, allowed five home runs, and finished 11.1 innings with an 8.74 ERA. Yet, rather than looking elsewhere on the 40-man roster when a big-league need arose, San Francisco bet against the small sample and recalled Junis to their big-league roster.
He quickly proved them right.
Junis made a fantastic first impression on April 22nd, completing five shutout innings in relief in a 7-3 Giants victory over the Nationals. His sweeping slider, which has always been his best pitch, featured prominently that day, pairing well with his low-90s fastball and changeup. Junis only recorded four strikeouts but showed a knack for generating whiffs as well. It indeed proved a sign of things to come.
In the month since his Giants' debut, Junis has lasted at least five innings in all eight of his appearances. He helped salvage the bullpen when injuries forced manager Gabe Kapler to consider multiple bullpen games each trip through the rotation. Now, he has solidified a spot every fifth day.
How did the SF Giants unleash this Jakob Junis?
Did the Giants really help transform a career back-end starter into a top arm?
The answer is a bit more complicated than yes or no. A look at Junis' small sample of success shows some obvious warning signs for regression. Despite a career .305 BABIP, Junis has benefitted from just a .239 BABIP this season. His 83.3% strand rate is also well above league and his career averages. Both will likely move in the other direction over the coming months.
With that said, Junis could remain a solid mid-rotation option even if he suffers some negative regression. Junis is posting career bests in analytical ERA estimators like xERA (4.09), FIP (3.79), and xFIP (3.53), stats that attempt to separate luck from a pitcher's performance.
On the surface, it looks like Junis' improvements can be traced to changing his pitch usage. Junis has never been able to rely too heavily on his below-average fastballs, but has generally mixed and matched a four-seamer, cutter, and sinker on at least 50% of his pitches. This year, Junis has almost entirely stopped using a four-seamer or cutter and is throwing off-speed pitches nearly 70% of the time, per Baseball Savant.
Junis' has always thrown his slider as much as any other pitch, but he's taken that to another level with the Giants, throwing it 53.2% of the time. His changeup has seen a similar spike in usage. Previously, Junis has never thrown his changeup more than 6.9% of the time in any season. In 2022, he has thrown his changeup on 14.9% of his pitches. Both of those changes have paid off.
Opposing hitters are batting just .143 and .187 against Junis' changeup and slider, respectively, this season. Both offerings have generated whiffs on more than 25% of opposing swings. Statcast data suggests each pitch has been hit a bit harder than the numbers suggest, but both are still clearly more effective than his sinker. Even amidst Junis' success, opponents are teeing off on his sinker, posting a .345 average and .517 slugging percentage against it this season.
The SF Giants did not unearth another Cy Young candidate from the shadows in Jakob Junis. However, by having him lean more heavily on his best pitch, the Giants may have helped another arm reach their full potential.