List
September Call-Ups for All 30 MLB Teams
Who did your favorite team add to the roster for the final month of the season?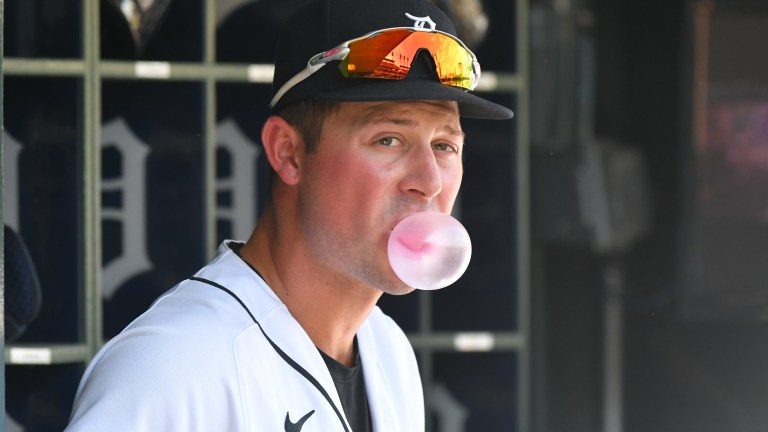 September has arrived, which means the roster size of Major League clubs has expanded from a 26-man limit to 28 players for the final month of the season.
For contending teams, many may be looking to try out certain players in certain situations as a postseason rehearsal. For those teams who have seen the writing on the wall through the dog days of summer, September Call-Ups present the opportunity to get prized prospects the opportunity to join the big boys for 30 days.
Here's who all 30 teams made the call to add for the home stretch. Unless noted that they are the player's MLB stats, all stats provided are across all levels of the Minor Leagues so far this season.
Arizona Diamondbacks
IF Wilmer Difo (74 G, .269/.315/.396, 7 HR, 43 RBI, 42 K in 312 PA)
RHP Keynan Middleton* (18 G, 18.0 IP, 9 H, 4 ER, 26 K, 7 BB)
LHP Kyle Nelson* (MLB: 38 G, 34.1 IP, 1.57 ERA, 27 K, 8 BB, 6.0 H/9)
*Middleton and Nelson were reinstated from 15-Day Injured List
Atlanta Braves
IF Orlando Arcia* (MLB: 56 G, .243/.321/.405, 7 2B, 7 HR, 26 RBI)
RHP Jesse Chavez* (MLB: 34 G, 44.0 IP, 2.66 ERA, 50 K, 12 BB, 9.0 H/9)
*Arcia was reinstated from 10-Day Injured List
*Chavez was claimed off waivers from the Los Angeles Angels
Baltimore Orioles
1B Jesús Aguilar (MLB: 114 G, .234/.284/.384, 18 2B, 15 HR, 49 RBI, 88 OPS+)
LHP DL Hall (24 G, 20 GS, 84.1 IP, 4.48 ERA, 137 K, 50 BB, 7.2 H/9)
Boston Red Sox
C Connor Wong (81 G, .288/.349/.489, 20 2B, 15 HR, 44 RBI, 7-10 SB)
RHP Eduard Bazardo (37 G, 57.1 IP, 3.45 ERA, 60 K, 19 BB, 10.2 H/9)
Chicago Cubs
RHP Jeremiah Estrada (34 G, 48.1 IP, 1.30 ERA, 78 K, 20 BB, 14.5 K/9, 5.8 H/9)
IF David Bote (38 G, .252/.319/.385, 8 2B, 3 HR, 22 RBI)
Chicago White Sox
OF Adam Haseley (91 G, .243/.313/.428, 17 2B, 14 HR, 59 RBI, 15-18 SB)
RHP Matt Foster (MLB: 48 G, 45.0 IP, 4.40 ERA, 42 K, 17 BB, 8.6 H/9)
Cincinnati Reds
IF Spencer Steer (106 G, .274/.364/.515, 30 2B, 23 HR, 75 RBI)
RHP Fernando Cruz (51 G, 23 SV, 56.0 IP, 2.89 ERA, 66 K, 19 BB, 6.3 H/9)
Cleveland Guardians
SS Ernie Clement (MLB: 58 G, .203/.268/.224, 3 2B, 6 RBI)
RHP Cody Morris* (9 G, 6 GS, 21.1 IP, 1.69 ERA, 39 K, 6 BB, 3.8 H/9)
*Morris was reinstated from 60-Day Injured List
Colorado Rockies
INF Alan Trejo (67 G, .296/.331/.551, 20 2B, 16 HR, 52 RBI)
RHP Chad Smith (32 G, 35.0 IP, 3.09 ERA, 40 K, 11 BB, 6.9 H/9)
Detroit Tigers
1B Spencer Torkelson (MLB: 83 G, .197/.282/.295, 11 2B, 5 HR, 21 RBI, 69 OPS+)
SS/3B Ryan Kreidler (60 G, .214/.356/.409, 14 2B, 8 HR, 26 RBI, 17-18 SB)
Houston Astros
RHP Hunter Brown (23 G, 14 GS, 106.0 IP, 2.55 ERA, 134 K, 45 BB, 5.9 H/9)
C Yainer Diaz (105 G, .306/.356/.542, 22 2B, 25 HR, 96 RBI, 79 K in 486 PA)
Kansas City Royals
RHP Daniel Mengden (21 G, 17 GS, 91.0 IP, 4.55 ERA, 76 K, 50 BB, 8.3 H/9)
OF Nate Eaton (91 G, .285/.358/.465, 14 2B, 13 HR, 51 RBI, 23-28 SB)
Los Angeles Angels
OF Ryan Aguilar (88 G, .280/.427/.517, 13 2B, 15 HR, 48 RBI, 11-14 SB)
RHP Zack Weiss (43 G, 50.0 IP, 4.50 ERA, 65 K, 21 BB, 7.9 H/9)
Los Angeles Dodgers
LHP Clayton Kershaw* (MLB: 16 GS, 90.1 IP, 2.59 ERA, 94 K, 18 BB, 7.0 H/9)
3B Miguel Vargas (113 G, .304/.404/.511, 32 2B, 17 HR, 82 RBI, 16-21 SB, 71 BB, 76 K)
*Kershaw was reinstated from 15-Day Injured List
Miami Marlins
OF Bryan De La Cruz (MLB: 90 G, .205/.249/.332, 10 2B, 7 HR, 21 RBI, 3-3 SB, 64 OPS+)
RHP Jeff Brigham (30 G, 43.0 IP, 3.98 ERA, 69 K, 21 BB, 7.3 H/9)
Milwaukee Brewers
RHP Luis Perdomo (24 G, 30.1 IP, 2.67 ERA, 33 K, 4 BB, 6.2 H/9)
OF Esteury Ruiz (99 G, .332/.450/.523, 29 2B, 13 HR, 51 RBI, 70-83 SB)
Minnesota Twins
LHP Austin Davis* (MLB: 50 G, 54.1 IP, 5.47 ERA, 61 K, 29 BB, 9.3 H/9)
OF Billy Hamilton (25 G, .188/.264/.229, 4 2B, 6 RBI, 5-5 SB)
*Davis was claimed off waivers from the Boston Red Sox
New York Mets
IF Deven Marrero (36 G, .217/.309/.325, 3 HR, 17 RBI, 3-4 SB)
RHP Adonis Medina (MLB: 15 G, 23.1 IP, 4.63 ERA, 17 K, 5 BB, 9.6 H/9)
New York Yankees
SS Oswald Peraza (99 G, .259/.329/.448, 16 2B, 19 HR, 50 RBI, 33-38 SB)
IF Marwin Gonzalez* (MLB: 65 G, .200/.271/.323, 7 2B, 3 HR, 11 RBI)
*Gonzalez was reinstated from Paternity List
Oakland Athletics
LHP Ken Waldichuk (21 GS, 95.0 IP, 2.84 ERA, 137 K, 36 BB, 7.0 H/9)
OF Cody Thomas (10 G, .226/.306/.419, 3 2B, HR, 7 RBI)
Philadelphia Phillies
RHP Vinny Nittoli (32 G, 46.1 IP, 3.30 ERA, 59 K, 14 BB, 6.2 H/9)
C Donny Sands (60 G, .308/.411/.441, 10 2B, 6 HR, 36 RBI, 39 BB, 46 K)
Pittsburgh Pirates
RHP Johan Oviedo (15 G, 14 GS, 61.1 IP, 4.70 ERA, 64 K, 26 BB, 7.5 H/9)
OF Cal Mitchell (63 G, .339/.391/.547, 18 2B, 9 HR, 49 RBI, 8-9 SB)
San Diego Padres
IF Matt Beaty (38 G, .254/.351/.328, 2 2B, 2 HR, 13 RBI)
RHP Reiss Knehr (28 G, 12 GS, 77.2 IP, 6.95 ERA, 83 K, 50 BB, 9.3 H/9)
San Francisco Giants
OF Lewis Brinson (85 G, .299/.356/.574, 21 2B, 22 HR, 63 RBI, 5-8 SB)
IF David Villar (84 G, .275/.404/.617, 19 2B, 27 HR, 82 RBI)
Seattle Mariners
LHP Matthew Boyd* (6 G, 8.0 IP, 4 H, 2 ER, 14 K, 0 BB)
OF Taylor Trammell (MLB: 33 G, .226/.320/.441, 9 2B, 3 HR, 9 RBI, 2-3 SB)
*Boyd was reinstated from 60-Day Injured List
St. Louis Cardinals
OF Ben DeLuzio (94 G, .278/.353/.429, 16 2B, 9 HR, 49 RBI, 30-36 SB)
RHP James Naile (39 G, 67.1 IP, 3.48 ERA, 61 K, 20 BB, 9.5 H/9)
Tampa Bay Rays
RHP Matt Wisler* (MLB: 38 G, 42.0 IP, 2.36 ERA, 34 K, 14 BB, 6.2 H/9)
IF Jonathan Aranda (104 G, .318/.394/.521, 26 2B, 18 HR, 85 RBI)
*Wisler was reinstated from 15-Day Injured List
Texas Rangers
RHP Jesús Tinoco (35 G, 44.0 IP, 3.27 ERA, 51 K, 17 BB, 6.8 H/9)
OF Nick Solak (57 G, .278/.371/.489, 15 2B, 10 HR, 45 RBI, 6-6 SB)
Toronto Blue Jays
RHP Casey Lawrence (20 GS, 111.0 IP, 2.76 ERA, 92 K, 17 BB, 6.8 H/9)
OF Bradley Zimmer* (MLB: 86 G, .130/.209/.237, 4 2B, 2 HR, 3 RBI, 5 BB in 103 PA)
*Zimmer was claimed off waivers from the Philadelphia Phillies
Washington Nationals
C Tres Barrera (55 G, .254/.338/.424, 7 2B, 7 HR, 25 RBI)
RHP Mason Thompson (14 G, 4 GS, 18.0 IP, 3.50 ERA, 26 K, 5 BB, 8.5 H/9)