Analysis
Seattle Mariners Will Need More From J.P. Crawford This Season
The Seattle Mariners will need J.P. Crawford at his best if they really want to contend with the Houston Astros in the AL West this season.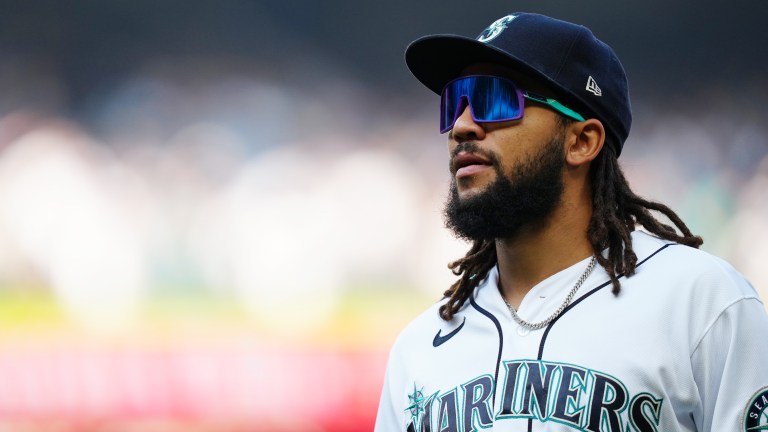 If you flip the channel on your MLB TV package over to the Mariners feed this season and look out towards shortstop, you will set your eyes on a familiar face. The 6'2 athletic prowess with dreadlocks flowing just below his shoulders, constantly flashing that quick flick of the wrist on throws across the diamond, surrounded by the chants of his abbreviated first and middle name across T-Mobile Park.
JP Crawford has been a staple at the Mariners six-hole since June of 2019, just a few months after he was traded to Seattle from Philadelphia that winter in a package that was highlighted by Jean Segura being shipped off to the city of brotherly love.
Now, in 2023 and potentially beyond that, Crawford will remain starting at shortstop in Seattle. But that wasn't always so set in stone. The Mariners had numerous chances to move on from Crawford in each of the last two off-seasons with reinforcements that would have provided much more thump in the lineup than the defense-first shortstop.
MLB Network released their "Top 10 Shortstops" in baseball entering the 2023 season. Each of the top six players were available via trade or free agency within the last two years. But none of whom are now wearing the teal-billed Mariners cap.
After 2021, in which Crawford posted a 3.3 fWAR season and racked up eight Defensive Runs Saved, Mariners President of Baseball Operations Jerry Dipoto made it abundantly clear that Crawford would be the team's shortstop in 2022. Any outside help would be brought in to play a different position.
Seattle still heavily scoured the name brand section of the 2022 free agent class, with interest in the likes of Trevor Story, Kris Bryant and Marcus Semien. In fact, it was reported that they offered Story essentially the same contract that the Red Sox did, with the former Rockie ultimately choosing to call Fenway Park his new home. But Story and Semien were sought after with the idea of playing second base, and Bryant is of course no shortstop. They did not, however, show much reported interest in either Corey Seager or Carlos Correa.
The Mariners believed in Crawford.
Scratch that. Their feelings were rooted deeper than "belief". The organization doubled down. They handed Crawford a team-friendly extension, a five-year, $51 million deal, buying out two free agent years right before Opening Day.
Then after 2022, following a season in which Crawford had more than his fair share of struggles, Dipoto's tone on the subject slightly altered. He preached that they still expected Crawford to be their shortstop, but if they found "the right guy" in free agency they would adjust accordingly, meaning Crawford would slide over to second base.
That "right guy" was presumably Trea Truner. He was the lone shortstop on the Mount Rushmore class (the others being Correa, Xander Bogaerts and Dansby Swanson) that the Mariners had any reported interest in, as it was described that they "checked in" on him.
"Checked in" could have a wide variety of definitions, but if one were to connect the dots, between Turner signing an 11-year, $300 million contract with the Phillies, his known preference to play on the East Coast, and Dipoto's consistent hesitancy to hand out 10-plus year deals, it's likely that they quickly learned Turner did not have much interest in Seattle.
That leaves Crawford, who will have his name etched at shortstop for the fifth-consecutive season with the Mariners. And that isn't changing anytime soon.
But the team needs an uptick in production from him. In fact, they need a significant one after the way Crawford played for a majority of the season after a torrid start in 2022.
JP Crawford's Profile
By the numbers, Crawford's year as a whole doesn't look all that discouraging off of the first glance. He posted exactly two Wins Above Replacement (according to Fangraphs), posted an on-base percentage of .339 and held an OPS+ of 100, which is right at league average and only two ticks lower than his 2021 campaign. But digging a little deeper is where the issues can be spotted.
Through one month of 2022, Crawford may have been the best shortstop in the game. He looked ready to blow the roof off his projected ceiling, slashing .360/.449/.573 with nine extra-base hits including three long balls, good for a 1.023 OPS.
But he didn't have another stretch with numbers anything close to that for the remainder of the season. The next highest OPS he posted in any month was .676 in July. He hit just an additional three home runs the rest of the year and, for the most part, lost his ability to drive the baseball with force. Even by a simple stat like batting average, it wasn't pretty. Crawford hit .275 in July, but slumped to a .247 average in May, .202 in June, .218 in August, and .185 in September.
This is not a result of Crawford punching out at some absurd pace either. That is actually one of the facets of his game where he profiles very well. He draws his walks (86th Percentile in Walk Rate per Baseball Savant), doesn't swing-and-miss often (96th Percentile in Whiff Rate), has a disciplined approach, seldomly chasing pitches (94th Percentile in Chase Rate), and really limits his Strikeouts (93rd Percentile in Strikeout Rate).
Where the struggles are found is in Crawford's quality of contact. He did not hit the ball hard for the majority of the year (3rd Percentile in Average Exit Velocity, 4th Percentile in Barrel Rate, 5th Percentile in Hard Hit Rate) and, similar to his entire career, hit for very little power (10th Percentile in Expected Slugging).
Crawford's swing path has always been long. His barrel points outward towards home plate with his hands held high, adjacent to his head. He has toyed around with it slightly over the years, but never to the point where it has resulted in his bat mapping out a sped-up route to the baseball. It may be the primary reason that Crawford has struggled with fastballs at such an alarming rate in his career.
When looking at a player's Run Value, which is the run impact of an event based on the runners on base, outs, ball and strike count, it breaks down their value based off each specific pitch type that they faced during the year and over the course of their career. Crawford's Run Value against four-seam fastballs has been in the negative in all but one year of his career, and it has been especially troubling in three of the last four.
Facing four-seamers, he posted a Run Value of -5 in 2019, -1 in 2020, -7 in 2021 and -4 in 2022 (though he has actually handled breaking balls sufficiently enough). When combined with the fact that he still rarely strikes out, it has resulted in a flurry of softly hit ground balls and pop-ups, with this data screaming that his swing needs cleanup.
To be fair to Crawford, he has spent significant time over this off-season at Driveline doing what the Mariners asked him to do at the end of 2022, which is make some adjustments in his swing. How those changes fare this year is to be determined.
When JP Crawford is clicking offensively, he can be a catalyst at the bottom of the lineup. He is at his best as a player when he serves as a reliable contact hitter out of the No. 9 spot while playing plus defense. Only issue there, his glovework last season was by far the brightest red flag.
In 2020 Crawford was a Gold Glove winner. He tallied six DRS in just 53 games while posting seven OAA (98th Percentile). Fast forward two seasons, and Crawford dropped all the way down to negative -3 DRS and -11 OAA (2nd Percentile).
Consider that Crawford's former teammate, Jesse Winker, posted a -10 OAA last year and you can begin to understand just how bad that truly is. Winker was widely-considered a defensive liability, which is part of why he was moved this offseason. Yet Crawford was just as bad defensively based on Outs Above Average.
While some players have difficulty with plays in one specific area during a down defensive season, Crawford struggled moving in every direction last year. He put up negative OAA ranging to his left (-3), his right (-3), forwards (-3) and backwards (-2).
A lot of his defensive woes may have stemmed from injuries as Crawford was pretty banged up for a lot of the year. He battled lingering injuries from his back, finger and knee for extended periods of time and continued to play through it, suiting up for 144 games.
This would hamper the play of any ballplayer, but maybe even more so for someone like Crawford whose playing style is to go all-out all-the-time, especially on the defensive side of the ball.
The good news for Crawford is he has Mariners infield coach Perry Hill at his side, who is on a very short list when ranking the best infield coaches in baseball. The two have gotten straight to work in the early days of Spring Training to try and get Crawford back on track to being the elite defender that so many know he can be.
JP Crawford still has the tools to be a quality starting shortstop, but it relies on him being a great defender more than anything else. His offensive game doesn't need to be that of Carlos Correa or Trea Turner.
With a clean bill of health, if he can put up a WRC+/OPS+ that's a little bit above league average (105-110 range) and get back to playing the defense that he is capable of, that could easily be a four-win player, a mark that he has proven is well within his reach, as recently as 2021.
Above all of the numbers, his leadership weighs heavily on the franchise. With Kyle Seager more than a year removed from the team, Crawford is more or less the unofficial team captain. Players constantly looked toward him and the way he went about his business much of last year as a work ethic to follow. He has been with the team longer than anyone on the roster aside from Marco Gonzales, and now with Mitch Haniger also departing, his leadership stake may take even more of an effect.
The Mariners 2023 roster is as good as it's been in some time, but it does lack some depth on the position player side. It is imperative that Seattle inherits production in a couple of bounce back candidates. And that includes JP Crawford. This team is counting on it.