Analysis
Royals' Catching Tandem Is Their One Strength
The Kansas City Royals don't have much to celebrate, but they've gotten tremendous production from the men behind the dish.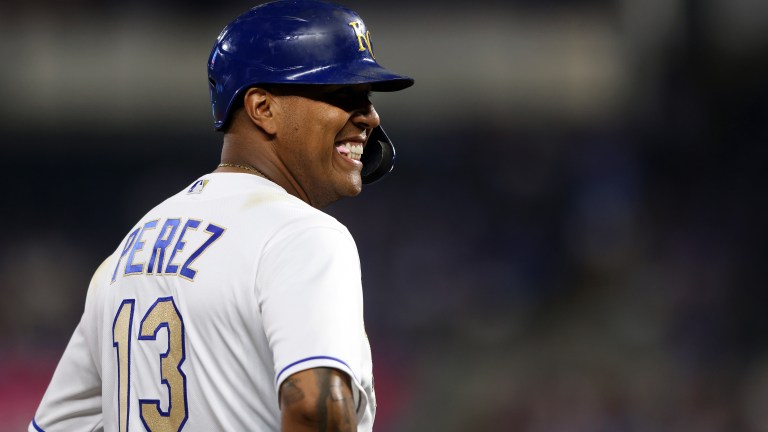 Any idea which team has gotten the most offensive production from their catchers this season?
Okay, maybe you can guess where this is going, given the title of the article and the big picture of Salvador Perez at the top, but it's a fun bit of trivia nonetheless. In 189 PA, Kansas City Royals catchers have combined for 32 weighed runs created (per FanGraphs), more than any other team's backstops. They also rank first with 12 home runs, 23 extra-base hits, and an .894 OPS. That OPS would rank 11th among qualified AL hitters, just between Vladimir Guerrero Jr. and Masataka Yoshida. Seven weeks into the season, Kansas City catchers are casually crushing the baseball at an All-Star level.
Even more surprising, the Royals are doing this without help from MJ Melendez, their 24-year-old "catcher of the future." The catcher-turned-outfielder has a .671 OPS and 83 wRC+ this season, with four home runs in 39 games. He's been even worse in the ten games he's played behind the dish, with a .558 OPS and 49 wRC+ in 34 PA.
Instead, the catchers leading the Royals' offense are a resurgent Salvador Perez and a red-hot Freddy Fermin. Perez, of course, is a twelve-year MLB veteran, a seven-time All-Star, a World Series champion, and the newly appointed captain of the Royals. It's not too much of a surprise that he's having another great season. Fermin, on the other hand, is the polar opposite. He's a 28-year-old career minor leaguer, and his success (even in a small sample size) has been quite the surprise indeed.
Salvador Perez Is Slugging With the Best of Them
2023 Stats: 39 G, 165 PA, 9 HR, .289/.333/.533, 4.2% BB%, 20% K%, 129 wRC+
Perez is a four-time Silver Slugger, but he took a step back last season. His numbers were still impressive for a catcher (.254/.292/.465, 23 HR), but the drop-off from his performance the previous two years (.284/.323/.561, 59 HR) was substantial. Thus, it would have been perfectly fair to assume Perez was past his prime as he entered his age-33 season.
As it turns out, that couldn't be further from the case. If anything, the Royals captain is having one of the best years of his career. He is on pace for 3.6 fWAR, which would top the previous career-high (3.5) he set all the way back in 2013. His 129 wRC+ would be his second-best in a season, behind only his 161 wRC+ from the shortened 2020 campaign.
The underlying numbers are just as impressive. Perez has cut down on strikeouts and groundballs in favor of more balls in the air, and he ranks among the top 25% of hitters in average exit velocity, hard-hit rate, and barrels. His .380 xwOBA ranks 14th among qualified hitters in the American League (just behind Mike Trout).
What's more, Salvy has been an even better hitter when he's catching. In ten games as the Royals' DH, he has a .661 OPS and 76 wRC+. In 29 games as a backstop, he has posted an incredible .937 OPS and 148 wRC+. Eight of his nine home runs have come in those contests. Of the 46 players with at least 50 PA at catcher, Perez has the third-highest OPS and the fourth-highest wRC+:
| | | | | | |
| --- | --- | --- | --- | --- | --- |
| PLAYER | AVG | OBP | SLG | OPS | wRC+ |
| Will Smith | .342 | .432 | .658 | 1.089 | 188 |
| Sean Murphy | .286 | .420 | .634 | 1.054 | 182 |
| Jonah Heim | .331 | .389 | .534 | .923 | 155 |
| Salvador Perez | .310 | .344 | .593 | .937 | 148 |
| Adley Rutschman | .291 | .410 | .470 | .880 | 144 |
| Jason Delay | .339 | .387 | .500 | .887 | 141 |
| Yasmani Grandal | .308 | .382 | .473 | .855 | 139 |
| Logan O'Hoppe | .283 | .339 | .547 | .886 | 138 |
| Yan Gomes | .304 | .329 | .544 | .874 | 133 |
| Cal Raleigh | .236 | .328 | .491 | .819 | 127 |
Offensive numbers while catching, via FanGraphs splits leaderboard
While his catcher-DH split should start to even out, there's no reason to believe Perez won't continue to slug. He has proven himself to be one of the best offensive catchers in the game, and rumors of his impending decline were clearly exaggerated.
Freddy Fermin Is Coming Out of Nowhere
2023 Stats (MLB): 12 G, 33 PA, 3 HR, .310/.394/.690, 12.1% BB%, 18.2% K%, 189 wRC+
2023 Stats (Triple-A): 14 G, 58 PA, 5 HR, .304/.448/.674, 19% BB%, 15.5% K%, 178 wRC+
It's a shame the Royals are so dreadful, because otherwise, we'd be hearing a lot more about Freddy Fermin. The backup catcher hit his first big league home run on May 4 and legged out his first triple in his next at-bat. In the days since, he has five more hits, two more homers, and even a walk-off bunt.
No one expects Fermin to maintain his 1.084 OPS, but for what it's worth, he's absolutely crushing the baseball. His 93-mph average exit velocity is impressive, and half of his batted balls have been classified as hard hit (bunts excluded). He's hitting the ball in the air and he's hitting it hard, and that's a good recipe for success.
We don't have access to nearly as much data from the minor leagues, but it appears Fermin was taking a similar approach in Triple-A. In 14 games with the Omaha Storm Chasers, he hit five homers and two doubles in 58 PA, good for a .370 isolated power. The sample size is tiny, but it's a good sign that he carried his success over from the minors.
Now for the bad news: Fermin's plate discipline is a huge red flag. While he has four walks and only six strikeouts in 33 PA, he's chasing a ton of pitches outside the zone and whiffing on nearly a third of his swings. He has benefitted from an unusually low called strike percentage, and he won't continue to get so many calls in his favor as the year goes on.
Ultimately, there's a reason Fermin didn't make the majors until he was 27 years old, and there's a reason he was never a top prospect. All the same, he's taking some great swings right now, and it's been a joy to watch him tear the cover off the ball. For the sake of the Royals fanbase and Fermin himself, I hope he keeps it up as long as he can.
MJ Melendez Is Still Searching for His Big League Power
2023 Stats: 39 G, 163 PA, 4 HR, .217/.301/.371, 10.4% BB%, 31.3% K%, 83 wRC+
Unfortunately, the magic hasn't extended to every catcher in Kansas City. Now in his sophomore campaign, Melendez has yet to show any signs of offensive development. His plate discipline and bat-to-ball skills have only gotten worse, and the power that was supposed to be his carrying tool has yet to show up. He is striking out in nearly one-third of his plate appearances, and his isolated power is just below league average.
On the bright side, Melendez is hitting the ball harder and making better contact, so hopefully, his power numbers will start to rise. He's putting more balls in the air and doing so with added exit velocity; if he keeps this up, more of his batted balls should start to fall for extra-base hits.
Freddy Fermin won't keep his ridiculous numbers up for much longer, but if Melendez finds more success, the Royals will continue to produce from behind the dish.