Analysis
Roster Questions the Cincinnati Reds Need to Answer Post-Lockout
The Cincinnati Reds were not very active prior to MLB's lockout, leaving a lot of work to be done before the start of the 2022 season.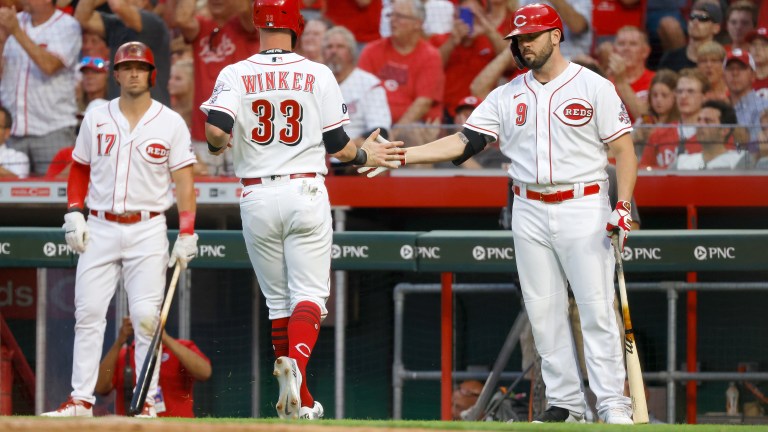 The 2021 Cincinnati Reds exceeded win total predictions, yet ended the season in disappointment. Rookies Johnathan India and Tyler Stephenson showed All-Star potential, Wade Miley looked unhittable (literally) at times, and Nicholas Castellanos put up an incredible offensive season. A lackluster final stretch combined with the Cardinals 17-game winning-streak left the 83-win Reds on the outside looking in.
While 83 wins is fine, the team has plenty of talent under team control and could look to add and compete in 2022. However, the offseason hasn't screamed "let's win" in Cincinnati.
The Reds dumped Wade Miley for nothing besides relief from his $10 million dollar price tag. Nicholas Castellanos remains unsigned, and the remaining top talent appears in every trade rumor. Heading into 2022, the Reds have plenty of questions and decisions ahead of them.
Determine the Direction
The worst spot you can be in is in-between. You either need to be a rebuilding team with a plan or a contending team adding and trying to compete. Small market teams have less room for error when building as they must capitalize on young, controllable contracts in order to win.
Part of the reason the Reds might elect to "rebuild" is a direct result of their last rebuild attempt, which did not go as planned. Management failed to trade Jay Bruce, Todd Frazier, Aroldis Chapman, and many other pieces at or near the top of their value.
In 2013, the Reds won 90 games followed by 76 the following year. They didn't win more than 70 until 2019. Once the fan favorites were finally traded, the majority did not bring back a return that would ultimately factor into the future.
Cincinnati cannot afford to let this happen again. The trick will be determining which players are part of the core that could be on the next contender, and which players are expendable. Every productive player doesn't need to be traded, but some do. We know the Reds will not eventually be able to afford all of them.
Rather management decides to add and compete or trade away assets, a direction needs to be determined. Living in limbo could greatly affect the chance to win in the next few years when India, Stephenson, Hunter Greene, Nick Lodolo and others will be young, cheap, and entering their prime.
Trade Sonny Gray
Acquiring Sonny Gray from the Yankees heading into the 2019 season was a fantastic move for the Reds. Gray has been rock-solid and a reliable piece of this rotation. Entering his 32-age season, I think it could be time to cash in on him and his team-friendly contract.
Making $10 million in 2022 and a $12 million club option for 2023. Plenty of teams would love to add a pitcher of Gray's caliber at that money and the return would be pretty good.
I am sure many of you are asking why the Reds would trade a good pitcher on a fairly team-friendly contract right?
Well, they just let Wade Miley go for free. Nick Lodolo, Hunter Greene, and Graham Ashcraft (to only name a few) are promising prospects who will likely be ready in 2022 and 2023. With Gray's age, plus injuries last year, I see trading him as a good opportunity to strengthen the farm system which is not as deep as others.
Another aspect of moving Gray would be freeing up a little more money to give either (or both) Luis Castillo and Tyler Mahle contract extensions. Of course, you could say moving Euengio Suarez or Mike Moustakes would do the same, but teams are not likely to take on those contracts and give you a promising return.
Cincinnati has the top-notch pitching prospects to solidify a rotation in the very near future. Trading Gray now would be much better than what we are used to seeing, which is a year too late.
Solidify the Outfield for 2022 and Beyond
As it stands today, the Reds starting outfield would consist of Jesse Winker, Tyler Naquin, and some combination of Shogo Akiyama, TJ Friedl, Nick Senzel, and Aristides Aquino. That is extremply troubling. Nicholas Castellanos is still on the open market, but I doubt the Reds would be willing to give him the money or years Castellanos is likely to get.
Jesse Winker played his way into the early season MVP discussions, but in reality, Winker is a high level platoon player with below-average defense. He crushed righties last season (.346/.428/.642) but struggled against lefties (.176/.288/.284). I really like Winker, but shortcomings and injury history make him less and less of a true franchise cornerstone.
Tyler Naquin had an up-and-down season riddled with injuries, which has been the story of his career. Ideally, he's either a fourth outfielder or your third-best starter. Shogo Akiyama is not an MLB-caliber player and Nick Senzel lives in the injured list. Friedl looks like a fine bench outfielder and Aquino has proven he's a fringe MLB player with some pop. It's time to forget about one month from a few years back.
As far as prospects, Allan Cerda is the only other outfielder on the 40-man roster. While I am high on Cerda, he still needs some time in the minors. I haven't given up on Michael Siani, injuries caused him to take a step back last season. Others seem to be a couple years away.
While the outfield free agent class is a bit underwhelming at this point, trades are always on the table. Targeting a younger play with control could be a route in a Sonny Gray trade.
Before the lockout the Reds failed to make a move that improved the team. Everyone expected Tucker Barnhart to be elsewhere and moving on from a 35 year-old Wade Miley was not exactly surprising.
Post-lockout, I expect the Reds to be active. Management has plenty of time to analyze what they have and what they need. Now it's time to decide, will they try to win or focus on the future?