Analysis
Right-Hander Cory Abbott Could be the Latest Steal for the San Francisco Giants'
The Giants acquired Cory Abbott for cash from the Cubs. Could he be the next breakout pitcher in San Francisco?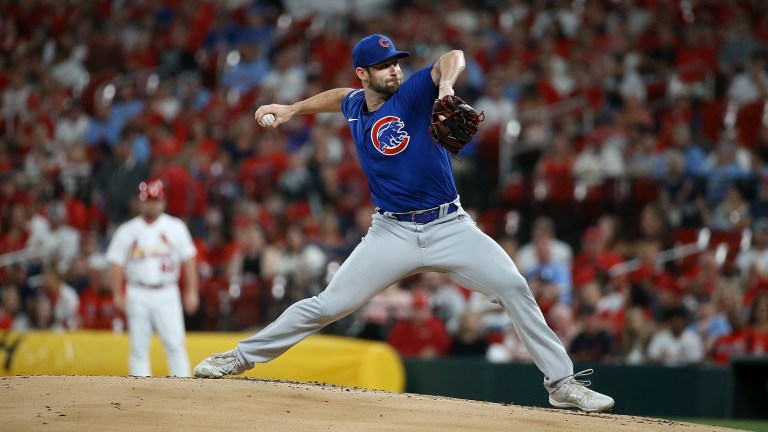 The San Francisco Giants added to their upper minor-league depth on Thursday, acquiring right-handed pitcher Cory Abbott from the Chicago Cubs in exchange for cash considerations. Abbott, the Cubs 2017 second-round pick, had been designated for assignment for Chicago last week and likely would have been claimed off waivers had they not found a trade partner. Before he was DFA'd, Abbott had made two starts this season at Triple-A Iowa, recording a 4.50 ERA, 6 strikeouts, and 2 walks across 6 innings pitched.
Abbott is far from a surefire future big-league contributor, but has a solid track record of minor-league success. Across 74 minor-league starts, Abbott has struck out nearly 10.7 batters per nine innings and recorded a 3.65 ERA. While he's been hit hard since reaching Triple-A (5.82 ERA in 2021), he has been able to get plenty of swing and miss, racking up 12.0 strikeouts per nine innings. With that said, his stuff does not match his strikeout production.
Abbott has always relied on locating a four-pitch arsenal that lacks an obvious carrying pitch. His fastball sits in the low-90s and does not generate exceptional spin rates or come from a particularly advantageous angle either. His three secondary pitches are all better offerings than his fastball, but none are above-average offerings. How far can four 45/50-grade pitches carry someone? Generally, not much further than a fringe big-league pitcher. Of course, knowing the Giants, they likely have an idea in mind for how to help one of his pitches take a step forward. Manager Gabe Kapler suggested as much during his media availability on Thursday:
Abbott has better command than his stats suggest (he's walked 66 batters in 119.1 innings since 2021) but is ultimately limited by his stuff. Without any offering to really keep opposing hitters off-balance, Abbott is unable to pound the strike zone without surrendering a lot of hard contact. In 2021, Abbott threw 96 innings at Triple-A Iowa and recorded an alarming 5.91 ERA, driven by 20 home runs allowed. In his brief big-league stint with the Cubs, he allowed 7 big flies in just 17.1 innings.
Transforming a pitcher like Abbott into a big-league starter is far easier said than done, but if there's one team that's earned a lot of trust in identifying pitchers an adjustment away from a breakout, it's the Giants. While Abbott only registered 352 pitches in Statcast during his MLB stint last year, there are some obvious tweaks that could yield immediate improvements. While Abbott's fastball is considered his worst pitch, he threw it 58.8% of the time. He used none of his secondaries on more than 17.9% of his offerings.
Opposing hitters teed off against his fastball, hitting .378 with a .865 slugging percentage, and a .750 expected slugging percentage. All three of his secondaries generated better whiff rates and were not hammered as badly as his fastball. In fact, opposing hitters were just 6-for-33 with 9 strikeouts against Abbott's secondaries. Neither his curveball nor his changeup surrendered a hit.
It is a bit more complicated than just throwing his fastball less, although that should be a good start. Abbott's secondaries were only in the strike zone 35% of the time, as opposed to 51% of his fastballs registering in the zone. Still, given how incredibly productive opposing hitters were against his fastball, Abbott has to trust his secondary offerings more if he's going to be successful. There's reason to believe he could be.
Statcast analyzes every pitcher's arsenal based on velocity and movement. Each season it generates similarity scores between pitchers based on those metrics. Abbott's three closest comps in 2021 were Carlos Carrasco, Chris Ellis, and Shane Bieber, a surprisingly impressive bunch.
Perhaps an added reason for the Giants interest in Abbott is his two remaining options years. San Francisco's president of baseball operations Farhan Zaidi has prioritized roster flexibility throughout his tenure, often churning fringe rotation/bullpen arms between Triple-A and MLB to ensure the team's pitching staff is as rested as possible. Abbott is now well-positioned to be a part of that group for the next two seasons. If he's able to develop into a legitimate big-league arm, Zaidi has pulled off his latest swindle. If not, he's added another rotational depth piece.