Analysis
Starting Pitchers of the Week: 8/22 – 8/28
Our first edition of Pitchers of the Week is dominated by veterans.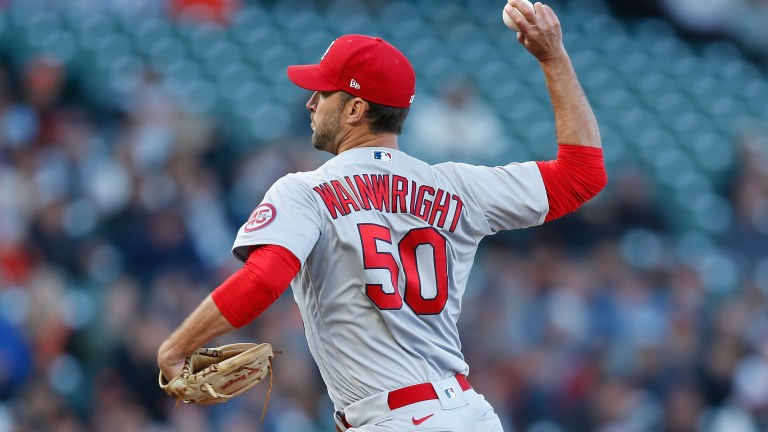 Welcome to Pitchers of the Week. POTW will feature the top performances from the past week. The goal is to bring you an analytical point-of-view of the week's best pitchers and how things are going with them from a broader perspective. Last week was filled with impressive outings from games most prized arms, some young and some old. Let's get into it!
Honorable Mentions
Alec Mills vs White Sox: 8.1 IP, 4 H, 0 ER, 2 BB, 3 K
Logan Webb vs Atlanta: 7 IP, 5 H, 0 ER, 1 BB, 6 K
Framber Valdez vs Seattle: 7 IP, 3 H, 0 ER, 1 BB, 6 K
Cal Quantrill vs Boston: 7 IP, 6 H, 1 ER, 2 BB, 6 K
Sandy Alcantara vs Cincinnati: 7 IP, 6 H, 1 ER, 1 BB, 12 K
Adam Wainwright Stellar in 15 Innings vs Pirates
8/22/21: 8 IP, 2 H, 0 ER, 0 BB, 9 K
8/28/21: 7 IP, 3 H, 0 ER, 1 BB, 5 K
At 40-years-old, Adam Wainwright is enjoying a second wind in his career. With Yadier Molina set to return for one final season in 2022, the Cardinals could get another year of Uncle Charlie. The duo have started 299 games together, and are on a journey to take the all-time lead with 325 starts as a battery.
With a league low .665 OPS, the Pirates are one of the worst offensive teams in baseball, but 15 shutout innings back to back against any big league team is impressive. Through four starts and 30 innings against the Pirates this season, Wainwright has allowed just one run and 13 hits. Like fellow veterans Zack Greinke and Dallas Keuchel, Waino has learned to live life below 90 MPH, relying on his high-spin curveball and heavy sinker to get hitters out.
The veteran righty has been an absolute workhorse this season, tossing 169.2 innings and 6.51 innings per start, which rank second behind only Zack Wheeler. The Cardinals have needed every inning with Jack Flaherty spending a majority of this season on the IL.
In what has been his best season since 2014, Wainwright possesses a 2.97 ERA and is holding hitters to a .214 average against. While there are discrepancies between his ERA and advanced metrics like FIP, xFIP and xERA, command has always been a skill on Waino's side allowing him to historically outperform his expected numbers. The Cardinals hope that the heater continues as they sit 3.5 games back of the second Wild Card spot.
Robbie Ray Strikes Out 14 vs White Sox
8/25/21: 7 IP, 5 H, 1 ER, 1 BB, 14 K
Cy Young Robbie Ray? The idea isn't as crazy as it was two months ago. Ray has held down the rotation in Toronto, helping it surprisingly rank seventh in ERA. Unfortunately, the postseason seems unlikely for the Jays, who are 4.5 games out from the final spot. FiveThirtyEight gives them just a 14% chance to make the playoffs with the Red Sox and Athletics blocking their route to the Wild Card. More starts like last Wednesday's will do wonders for any playoff hopes left.
There is no doubt, however, that Toronto has a great roster, and will be a team to watch in 2022. Ray was acquired from the Diamondbacks last August for practically nothing, which makes sense considering he had a 6.62 ERA and league high 17.9% walk rate. Ray showed up in 2021 looking like a different pitcher. The southpaw added an extra MPH on his heater and cut his walk rate by a third to a career low 6.3%. To this point, Ray has a 3.44 xERA, 3.23 xFIP, along with an outstanding 31.6 K%. The only hole in Ray's game is giving up hard contact, which has always plagued him. For his career, he owns a 15.4% HR/FB rate and 40.3% hard hit rate against.
Will Robbie Ray win AL Cy Young? Probably not, but if he continues to pitch well, his name will certainly be entered into the conversation.
Joe Musgrove Goes the Distance vs Angels
8/27/21: 9 IP, 3 H, 0 ER, 2 BB, 9 K
Another pitcher who has been a workhorse for his team, Musgrove has amassed 148.1 innings, pitching to a 2.95 ERA, 3.45 xFIP and 28.3% strikeout rate. A large reason for Musgrove's breakout 2020 was replacing four-seam fastball usage for slider and curveball usage. He's continued the trend in 2021, throwing his offspeed pitches more than ever, while also opting for a cutter over a sinker.
It is safe to say that he may be one of the most underrated pitchers in baseball. Regardless, the city of Pittsburgh can't be feeling thrilled watching the San Diego native go the distance while only allowing three hits on Friday night. Musgrove is the only thing keeping the Padres rotation from falling apart right now.
Max Scherzer Dominant vs Padres
8/26/21: 7.2 IP, 2 H, 0 ER, 1 BB, 10 K
Like Adam Wainwright, Max Scherzer continues to dominate even in his late 30s, but unlike the Cardinals vet, Scherzer's velocity has never wained. For his entire 12 year career, his velocity has stayed between 93.4 – 95.2 MPH, currently sitting at 94.3 MPH. There is no doubt that Mad Max is one of the best pitchers of our generation, and 2021 has only furthered that notion.
Through 140 innings, the Missouri product has put up a 2.51 ERA, which ranks fifth among qualified starters. If you thought the 37-year-old menacing righty was reaching his decline, you were mistaken. The odds are against him, but with Zach Wheeler's recent bumps in the road and Corbin Burnes trailing other Cy Young contenders in innings pitched, Scherzer's teammate, Walker Buehler, might be the only thing between him and his fourth Cy Young. Scherzer helped his case with one of his most dominant starts of the season against the division rival Padres.