Analysis
Pete Alonso is Playing Like a Man Who's About to Get A Big Contract
As the one star player in the Mets lineup who is not signed to a long-term deal, Pete Alonso is showing his worth with a fast start to 2023.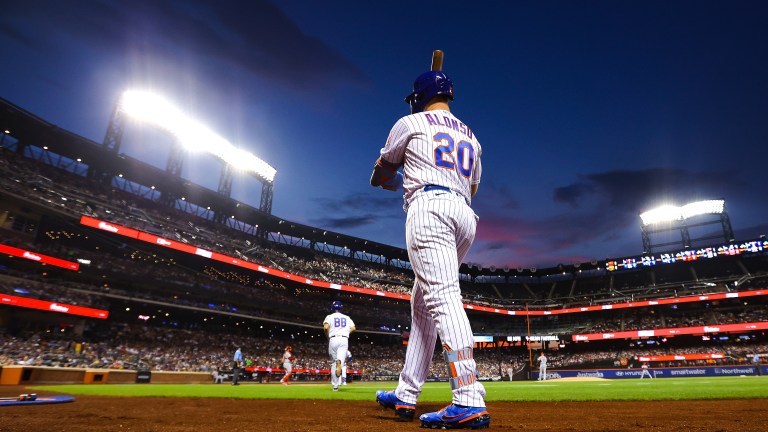 When we look at the Mets lineup right now, we are beginning to see stars at almost every position. Francisco Lindor is the best shortstop in baseball, while Jeff McNeil and Brandon Nimmo have each come into their own and were locked up to long-term extensions this offseason.
The Mets also currently have two top 15 prospects in all of baseball, Brett Baty and Francisco Alvarez, who are up for their first significant taste of big league action. With Lindor, McNeil and Nimmo locked up, and the arrival of these prospects, a core is really building in Queens.
Still, there is one massive piece of the puzzle that has not been locked up. And it might be the most important one on the roster. Pete Alonso.
The Mets slugging first baseman has been the most consistent run producer in the game since making his debut back in 2019, leading all of MLB in both home runs (154) and RBIs (395).
Like his counterparts in the lineup, Alonso put together a fantastic 2022 campaign, helping lead the Mets to their 101-win season. Playing in all but two games, Alonso hit .271/.352/.518, with 40 home runs, 131 RBIs and a 143 wRC+.
When looking over that production, there is no doubt that Alonso is the most important bat in the Mets lineup. Yet this offseason, he was the one guy who was not taken care of.
Lindor already had his $341 million contract, but Nimmo was the next man up to receive a nine-figure deal, since he hit the open market as a free agent. The Mets locked up their center fielder to a eight-year, $162 million pact.
Then came Jeff McNeil's contract extension, where the Mets leveraged his age and two years of control and signed the reigning NL batting champ to a team-friendly four-year, $50 million contract extension. Alonso meanwhile remains unsigned long-term.
The 28-year-old is two years aways from free agency, playing on a $14.5 million contract in his second year of arbitration. By circumstance, Alonso is the one Mets regular that is really pushing for a contract right now and if we learned anything from another borough last year, that can be one heck of a motivator.
This Year's Aaron Judge
Alonso might not be capable of putting together the 11.5 fWAR season that Aaron Judge had for the Yankees last year, but he is certainly capable of matching him in the power department. Alonso is no stranger to chasing down a Judge home run record either.
In 2017, Judge set the rookie home run record with 52 bombs, before going on to win AL Rookie of the Year two years later, Alonso eclipsed him and hit 53 in his Rookie of the Year campaign.
Despite the great power that exists in the game today, you can still only count on one hand the amount of players who could hit 60 home runs this season. Judge just did it. Mike Trout and Shohei Ohtani are both capable. Yet the best bet might just be Alonso.
The Polar Bear has already gotten off to a fast start in 2023, currently leading the league with eight home runs across his first 19 games played. To hit 60 home runs in a season, you have to average 10 home runs a month across a six-month season. Alonso is nearing his first double-digit home run month and we still have 10 days in April.
Last year, Alonso only hit four home runs in April. He finished with 40.
In 2021, Alonso entered June with only seven home runs to his name. He finished with 37.
The last time Alonso got off to a fast start hitting home runs it was back in 2019, when he hit 30 before the All-Star break. He finished with 53.
Alonso is a much more mature hitter now and has gotten off to his best start in years. Unlike when he was striking out 26.4% of the time as a rookie, Alonso is now in his third-straight season of keeping his K-rate around 20% (currently 20.5%).
As someone who has watched every at-bat of Alonso's career, the thing that has been most evident over the last two years is the progression of his swing decisions. What Alonso has learned is how to put runs on the board as a hitter, rather than a slugger.
Yes, Alonso can still put the ball in the seats better than anyone, but the difference between now and Polar Bear 1.0 from 2019, is that he used to always be swinging to get closer to 60.
Now Alonso is letting situation dictate when he takes those thunderous hacks.
For example, it is the top of the 7th inning against the Los Angeles Dodgers on Tuesday night. There's a runner on third base, with one out. Unlike last year, where there might have been three infielders on the left side, Alonso sees an open hole between the shortstop and third baseman.
Why try to hit a home run when you can just shorten up and hit a 107.4 mph piss missile through the infield for a single and collect your easy RBI?
Last season, Alonso hit .300/.424/.675 with runners in scoring position, posting a 187 wRC+ in those spots. With men on base, Alonso cut his K-rate by just over 10%, helping him rack up all of those RBIs by putting the ball in play.
While we don't put nearly as much stock in batting average as we once did, there is something to be said about being a .270 hitter. Alonso eclipsed that mark for the first time last season and is currently above it as well with a .274/.361/.616 slash line.
In a lineup where he still remains as the only true home run hitter, Alonso has become completely well-rounded with his offensive game. He talks his walks, currently sporting a career-best 12.5% BB% and hits for a high average, particularly in RBI spots. He also hits mistakes a very long way, giving the Mets a threat that teams fear every time he steps up to bat.
After getting his first taste of the playoffs and Alonso worked hard this offseason to get in the best shape of his career. He then got a chance to play for Team USA in the World Baseball Classic, giving him even more of a sense of the big stage.
As one of the players that can carry his team offensively, Alonso has all of the factors working in his favor to have a great season.
While likely not by design, Steve Cohen may have picked the perfect guy to wait on giving a long-term extension. Yes, Alonso may cost him a lot of money down the line, but a hungry Polar Bear is the most ferocious, no?
The Yankees just rode the wave of an Aaron Judge contract year to the ALCS. Alonso's not in a contract year, but he might as well be with all the money that has been spent on homegrown Mets. Alonso knows that a big check is coming from Steve Cohen at some point soon, he just doesn't know when.
The time is now to prove how much he is worth and that he belongs leading the New York Mets into the future. The byproduct of that pressure could give fans a season for the ages in Queens.