Analysis
Padres Trade For All-Star Infielder Adam Frazier
A look at what the Adam Frazier acquisition means for the Padres and the prospect return for the Pirates.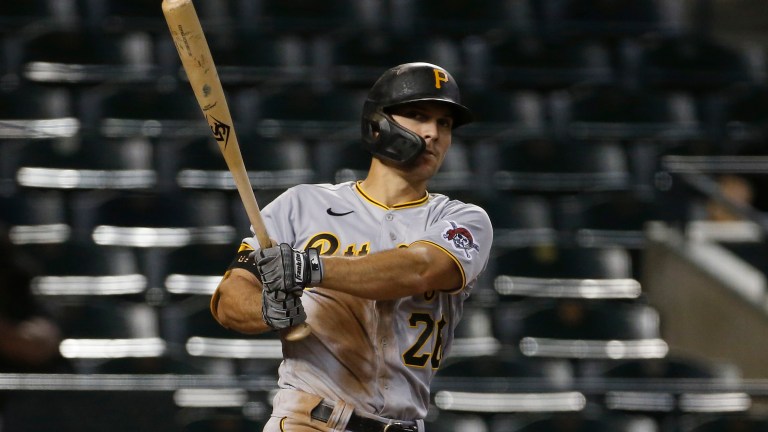 It was only a matter of time before Padres GM A.J. Preller made his move, and if recent history tells us anything, he is likely far from done.
For the Pirates, trading Adam Frazier was inevitable. The versatile infielder is enjoying his best season in the big leagues at age 29, slashing .324/.388/.448 on his way to his first All-Star appearance. Frazier comes with another year of control as well, making this the perfect time to cash in for the rebuilding Pirates.
The Prospect Return
Heading from the Padres to the Pirates is a package headlined by 21-year-old super utility man Tucupita Marcano, along with outfield prospect Jack Suwinski, and pitching prospect Michell Miliano.
The Pirates really like Marcano, who ironically shares many similarities to Adam Frazier with their versatility, approach, plus hit tool and lack of power. Marcano's advanced feel to hit earned him a cameo with the Padres, making 25 appearances for the team at four different positions before being sent back down to Triple-A. The Venezuela native who was named after his birth town of Tucupita, was called up to the Padres during a bit of an injury crisis and despite being close to big league ready, could probably use some more time in Triple-A.
The Pirates would be thrilled if Marcano turns out to be a similar player to Adam Frazier, swapping one year of control of the latter for six years of control of the former. As for the complementary pieces, the Pirates also kicked in $1.4 million with Frazier to get some more prospect quality.
Double-A outfielder Jack Suwinski comes to Pittsburgh with some intrigue, enjoying a break out season at 22-years-old. After being drafted in the 15th-round by the Padres in 2016, Suwinski has showed flashes of power, but has seen it all come together this year.
In 66 games, Suwinski has already set his career high for homers with 15, while walking at the highest clip of his career (17%). Suwinski's combination of power and patience has aided him to a 153 wRC+ and .949 OPS. A sweet swing from the left side with above average athleticism, the Pirates likely feel as though they may have added a piece that can slide into a corner outfield spot for them in the next two years.
The third piece, Michell Miliano offers plenty of upside, but a wide range of outcomes. The 6'3, 185 pound right-hander can sit in the mid-90s with his fastball accompanied by a plus curve. The two pitches helped Miliano overpower Low-A hitters, punching out a ridiculous 52 batters in 25.2 innings, but also walked 21.
Now in High-A Fort Wayne, it has been more of the same for Miliano through his first four appearances; Strikeouts and walks. Miliano's two pitches are more than enough to make him a good back-end reliever, but even to be a reliable reliever, Miliano's command is going to need to improve. The good news is, Miliano is still only 21-years-old and is striking out nearly 18 batters per nine innings. That will play.
Frazier's Padres Impact
While the Pirates got some good pieces that will help them in their rebuild, the Padres did not give up anything that really affects the caliber of its farm system. When you have prospect depth like the Padres, the two can be mutually exclusive.
Frazier's ability to play all over the diamond is a major asset for a Padres team that can get pretty creative depending on what kind of look they want to give with their lineup. Interestingly, the Frazier acquisition may make the struggling Eric Hosmer expendable. Frazier can play second base, while Jake Cronenworth slides to first, where he has already made 15 appearances this year.
The issue for the Padres is that Hosmer, who is in year four of his eight-year, $144 million contract, may be pretty difficult to move. One thing that works in favor of the Padres is that Hosmer's deal is front loaded, but I don't think there will be many teams lining up to pay Eric Hosmer $59 million over the next five years. The Padres would love to deal Hosmer as it would help keep them under the luxury tax.
As for what this means for the Padres, Frazier is an offensive upgrade over Hosmer and his 96 wRC+ at this juncture. The fact that the Padres can now mix and match more with their lineups too will only help in the postseason.
If the Padres cannot find a suitor for Hosmer, Frazier's bat is an upgrade over the struggling Jurickson Profar, who has made 39 starts in the corner outfield. Frazier is a great defender at second, but is more than capable in the outfield as well. Despite Profar's struggles (86 wRC+, .659 OPS), he has accumulated 304 plate appearances. Expect Frazier to not only eat into Hosmer's at-bats if he stays, but Profar's as well.
Frazier is the type of player who is a good fit for just about any team, but you'd be hard pressed to find a better landing spot than the Padres. While Frazier may not bring much power to Slam Diego, he provides much needed consistency and versatility which could help put this exciting team over the top.