Analysis
Noah Syndergaard Off to Nightmarish Start With Dodgers
Through five starts with the Dodgers, former flamethrower Noah Syndergaard has struggled with diminished velocity.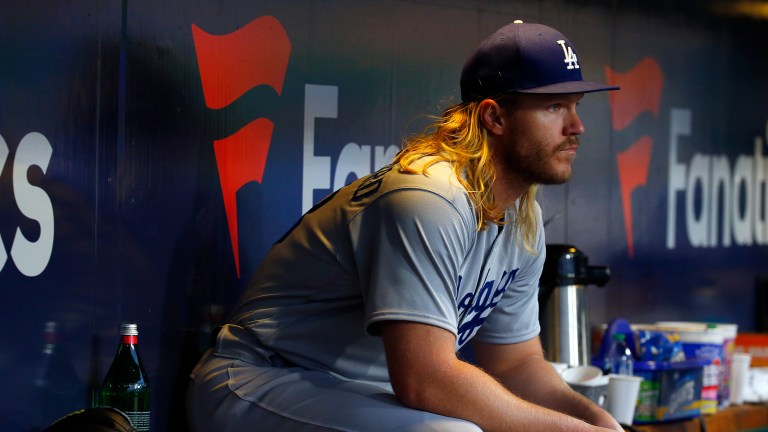 One of the great mysteries in sports right now is why Noah Syndergaard has never been able to recapture the high-90s velocity that he possessed before undergoing Tommy John surgery in March of 2020.
But unlike other notable veterans of Tommy John surgery — Justin Verlander, Spencer Strider and Zack Wheeler, to name a few — Syndergaard's elite velocity has never re-emerged. And thus, neither has "Thor," who was once one of the most exciting arms in the sport.
Syndergaard split last season with the Los Angeles Angels and Philadelphia Phillies, really serving more as a role player for the eventual National League Champions than a massive trade deadline acquisition. Syndergaard — while averaging 94.5 mph on his fastball — posted a 3.94 ERA and 3.83 FIP across 134 2/3 innings pitched in the 2022 regular season. You can stick around in the league for quite a long time with numbers like that, but Syndergaard was more of a No. 4 starter for the Angels and Phillies than the frontline talent he appeared to be early in his career with the New York Mets.
Still, the Dodgers took a flier on Syndergaard this past offseason, inking the former All-Star to a one-year, $13 million deal. And Syndergaard, who averaged 97.9 mph on his fastball as recently as 2019, expressed confidence that his velocity would return in 2023.
"The pitches I threw last year, I just want to throw those away," Syndergaard said in December, according to Jack Harris of The Los Angeles Times. "I see no excuse as to why I can't get back to 100 mph and even farther than that. Just doesn't make any sense. I don't think there's a baseball player in MLB that does what I do when it comes to the recovery and the training and the attention to detail."
But the early returns on Syndergaard with the Dodgers are disastrous. In five starts, Syndergaard is 0-3 with a 6.58 ERA and 5.03 FIP. Rather than seeing his velocity return, Syndergaard has watched his velocity further decline from what it was even a year ago. Syndergaard's sinker and changeup have seen velocity dips from a year ago, but his average fastball sitting at 92.7 mph is the most concerning trend. That's nearly seven mph slower than the average fastball velocity that Syndergaard posted in 2017. It's 1.8 mph slower than just a year ago.
All the normal qualifiers can be thrown out here. Syndergaard is in his age-30 season in 2023; he was 24 in 2017. As pitchers age, they can see dips in velocity. It can also take them longer to build up to their top velocities. But Syndergaard is 30, not 45. He's more than three years removed from Tommy John surgery. There's no reason he shouldn't be consistently throwing 96 or 97 mph, at the very least.
But this is seemingly what Syndergaard is now, a pitcher that will have to rely on deception rather than elite stuff. Again, plenty of pitchers are relatively successful utilizing that formula. It's just a shocking turn of events that the best path forward for a relatively young guy who's built like a Greek god — or, in this case, a Norse god — is to reinvent himself as a crafty veteran like his former teammate Bartolo Colon did late in his career.