Analysis
NL Wild Card Series Preview: Brewers vs. Diamondbacks
The Diamondbacks will look to upset the Brewers as they head to American Family Field for a best-of-three Wild Card series.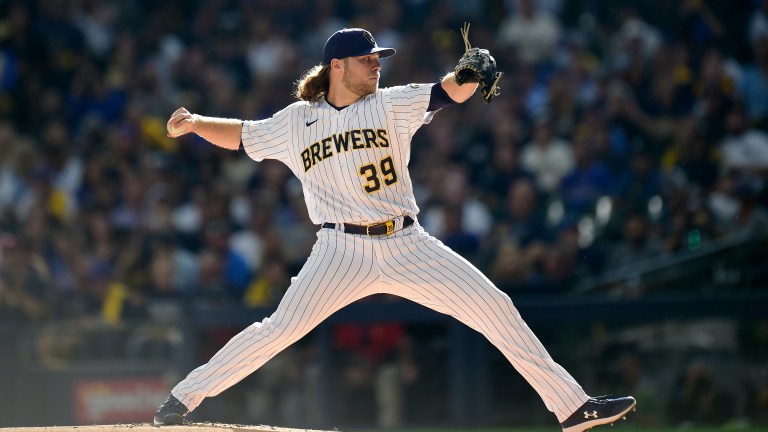 After what was a carousel of a Wild Card race, the Milwaukee Brewers will host the No. 6 seed Arizona Diamondbacks in a best-of-three series at American Family Field starting on Tuesday evening.
The Brewers enter October as one of baseball's hottest teams, going 13-7 over their last 20 games and 18-12 over their last 30. Their offense is starting to find some consistent footing over the past few months, and they have yet again leaned upon their elite pitching staff to carry them to an NL Central division title.
For the opposition, the Diamondbacks are not playing their best baseball as they head into Milwaukee. Since August 1, they have gone 27-28, and they enter Tuesday's matchup in the midst of a four-game losing streak, scoring a total of just three runs over that stretch.
Still, their dominant one-two punch at the top of the rotation, coupled with their strong bullpen performance as of late, gives them a shot to win any matchup. Not to mention, they have a plethora of young talent in their lineup, headlined by one of the most exciting young players in the game in Corbin Carroll.
However, the biggest storyline heading into this series came on Monday afternoon when it was announced that Brewers' co-ace Brandon Woodruff will miss the Wild Card Series, and potentially longer, with a right shoulder injury.
While this doesn't totally extinguish Milwaukee's hopes of making a World Series run, it is a significant blow to the ball club's most advantageous strength. They will need Corbin Burnes and company to step up in a large way to help fill the void and fight off a dangerous Diamondbacks lineup.
There is plenty of talent in this Diamondbacks batting order, both in the form of speed and power. This is a huge break for Arizona, and it gives them a greater opportunity to pull off the Wild Card Series upset at American Family Field.
Wild Card Series Preview: Probable Pitching Matchups
NLWCS Game 1: RHP Corbin Burnes (10-6, 3.39 ERA) vs. RHP Brandon Pfaadt (3-9, 5.72 ERA)
Tuesday, October 3 at 6:08 PM CT
The Diamondbacks announced that rookie Brandon Pfaadt will make his postseason debut as Arizona's game one starter. Due to their down-to-the-wire playoff race, Diamondbacks' ace Zac Gallen threw 104 pitches on Friday night, and their No. 2 starter Merrill Kelly tossed 93 pitches against Houston on Saturday.
Both Gallen and Kelly will continue with their normal cadence of rest, leaving Pfaadt to take the mound in a pivotal game one matchup.
At the risk of stating the obvious, game one of this three-game set has monumental importance for both of these ball clubs.
For the Brewers, they head into Tuesday's matchup with a significant pitching advantage. Runs are going to come at a premium in this series, and Tuesday evening will be their best chance to get their offense going. They have a golden opportunity to jump on a rookie who has struggled this season and is making his first postseason start on the road.
The Brewers can ill-afford to have their bats go cold in this matchup, especially with Arizona's top two starters on the horizon in games two and three.
It's equally as important for Corbin Burnes to bring his best stuff to the mound on Tuesday night. Burnes last faced Arizona back on June 19, and it was arguably his worst start of the 2023 season. The Diamondbacks jumped on Burnes from the get-go in that outing, as Burnes allowed six runs in the first inning of the game. He ended the day allowing eight hits and seven earned runs across five innings while only fanning three batters.
However, Burnes turned his season around shortly after that start. Since the All-Star break, he is sporting a 2.71 ERA with a WHIP under 1.00 and has looked like the version of himself who won the Cy Young award in 2021. In what will be his second career postseason start, Burnes will look to continue his hot stretch and bring his best stuff to the mound this time around against the D-backs.
For the Diamondbacks, they have a chance to take the wind out of Milwaukee's sails if they can manage to steal game one versus Burnes while saving Zac Gallen and Merrill Kelly for games two and three. Leading the charge on the mound will be former top pitching prospect Brandon Pfaadt.
It has been an up-and-down rookie season for Pfaadt. After struggling in the early goings of the year, he has put together the best month of his big league career in August, posting a 4.01 ERA and a 1.19 WHIP through six starts in the month.
Pfaadt demonstrates great command of his five-pitch mix. His impressive zone rate of 53.1% has led to his ability to limit free passes, illustrated by his walk rate of just 6.2%. However, while he does fill up the strike zone, he has allowed some of the hardest contact in baseball to opposing hitters this season.
It goes without saying, but Tuesday will be Pfaadt's most important start of his major league career to this point. He has struggled on the road this season, posting a 1-4 record and an ERA of 5.01 through nine road games, and he will head into American Family Field to face a hot Milwaukee Brewers lineup for the first time in his career.
NLWCS Game 2: TBD vs. RHP Zac Gallen (17-9, 3.47 ERA)
Wednesday, October 4 at 6:08 PM CT
As of Monday night, the Brewers have yet to name a replacement for Brandon Woodruff as the game two starter.
There is a chance the Brewers turn to 36-year-old Wade Miley to take the mount on Wednesday evening. Doing so would allow Peralta to pitch in an elimination game versus Merrill Kelly on Thursday, or put Peralta on the bump for game one of the NLDS against the Dodgers. Miley has been extremely dependable and consistent for Milwaukee this season, leading me to believe this route is more than in play for manager Craig Counsell.
However, the more likely scenario is Counsell handing the ball to Freddy Peralta in an attempt to keep up with Diamondbacks' ace Zac Gallen.
Since the All-Star break, Peralta is posting an ERA of 2.81 through 13 starts. Over that stretch, he is striking batters out at a 36.3% clip, which is a significant bump from his 27% strikeout rate in the first half of the season. Additionally, Peralta has the fourth-lowest ERA in the NL to go with the second-best FIP (2.92), and it has led to him having the third-best fWAR over that stretch (2.2).
His biggest shortcoming as a pitcher is his susceptibility to the home run ball. His 26 home runs allowed are the fourth-most in the National League. However, Peralta has demonstrated that he can be one of the more dominant pitchers in baseball when his fastball command is dialed in. With Woodruff's injury surfacing, Peralta will need to perform like the second-half version of himself in order for the Brewers to make a run.
On the opposition's mound is Diamondbacks' ace Zac Gallen, who put together a Cy Young-caliber season in Arizona. Gallen has been one of the best pitchers in the National League over the course of the last two seasons, and he will be making his MLB postseason debut against the Brewers on Tuesday.
Gallen finished the regular season with the seventh-best ERA in the NL (3.47) to go along with the National League's fifth-best FIP (3.27) among qualified pitchers. Most importantly, Gallen put together two incredible outings versus Milwaukee this season. In his two outings against the Brewers, Gallen struck out 15 batters across 14 innings of one-run ball while allowing only six hits and two walks.
No matter who is on the bump for Milwaukee, runs will be hard to come by in this matchup. This a game where manufacturing runs via smart base running and elite speed could come into play for both ball clubs.
NLWCS Game 3: TBD vs. RHP Merrill Kelly (12-8, 3.29 ERA)
Thursday, October 5 at 6:08 PM CT
Thursday's elimination matchup, if necessary, would feature whichever aforementioned Brewers' starter did not take the mound in game two, and they will face off against Merrill Kelly, who has turned in a very successful 2023 regular season.
Kelly ended the season with the National League's fifth-best ERA (3.29) to go along with a FIP of 3.85. He had the NL's sixth-best opponent betting average (.220), and he finds success by keeping the ball on the ground while making hitters feel uncomfortable in the batter's box.
Kelly primarily features a fastball-changeup combination, and his lethal changeup is at the heart of his success on the mound. Against his changeup, which he throws 23.1% of the time, opponents are hitting just .180 against the pitch to go with a slugging percentage of just .234. It's a pitch that neutralizes hitters on both sides of the plate, and it has generated a run value of 16 on the season, according to Baseball Savant.
Kelly has faced the Brewers twice this season, allowing four earned runs and just four hits across 13 innings pitched. Against the current roster, the Brewers are batting just .184 with a .558 OPS against Kelly in his career. The Diamondbacks would have a dependable starter to turn to if this series comes down to an elimination game on Thursday. However, as was the case with the first two Diamondbacks starters, this would also be Kelly's first postseason start of his career.
Assuming Peralta takes the mound in game two versus Zac Gallen, Wade Miley would be at the helm in this crucial matchup. In his 13th big league season, Miley is putting up some of the best numbers of his entire career.
He is pitching to a 3.14 ERA across 120.1 innings, and he has been extremely successful at pitching to soft contact, as is illustrated by his 31.3% hard-hit rate, which is in the 93rd percentile, coupled with his 47.4% ground ball rate.
Miley's sound pitching performance all season long, combined with his veteran presence on the mound, makes him a trustworthy candidate for an elimination game. He has delivered when called upon all season long, and the Brewers will likely be calling his number yet again in order to see prolonged postseason success this October.
Lineup Comparison
| Metric | Brewers Full Season | D-backs Full Season | Brewers Second Half | D-backs Second Half |
| --- | --- | --- | --- | --- |
| RS/G | 4.49 | 4.60 | 4.85 | 4.18 |
| BA | .240 | .250 | .250 | .240 |
| OPS | .705 | .730 | .724 | .698 |
| wOBA | .309 | .317 | .317 | .306 |
| ISO | .146 | .158 | .146 | .143 |
| wRC+ | 92 | 97 | 97 | 90 |
| BB% | 9.7% | 8.8% | 9.9% | 9.0% |
| K% | 23.2% | 20.4% | 21.0% | 20.5% |
Via FanGraphs
When comparing how these two offenses stack up against each other, it's important to analyze both how an offense has performed on the season as a whole, as well as how the ball club is hitting lately.
When looking at the full-season numbers, Arizona edges out Milwaukee in nearly every offensive statistic listed above. They've hit for more power, better average, and struck out at a lower rate than the Brewers. However, when looking at second half performance, the script completely flips.
The Brewers' offense has performed much better in the second half of the season compared to the Diamondbacks. They have better metrics in most categories in the table above, and they enter this Wild Card Series matchup with the hotter offense.
For Arizona, the trio of Corbin Carrol, Ketel Marte, and Christian Walker pose the biggest threats to Milwaukee's pitching staff. Behind them, veterans Lourdes Gurriel Jr. and Tommy Pham serve as a legitimate threat at the plate as well.
As mentioned earlier, this lineup has an impressive combination of speed and power spread throughout the lineup. They might be in a slight slump as they head into American Family Field, but this lineup can score when things are clicking at the plate.
For the Brewers, this offense is predicated on run production from the top of their lineup. Their offensive floor hinges on the ability of Christian Yelich and William Contreras to get on base, and hitters such as Carlos Santana, Mark Canha, and Willy Adames to drive them in.
It may sound obvious, but the Brewers are a very hard team to beat when they're getting consistent run production from the middle of their lineup and hitting with runners in scoring position. Both have been areas the ball club has struggled with in recent postseason appearances, but the Brewers have been excelling on both fronts as they enter this Wild Card Series matchup.
Overall, these rosters are pretty comparable to each other. Both feature an abundance of young, fast talent coupled with veterans sprinkled throughout the lineup. However, due to how they have performed as of late, I give the slight edge to the Brewers in the offensive comparison.
Bullpen Comparison
Here is where Milwaukee separates themselves from most teams. Their bullpen has been fantastic this season, posting the second-best bullpen ERA (3.40) and third-best WHIP (1.21) in baseball this season. From top to bottom, they have guys they can throw into any situation and can rely upon to produce outs.
| Brewers' Bullpen | IP | K/9 | BB/9 | GB% | ERA | xERA | FIP | xFIP |
| --- | --- | --- | --- | --- | --- | --- | --- | --- |
| Devin Williams | 58.2 | 13.35 | 4.30 | 47.8% | 1.53 | 2.73 | 2.66 | 2.79 |
| Joel Payamps | 70.2 | 9.81 | 2.17 | 45.9% | 2.55 | 3.21 | 3.48 | 3.65 |
| Hoby Milner | 64.1 | 8.25 | 1.82 | 50.9% | 1.82 | 3.00 | 3.13 | 3.66 |
| Abner Uribe | 30.2 | 11.45 | 5.87 | 53.0% | 1.76 | 3.51 | 2.77 | 3.68 |
| Bryse Wilson | 76.2 | 7.16 | 2.58 | 37.8% | 2.58 | 3.96 | 4.13 | 4.72 |
| Trevor Megill | 32.3 | 13.50 | 3.03 | 30.7% | 3.31 | 3.26 | 2.15 | 3.13 |
| Elvis Peguero | 61.1 | 7.92 | 3.82 | 56.0% | 3.38 | 3.71 | 3.81 | 4.10 |
Via FanGraphs
Milwaukee has three relievers with an ERA under 2.00 and five relievers with an ERA under 3.00. If Elvis Peguero is able to return from his elbow injury in time for the playoffs, the Brewers have four legitimate options to use as a setup man for Devin Williams on any given night.
One reservation I have about being so reliant upon this group is the lack of postseason experience. Among all the names listed above, the only player to throw a pitch in the postseason is Bryse Wilson, who made one career appearance, throwing six innings for the Braves in the 2020 playoffs.
The Brewers will need their bullpen to continue to show out in this Wild Card Series. And while this group has been one of the most dependable and consistent in baseball all season, the postseason brings a whole new level of pressure.
For Arizona, their bullpen has been more middle of the pack in terms of season-long performance. However, they've been one of the better performing bullpens in MLB since September 1. Leading the pack is closer Paul Sewald, who came over from the Seattle Mariners at the trade deadline, along with an abundance of pitchers who have stepped up their game in the final month of the regular season.
| D-backs' Bullpen | IP | K/9 | BB/9 | GB% | ERA | xERA | FIP | xFIP |
| --- | --- | --- | --- | --- | --- | --- | --- | --- |
| Paul Sewald | 60.2 | 11.87 | 3.56 | 32.1% | 3.12 | 2.78 | 3.57 | 3.76 |
| Kevin Ginkel | 65.1 | 9.64 | 3.17 | 50.3% | 2.48 | 3.11 | 2.86 | 3.60 |
| Miguel Castro | 64.2 | 8.35 | 3.48 | 43.8% | 4.31 | 3.82 | 4.31 | 4.26 |
| Ryan Thompson | 30.2 | 6.16 | 2.35 | 61.2% | 3.82 | 3.21 | 4.33 | 4.41 |
| Andrew Saalfrank | 10.1 | 5.23 | 3.48 | 71.0% | 0.00 | 3.38 | 3.26 | 3.74 |
| Joe Mantiply | 39.0 | 6.46 | 2.08 | 53.8% | 4.62 | 3.79 | 3.85 | 4.21 |
| Kyle Nelson | 54.1 | 10.44 | 2.15 | 36.7% | 3.98 | 3.85 | 4.34 | 3.60 |
| Bryce Jarvis | 23.2 | 4.56 | 3.42 | 44.3% | 3.04 | 5.73 | 5.03 | 5.27 |
| Luis Frias | 31.0 | 7.55 | 4.94 | 41.5% | 4.06 | 5.06 | 4.68 | 5.39 |
Via FanGraphs
In the month of September, the Diamondbacks have a bullpen ERA of 2.31 and WHIP of 1.02, which are the third-best and second-best in the NL, respectively. Kevin Ginkel has helped stabilize the back end of the bullpen as the setup man to Sewald, and the names around him have greatly elevated their play as of late.
Ryan Thompson, Andrew Saalfrank, Miguel Castro, and Luis Frias are all sporting ERAs under 1.00 in the month of September. It's been a leap forward in production across the board, and their strong bullpen played a large role in Arizona holding onto the last Wild Card berth.
Neither of these bullpens brings a whole lot of experience to the mound. However, both of these groups have been two of the best bullpens in the sport in the month of September, and this three-game set could be determined by which bullpen falters first in this matchup.
Series Prediction
Runs are going to come at a premium in this Wild Card Series. In game one, the Brewers have an opportunity to get after an inexperienced rookie who struggled in his first big league season in Brandon Pfaadt. Beyond that, it gets significantly more difficult for the Brewers as Arizona will turn to their lockdown one and two pitchers in the starting rotation.
Additionally, both Milwaukee and Arizona have been two of the best defenses in baseball by several different metrics. Both the Brewers and the Diamondbacks rank in the top two in FanGraphs' Defensive rating (DEF), Outs Above Average (OAA), and Ultimate Zone Rating (UZR).
Combine the collective dominant pitching with the elite defensive performances, and runs are going to be hard to come by in this series. Both teams need to manufacture runs in whichever way possible, as well as take advantage of scoring opportunities when necessary.
With that being said, I give the slight edge to the team that has been performing at a higher level as of late, and that is the Milwaukee Brewers- despite suffering the big blow to their starting rotation.
Home field advantage should play a major factor in this series. All three of Arizona's starters will be making their first career postseason start in this series, and they will come in an opposing team's ballpark. The inexperience throughout both Arizona's starting rotation and bullpen has me siding with the Brewers edging out the Diamondbacks in three games.
If you enjoy watching elite defense coupled with dominant pitching, this should be the series for you. I anticipate a tight series as the Diamondbacks will attempt to head into American Family Field and pull off the Wild Card Series upset over the Milwaukee Brewers.