Analysis
Morning Metrics June 30 2021: The Four Horsemen of the Home Run Race
As the season nears its halfway point, we could be in for an historic home run race down the stretch.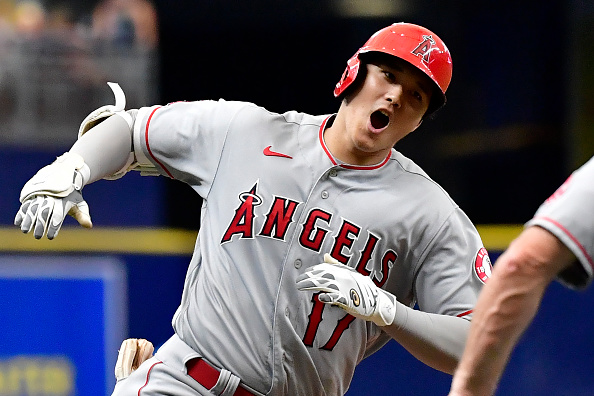 Morning Metrics is going to be a little different today because I want to chat about the home run race and the amazing month of June that Kyle Schwarber and Shohei Ohtani have put together. It deserves our full attention.
Shohei Ohtani currently stands atop the home run leaderboard at 28 after hitting two more homers at Yankee Stadium last night. Vlad Jr. has 26 long balls in second and Fernando Tatis Jr. and Kyle Schwarber have 25 big flies in third place. Let's break down how we got here and what to expect the rest of the season. This could be a home run race for the history books!
The Breakout is Real
Since June 12th, Kyle Schwarber has hit 16 home runs in 18 games and is slugging over 1.000 in that span. He has hit a home run every 4.81 plate appearances and has created 26 runs for the Nationals, as they've gone 14-4 during that stretch and are now only 3 games back of the Mets for first place. Schwarber has created 27% of the Nationals runs over their massive winning stretch and he doesn't appear to be slowing down anytime soon.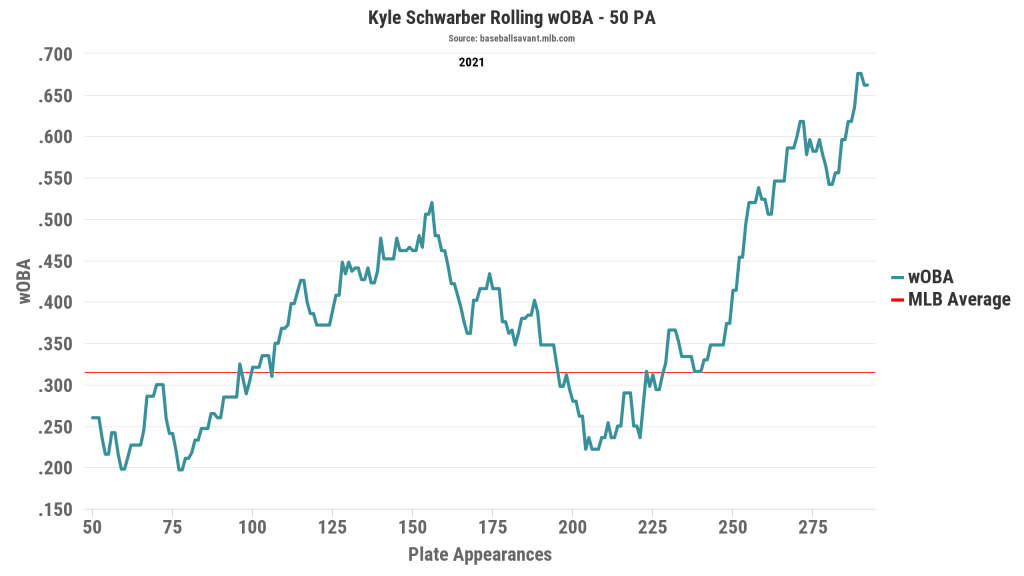 I can't tell the difference between Schwarber's rolling wOBA chart and Tesla's stock chart in late 2020, and I know you're thinking about selling high, but the hype is very real. Schwarber's xwOBA of .405 is actually higher than his wOBA of .383 largely due to his 52.3% hard hit rate, which ranks 13th in the league.
His average home run distance of 413 feet is equal to Vlad Guerrero Jr., and only 7 of his 25 home runs were hit below 105 MPH. Schwarber has hit 18 batted balls greater than 105 MPH since June 12, which leads the league, and 60% of his home runs are considered no doubters, which means they would be gone at every ballpark.
Ohtani.
A man that needs no introduction or witty headline, Shohei Ohtani has hit 11 home runs over the last 16 games. And while that pales in comparison to Schwarber, it is still quite a feat. Since June 12th, there have only been three days without an Ohtani and/or Schwarber home run. Baseball has never been more exciting to watch and every night is a chance for someone to change history.
Ohtani is currently tied with Vlad Jr. for the WAR lead at 4.7, but as Ohtani takes the mound tonight, he could easily surpass Vlad and take a commanding lead in the MVP race, especially if he hits his MLB-leading 29th home run and 12th in 17 games. Nothing is out of the question when Ohtani is on the field.
Unsustainable Pace
Fernando Tatis Jr. has 69 less plate appearances than Vlad Jr, but is only trailing him by one homer. The pace that Tatis is on is incredible, but may not be sustainable. He has hit 43.9% of fly balls for home runs, which is higher than Ohtani (38.4%), Schwarber (35.7%) and Guerrero Jr. (35.1%).
Tatis Jr. also has the lowest expected home runs of the group at 20.6 home runs, which is 4.4 less than his total of 25. It will be very difficult for Tatis Jr. to keep up this pace, but sometimes the baseball gods work in your favor. He is still sixth in hard hit rate and fifth in average home run distance, so he won't drop off a cliff, but I would be putting my money on Ohtani or Vlad to win the home run race.
The Current Pace
As the final night of June baseball commences, I thought it would be interesting to see how the current home run pace stacks up to previous years.
| | | |
| --- | --- | --- |
| Player/Year | HR on July 1 | Total HR |
| Chris Davis 2013 | 31 | 53 |
| Albert Pujols 2009 | 30 | 47 |
| Christian Yelich 2019 | 29 | 44 |
| Alex Rodriguez 2007 | 28 | 54 |
| Pete Alonso 2019 | 28 | 53 |
| Giancarlo Stanton 2017 | 21 | 59 |
Considering the home run leaders are between 25 and 28 home runs currently, the expectation is that the leader by season's end will be above 50 home runs, but it isn't a guarantee. There is an outside chance that a player could surpass the 60 HR mark for the first time since Sammy Sosa and Barry Bonds in 2001.
There is also a possibility that one of the four leaders right now does not end up as the home run champion. In 2017, Giancarlo Stanton only had 21 home runs going into July, but hit 38 in the final 3 months of the season to finish at 59. Be on the watch for Ronald Acuna Jr. or Aaron Judge to heat up and make a push for the leaders. History will be made in some way or another this season, so keep an eye on the home run race and check back for updates!