Analysis
Morning Metrics July 2, 2021: The Red Sox are World Series Contenders
It's time to take the Red Sox seriously.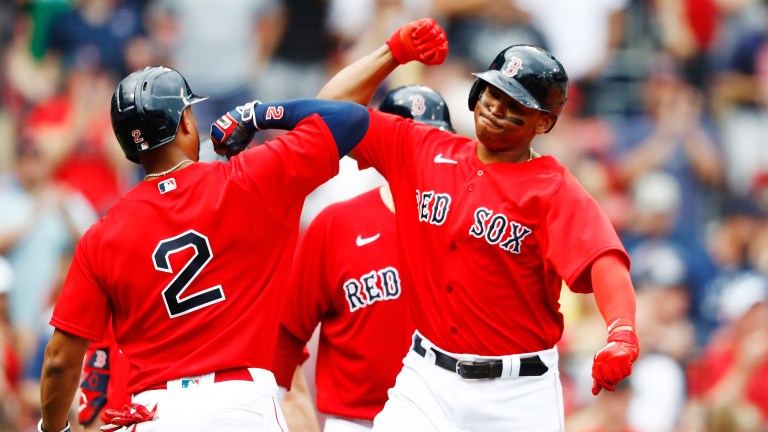 Numbers of the Night
Biggest Bomb – Brendan Rodgers 451 feet
It was quite the shock to me when I realized Brendan Rodgers is still just 24 years old. He has been a top 10 prospect since 2015 and somehow only has 225 MLB PA to his name, so it's very exciting to see Rodgers mash in his first real chance in the majors. In 123 PA, Rodgers has a 123 wRC+ and 5 bombs, including this mammoth shot last night. Look out for Rodgers in the second half!
Taking the Cover Off the Ball – Yordan Alvarez 116.4 MPH
Yordan Alvarez hitting baseballs is the equivalent of a Mike Tyson uppercut. You don't want to be caught in its path. This one left the yard at only 21 degrees launch angle, which is low enough to be considered a line drive or "un misil" as "Los Astros" twitter account called it. Me encanta los misiles de Yordan Alvarez!
Robot Umps Where Art Thou? – Adrian Johnson 20 missed calls
Witness in all its glory the worst umpire performance of the night courtesy of the wonderful Umpire Scorecards twitter account. 11% of calls were missed and consistency was thrown out the window. I need to start a robot ump petition.
Developing Trends
It's Time To Take the Red Sox Seriously
After beating the Royals 15-1 in a smackdown, the Red Sox have the second best record in baseball behind the Giants and find themselves with a 3.5 game lead for first place over the Rays. It's time for people to accept the 2021 Red Sox as World Series contenders.
FiveThirtyEight's MLB predictions, which are updated after every game, have the Red Sox with a 79% chance to make the playoffs and a 43% chance to win the division. For the first time all season, the Red Sox have a greater chance of making the playoffs and winning the division than the Rays. The Red Sox current 7 game win streak and Rays 3 game losing streak has felt like a major tide turner and FiveThirtyEight's algorithm agrees.
The Red Sox rank third in weighted runs created behind the Blue Jays and Astros, sixth in bullpen ERA, but only 20th in starter ERA. The concern coming into the season was their starting pitching depth, but the return of Chris Sale in coming weeks and Tanner Houck later in the season will give the Red Sox enough depth, especially if the Red Sox continue to score 5.18 runs per game.
Chaim Bloom will certainly make smart moves at the deadline and Jarren Duran, who has a 152 wRC+ in AAA, should be called up sometime after the All-Star break. The Red Sox have finally received production from the hitters in the bottom of their lineup. Since June 1st, Bobby Dalbec has a 104 wRC+, Kike Hernandez 110 wRC+ and Hunter Renfroe 135 wRC+. Marwin Gonzalez is still struggling at the plate. Bloom must shore up second base at the deadline to prep the Sox for the playoffs. Whit Merrifield is an expensive option, but Jonathon Schoop or Adam Frazier may be in their price range.
FiveThirtyEight gives the Sox a five percent chance of winning the World Series. The keys to winning a World Series are: depth, front-line starting pitching (Eovaldi & Sale), an elite bullpen(Barnes/Whitlock) and a lineup that crushes souls. Red Sox +2000 to win the World Series is looking pretty juicy #NotGamblingAdvice.
Editors note: Colby is a diehard Red Sox fan, if you couldn't tell.
Pitcher of the Night – Nate Eovaldi
Pitching line – 7 IP, 6 K, 0 BB, 5 H, 0 ER
Nathan Eovaldi over his last six starts has a 2.43 ERA while striking out 41 and only walking five batters. Eovaldi has held the Sox rotation together over the month of June, being the only starter below 5.00 ERA over that span. Eovaldi now has 3.2 WAR, which is tied for first in the AL with Carlos Rodon, and according to Red Sox Stats, his 3.2 WAR is worth $25.9 million. Quite the value for the Red Sox. Eovaldi has quietly engrained himself as a Cy Young candidate in the AL with Carlos Rodon and Gerrit Cole, who has imploded post-stick stuff.
Hitter of the Night – Griffin Conine
Batting line: 1-4, HR, BB, IBB
Griffin Conine, son of former Marlins legend and Just Baseball's MLB Advisor, Jeff Conine, hit his 16th home run of the season, which tied the minor league lead. Griff is off to an amazing start to the year with a .315 isolated power and 15.5% walk rate. He knows the zone and has a great eye, but is striking out 36.8% of the time, which he'll need to refine as he climbs up the minor league ladder.
He reminds me a lot of Kyle Schwarber at the plate and is a much better athlete overall. He's a smart hitter and I trust that he'll adjust and cut down on the strikeouts and even if he doesn't, hitters like Joey Gallo and Schwarber have succeeded with high K rates by walking a lot.
Oh also please go check out Just Baseball Media's very own podcast with Jeff Conine called Outside The Box. First episode if out now!