Analysis
Morning Metrics July 1, 2021: Scoring is Back
Offense is cool again.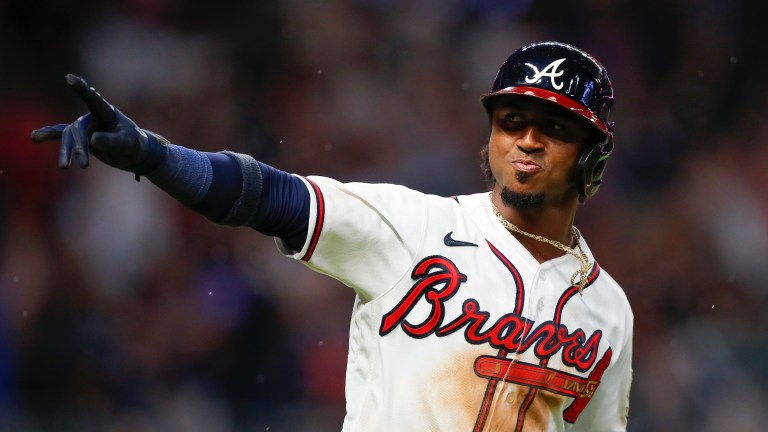 Numbers of the Night
Throwing Flames – Shohei Ohtani 99.3 MPH
Ohtani may have had the hardest pitch of the night among starters, but that certainly wasn't helping his cause as he exited after only retiring two batters and giving up seven earned runs. Ohtani walked four batters and hit Clint Frazier. It was oddly reminiscent of his blow up starts to begin 2020 in which he walked eight batters over 1.2 innings and eventually was shut down with a forearm strain.
There is nothing to suggest that Ohtani is injured as his velocity was on par with season averages, but it's something to keep an eye on moving into his next start. Ohtani has struggled with walks throughout his career. He ranks fifth worst in walk rate this season at 12.4%, so this very well could have been a one off blow up start due to losing control.
Biggest Bomb – Adam Duvall 458 ft
This will surely make Aram happy as the Fish went on to beat the Phillies 11-6. Is it still #FishTankSZN in Miami?
Human Element Award – Phil Cuzzi
I've had enough of human umpires and I will make it my daily goal to convert at least one person to the robo ump cause. Why should we get calls wrong when we can get them right? Make it make sense! On average, MLB umps make 93.8% of calls accurately. That doesn't cut it in my book.
Nightly Rundown
Scoring is back!
784 balls in play. 54 home runs. 49 doubles. 279 hits. Six teams scored double figures. 10 games finished with more than 10 runs. 204 runs scored in total.
It was a hit parade. Something that baseball had been missing to begin the season. Average is still way down so far at a putrid .239, but last night may have been the spark that ignites a summer filled with home runs and run scoring shootouts.
Through three days this week, a total of 447 runs have crossed the plate. MLB weekly average for runs scored is 813 and daily average is 116 runs. The highest scoring week of the season has been 906 runs from May 31 to June 6. If over the remaining four days, an average of 116 runs are scored then it will be the highest scoring week of the season at 911 runs. Since 2015, there have only been four weeks with more than 1000 runs scored and it's possible that this week becomes the fifth if daily run scoring average is above 139 runs to end the week.
Too Hot to Handle
The Milwaukee Brewers won their eighth game in a row last night as they clobbered the Cubs in a 15-7 victory. The Brew Crew now have a commanding six game lead over the Cubs for first place. On their eight game win streak, they have beaten the D-backs twice, Rockies three times and now three game sweep of the Cubs. They can keep the streak live against the lowly Pirates tonight. The Brewers haven't just beat up on bad teams. They own the best record in baseball against teams above .500 at 20-6. Next best is Houston at 29-16 and Boston at 24-17.
The Brewers bats have finally come alive. Over their eight game win streak, they have an .857 OPS and 133 wRC+, which ranks fifth in baseball over that span. Brewers pitching has been the backbone of their team all year and has a 2.31 ERA over the last eight games. Keston Hiura and Willy Adames, who was acquired in a trade with the Rays, have both come alive over the last week.
They each have three home runs with a wRC+ over 190. Adames struggled mightily in Tampa and was hitting just .180 with 74 wRC+ before being traded for Drew Rasmussen and J.P Feyereisen. Since joining Milwaukee, Adames is hitting .280 with 141 wRC+ over 149 PA. Hiura began the season with the Brewers, but couldn't find a rhythm at the plate and was sent down to Triple-A. He mashed in Triple-A and was called back up on June 23rd. Since his call up he is batting .304 with 193 wRC+. If Adames and Hiura can stay productive at the plate, the Brewers have a very real chance of being a playoff threat in the NL with their electric staff.
Pitcher of the Night – Chris Bassitt
Pitching line: 7 IP, 7 K, 3 H, 1 BB, 0 ER, 4 hard hit balls against
On a night that had to be the highest scoring of the year, only four pitchers went six or more innings and Bassitt was the only pitcher to not give up a run. It was an impressive night for Bassitt who limited hard contact and averaged 85 MPH exit velocity against.
He has been a weak contact machine all season only allowing an average exit velocity against of 87.6 MPH and getting 54.5% ground balls on his sinker, which he threw 43% last night. Bassitt continues to get results, but I wouldn't be apprehensive to selling high on his performance in fantasy leagues.
Hitter of the Night – Ozzie Albies
Batting line: 5-6, 2 HR, 7 RBI, 1 SB, 3 hard hit balls
Ozzie Albies has been on an absolute tear in the month of June. He has a 161 wRC+ to go along with six homers and eight stolen bases on 10 attempts. Albies is making a case for being the top second basemen in the league and will most likely be representing the NL as a starter in the All-Star Game next week.