Monday Metrics: The Final Countdown
Wander is heating up, Bellinger is not, it's getting Rowdy in Milwaukee, and Darin Ruf rakes.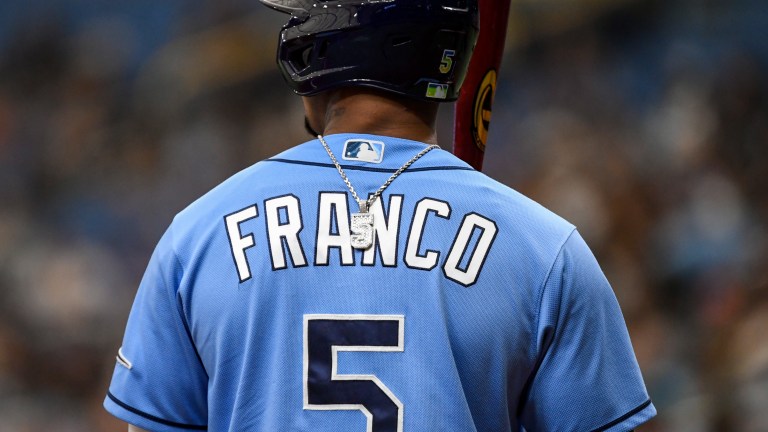 Coming out of the All-Star Break and trade deadline, players are pressing to finish the final two months of the regular season on a high note, but the baseballs gods don't grant every wish. Let's unpack recent performance from the best hitters in the game.
Does Cody Bellinger Belong in the Lineup?
Just two seasons removed from winning the MVP in 2019, it's a shock to everyone that Bellinger's playing time is becoming a topic of discussion, but to say Bellinger has been bad is selling it short. In 198 plate appearances, Bellinger is hitting .163 with a 55 wRC+ and striking out 27.3% with only five home runs.
His isolated power is .120, which is less than Adam Eaton and Jason Heyward. Maybe in 2015 that would have been a respectable comparison, but the 2021 version of Bellinger is incomplete. Pitchers are attacking the steep bat path and all for nothing swings with fastballs up in the zone and sliders in the dirt. Bellinger is hitting just .162 against four-seam fastballs, which he sees 40.8% and .043 against sinkers, which he gets 10.9%.
Although Bellinger plays top tier defense in centerfield (4 Outs Above Average), there is a case to be made for him being left out of a potential playoff lineup.
Potential Dodgers Lineup:
Mookie Betts RF
Trea Turner 2B
Chris Taylor CF
Max Muncy 1B
Justin Turner 3B
Corey Seager SS
Will Smith C
AJ Pollock LF
Forgive me for putting Corey Seager, Will Smith and even AJ Pollock, who has a 138 wRC+, that low in the lineup, but the Dodgers are really that stacked that even the 2019 MVP is left out of the lineup. Due to the insane depth on the Dodgers' video game lineup, Bellinger seems to be the odd man out if he continues to struggle. Jeff Conine talked about Bellinger's woes on the most recent episode of Outside the Box.
Ke'Bryan Hayes, Please Elevate
Ke'Bryan Hayes is the prototypical MLB third basemen. He hits for power and is arguably the best defender at his position. His hard hit rate of 47.9% ranks 54th in MLB among players with minimum 50 batted balls. He also hits the ball up the middle 44.4%, which ranks third in baseball. Hard contact up the middle leads to optimal outcomes. Kyle Tucker, Juan Soto, Freddie Freeman, Will Smith and Yordan Alvarez are prime examples of star players with over 40% center field rate and over 45% hard hit rate. It is a bit alarming that Hayes only has a 99 wRC+ in 209 plate appearances while the players mentioned above all have above a 131 wRC+.
| | | | |
| --- | --- | --- | --- |
| Player | Ground Ball Rate | Average Launch Angle | wRC+ |
| Ke'Bryan Hayes | 54.9% | 3.9 degrees | 99 |
| Freddie Freeman | 41.7% | 12.7 degrees | 137 |
| Will Smith | 31.9% | 17.8 degrees | 131 |
| Yordan Alvarez | 41.7% | 12.4 degrees | 137 |
| Kyle Tucker | 34.9% | 17.3 degrees | 132 |
| Juan Soto | 56.0% | 5 degrees | 149 |
Hayes' inability to elevate his hard contact is hindering him from maximizing his power potential. Each player above except for Juan Soto has an average launch angle above 12 degrees and a ground ball rate below 42%. It's hard to compare any player to Soto because of his unique approach, but Hayes can take a lesson out of Soto's book.
Soto had a down first half for his standards and before competing in the home run derby, commented that the derby would fix his swing because he wasn't elevating pitches enough. Sure enough, Juan Soto has seven home runs since the All Star break. Ke'Bryan Hayes needs to take the same approach and elevate. The results will speak for themselves.
Wander Franco is Who We Said he is
The consensus top prospect in baseball got off to a slow start, but has put worries to rest since the All-Star Break after another two hit night against the Red Sox on Sunday Night Baseball. Confidence can be hard to come by at 20 years old facing the best competition in the world, but Franco seems to have found his stride in the second half.
| | | | | | |
| --- | --- | --- | --- | --- | --- |
| | PA | AVG | OPS | wRC+ | BB/K |
| First Half | 66 | .197 | .585 | 65 | .33 |
| Second Half | 65 | .305 | .845 | 133 | .46 |
Expectations were astronomically high for Franco coming up to the big leagues and slow starts are common, but people were starting to get antsy. Granted, he hit .326 with a 147 wRC+ while only striking out 11.9% in Triple-A, so expectations are rightfully high. Franco has always been a prospect without a hole. He's too good to fail and as Mike Petriello points out, Wander's xWOBA is on the rise over his last 40 plate appearances.
Get Rowdy, Get Rowdy, Get Rowdy
Coming in at 6 foot 4 inches, 255 pounds, Rowdy Tellez is a massive dude with even bigger power. On July 6, the Brewers sent Trevor Richards and Bowden Francis to the Blue Jays for Tellez in an attempt to add juice to a juiceless lineup. Rowdy has been the entire juice bar thus far. In 151 plate appearances with the Blue Jays, Rowdy had a 64 wRC+, .129 ISO and 21.9% strikeout rate.
The Blue Jays had all but given up on a guy that had a 133 wRC+ in 2020. Since joining the Brewers, Tellez is hitting .349 with four home runs, which is good for a 188 wRC+ and .326 ISO while only striking out 15.7% and walking 11.8%. Tellez has been one of the best hitters in baseball since his change of scenery. Something that fellow teammate Willy Adames can speak to as well. Adames has a 146 wRC+ in 256 plate appearance since trading a Rays uniform for a Brewers uniform and escaping the jam packed AL East.
Darin Ruf: West Coast Bryce Harper?
Darin Ruf and Bryce Harper are tied at 151 wRC+, which ranks 10th in baseball(min 180 PA). Over Ruf's last 287 plate appearances since returning from the KBO in 2020, Ruf has a 147 wRC+ and .919 OPS while walking 15.1% . Due to poor defense, Ruf doesn't have the opportunity to play everyday in the DH-less National League, but when he does fill in at first base or corner outfield, he makes the most of it at the plate.
With Brandon Belt out with injury, Ruf has transitioned into a full time first basemen in the month of July and capitalized for five home runs and a 184 wRC+. His 55% hard hit rate ranks 12th in baseball and his xwOBA of .402 also ranks 12th in baseball. Ruf went from exiled from the major leagues in 2016 and taking a three year sabbatical in the KBO to being one of the best hitters in baseball. Expect Ruf to continue his hard hitting ways as the Giants fight for first place in the NL West. Truly anything is possible in baseball.