Feature
MLB Journeymen: LaTroy Hawkins
Across a 21-year career, LaTroy Hawkins pitched for 11 different teams while being one of the most durable relievers in Major League Baseball.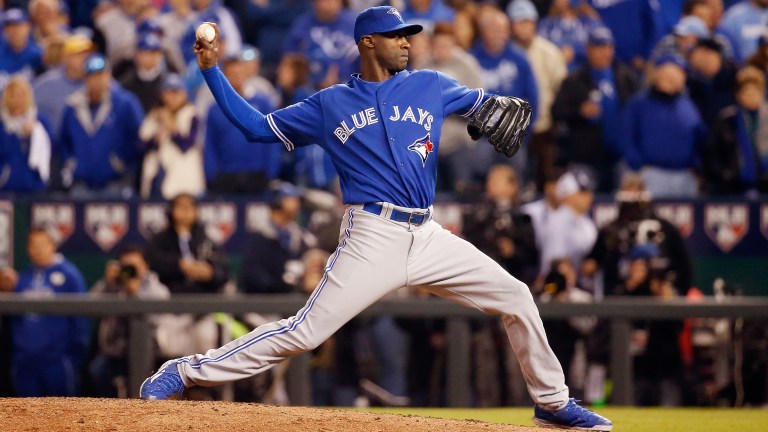 Throughout the rest of the offseason, as players land new homes, we'll look at some of baseball's well-traveled. Some have changed franchises more often than others. This starter-turned-reliever had the staying power to pitch through 21 major league seasons.
He was not unlike many multi-sport high school athletes. Choosing one athletic path over another can be a good problem to have, but still quite a burden for a teenager. LaTroy Hawkins' options were to join the Minnesota Twins organization, which selected him in the seventh round of the 1991 draft, or stay close to home in Gary, IN and take a full basketball scholarship at Indiana State.
Helping him with that decision was his grandfather, who said baseball was his better sport.
More than two decades later, Hawkins ended his baseball career unlike many big leaguers. He changed teams 11 times between 2003 and 2015, accumulated the 10th-most appearances in baseball history, and is one of a handful to record a save against all 30 MLB clubs.
Hawkins' career went through its share of prolonged struggle and prosperity. After debuting in 1995, he remained a Minnesota Twin for nine years — struggling as a starter before finding success in a setup role.
For five seasons, Hawkins took 98 turns out of the Twins rotation. His ERA in those starts was north of 6.00 and in 1999 he dubiously led the league in earned runs allowed. Hawkins moved into the bullpen, but while the 2000 season was an improvement the same troubles soon became apparent and his chance as a closer was taken away.
His status as a major leaguer in doubt, Hawkins discovered the stuff that turned him into one of the American League's best relievers. He was used as a setup man and he became a key bullpen piece for a Twins team that captured consecutive AL Central titles. Hawkins compiled a 2.13 ERA in 80.1 innings pitched in 2002 and followed that with a 1.86 ERA in 2003, the fifth-lowest among AL pitchers who threw at least 60 innings. He made 74 appearances in that '03 season, striking out 75 hitters in 77.1 frames.
Hawkins' revival made him appealing to other teams looking for bullpen arms. Namely the Chicago Cubs, who signed him as a free agent that offseason. He was a closer again, and saved 25 on the North Side. This was part of a dozen-year stretch in which he earned a reputation for durability — averaging 60 appearances from 2002 through 2013.
An injury-plagued year in 2012 with the Angels, though, nearly caused Hawkins to hang it up. He initially balked at a minor league contract offer from the New York Mets. Eventually, he took it.
Hawkins entered his 40s earning more attention across the league — not only because he was still consistently making appearances but because he did so at a high level. Hawkins trimmed his ERA even as the grey hairs accumulated: posting a 2.93 ERA in 73 appearances for the Mets in 2013 and then saving 23 over 57 games in a return to the Rockies in 2014.
Finding a steady workplace was not as elusive as obtaining a World Series ring. Hawkins' lone appearance in the Fall Classic came in 2007 during his first stint in Colorado. His next best chance came in his farewell year of 2015 when he and shortstop Troy Tulowitski were dealt to the Blue Jays on July 28. Toronto gave Hawkins one last postseason trip, but it ended in an ALCS defeat.
As he told Esquire during that last season, the payoff of playing so long and for so many teams was the myriad experiences.
He also sits in awe at having had the privilege to "live in a lot of different cities that most people don't get a chance to" and "deal with people from all walks of life," whether that's executives, grounds crew workers, or a homeless man he befriended and walked to games with while in San Francisco. All of that, he beams, has "definitely brightened my outlook on life and made me a better person."

Esquire, 2015
LaTroy Hawkins left the majors without an All-Star appearance or a championship, but he gained immense respect for his perseverance among many other positive qualities.