Feature
MLB Journeymen: Kenny Lofton
One of the most exciting players of his era, Kenny Lofton played for 11 teams across a big league career that spanned 17 seasons.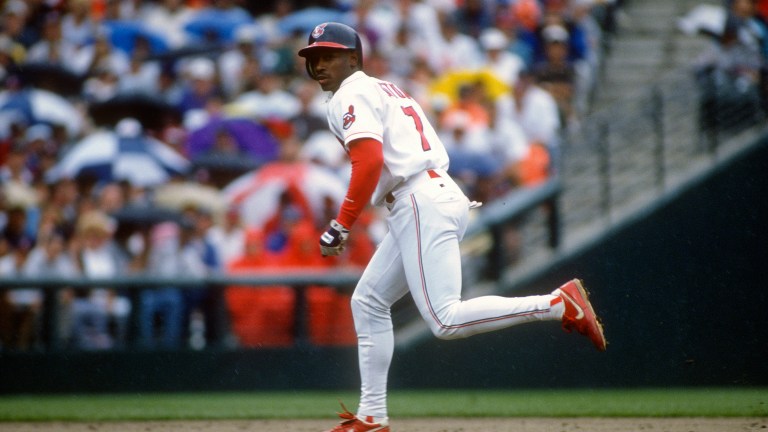 Throughout the rest of the offseason we'll look at some of baseball's well-traveled. Some have changed franchises more often than others. Up next is a dynamic outfielder who managed to spend the final seven seasons with 10 different clubs.
Take Ken Griffey Jr out of it. Is Kenny Lofton the most exciting player of the 1990s?
You can make a case for Mark McGwire for how often and how far he hit a baseball. Maybe it's Barry Bonds. But not many during that time generated excitement in the various ways Lofton did.
His exceptional speed and leaping ability made him a terrific center fielder — tracking down would-be hits in the gap or taking away potential homers. Before the major leagues, it was put to good use on the University of Arizona basketball team under Lute Olsen.
That quickness was not limited to the outfield. Lofton led the league in stolen bases for five consecutive seasons — averaging 65 from his rookie year in 1992 through 1996.
A good reason why he made so many steals was that he got on base plenty. Lofton was a hair short of being a career .300 hitter and he eclipsed that mark 10 times. He had a 110 OPS+ or better in seven seasons.
Lofton was the catalyst on 11 teams that made it to the postseason and two that ended up in the World Series. The most celebrated of those teams was Cleveland in 1995. Lofton, an integral part of a group that grew up within the organization and blossomed into a dynasty in-waiting, with names like Ramirez, Thome, and Belle leading the charge to an absolute domination of the AL Central.
Cleveland's long-awaited return to the World Series came shortly after Lofton's daring on the bases. On a Randy Johnson pitch that led to a passed ball in the eighth inning, Lofton took off from second base and didn't slow up.
Lofton still has a strong association with Cleveland's baseball history, having played there for more than a decade, which makes it hard to believe he squeezed 10 more teams into a 17-year career. He wasn't confined to one part of the country, either.
From 2002 with the Chicago White Sox to a full-circle reunion in Northeast Ohio, Lofton circumnavigated the majors — playing for at least one club in each division. He made the postseason in five of those final six seasons. It's probably not a coincidence nor good fortune, because Lofton didn't spend his time in those Octobers riding the bench.
He scored the winning run to send San Francisco to the '02 World Series. He batted .323 for the Cubs in 2003 NLCS, better remembered for Steve Bartman. And he recorded 12 hits as Cleveland came within a game of the pennant in 2007.
Six years after his retrirement, Lofton made his first appearance on the Hall of Fame ballot. It would also be his last. Because he received just 18 votes from the writers, Lofton didn't reach the five percent threshold needed to remain eligible. One and done.
In fairness, Lofton isn't a Hall of Famer. But he shouldn't have disappeared from the ballot so abruptly. His career was far better than many who've outlasted him.
A dynamic player who made six All-Star Games, won four Gold Gloves, had a .794 OPS, and stole 622 bases? That deserves more appreciation. It's the least that could've been done for a very good career and a player who was high on entertainment value.