Feature
MLB Journeymen: Bartolo Colón
Bartolo Colon's distinct look and prolonged success would've stood out even if he didn't pitch for 11 clubs over 21 years.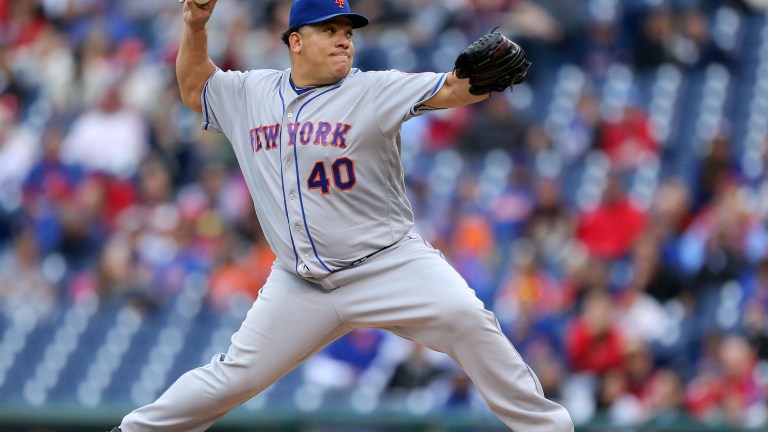 For the rest of the offseason, we'll look at baseball's well-traveled, some of who have changed franchises more often than others. Next is someone who, as the saying goes, needs no introduction.
He's eligible for the Hall of Fame next year. Even if he had a realistic chance to get in, Bartolo Colón doesn't need it to gain any more notoriety. Unique is a better word. Not only did he create a large footprint on the baseball landscape with his lengthy and transcendent career, but it was also better than most who played as long or longer than him (and there aren't many of those).
He pitched for a team that made the World Series in 1997 and a team that reached the World Series in 2015. He was an All-Star in 1998 and an All-Star again in 2016. His 247 wins are the most for a Latin-born pitcher. Twenty-one of those came in 2005, when he earned the American League Cy Young Award.
Colón also had a one-of-a-kind image, especially as he reached the latter part of his career. He defied any thought of a typical baseball body. I mean, look at him.
Whether at 29, 39, or probably even still now at 49, the one consistent part of Colón was his precision. He didn't record a lot of strikeouts, but he walked even fewer. Beginning in 2002 with Cleveland, he didn't allow more than 70 free passes in a season.
Colón was dealt from Cleveland to the Montreal Expos, then traded from the Expos to the White Sox where he tossed a league-leading nine complete games in 2003, and then signed with the then-Anaheim Angels.
Following his Cy Young in '05, Colón's career entered a second act. His last two years with the Halos were disastrous. He exchanged Sox for the next two seasons — 2008 in Boston and 2009 back with Chicago. Injuries ruined his second stint on the South Side, first a bad knee and later a bad right elbow and eventually a bad right shoulder. He underwent an unconventional and controversial surgery which included a transplant of stem cells.
A resurgence of sorts came in Oakland. He was suspended for 50 games after testing positive for performance-enhancing drugs, which overshadowed a two-season stretch with a 130 ERA+, a WHIP of 1.185, and an All-Star selection in 2013.
Colón then elevated himself to fan-favorite status with the Mets, while also becoming the third Dominican-born pitcher to record at least 200 victories. He seemed to be enjoying it just as much. And if you don't think so, watch this flip behind the back on a slow grounder in Miami in 2015.
As exciting as it was to watch him field his position, Colon's entertainment value shot through the roof when he was at the plate.
He was a terrible hitting pitcher, even by hitting pitcher standards. Looking at his stat line is like staring at the sun. In 299 career at-bats, he struck out 166 times. His slash line: .084/.092/.107. It's not like he had the physical build to luck into any infield hits.
Stats, though, don't convey the sheer ineptitude by which Colón had performed in the batter's box. He gradually improved over time — making contact, hitting singles, and even hitting doubles. But nobody — literally nobody — expected what took place in San Diego in May 2016.
Colón came to the plate in the second inning, not having recorded as much as a hit that year. He took a swing at James Shields' 1-1 pitch. Contact was made. The ball had lift. It carried to left field. And what seemed as likely as lighting striking in San Diego, it landed over the wall.
After New York, Colón made stops in Atlanta, Minnesota, and Texas before signing with the Acereros de Monclova in the Mexican league. His final major league game was in 2018…maybe.
"I have never stopped practicing," he said last year.