News
MLB Injured Report: Oneil Cruz Among Top Players to the IL
Just a few games into the 2023 season, injuries have already had an impact on some of Major League Baseball's best teams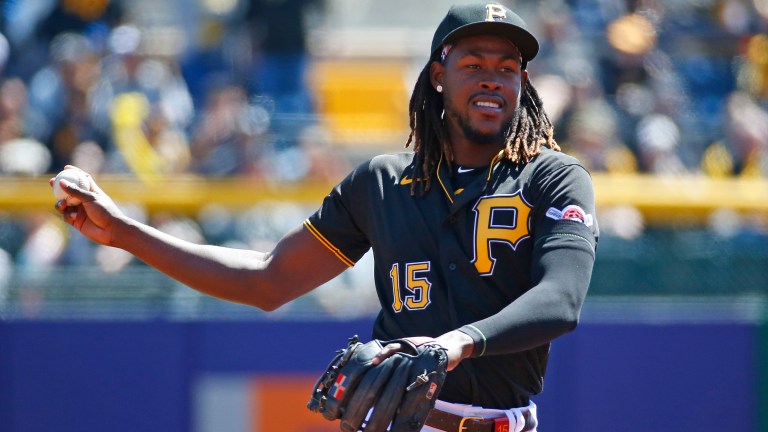 Injuries are the most unfortunate part of any sport.
They can be crippling for players and teams, and at times, can feel contagious. But how teams weather the inevitable injury storm is crucial to their overall success throughout the year.
It comes down to performance, depth, and a lot of times, luck.
Let's take a look at the week's biggest injuries and what each one means for the respective teams.
The Pirates Lose Oneil Cruz in Brutal Injury
This is, without a doubt, the biggest and most devastating injury we've seen so far this year.
Pirates shortstop and franchise cornerstone, Oneil Cruz suffered a fractured left ankle Sunday in a home plate collision with White Sox catcher Seby Zavala.
This is a massive blow for the Bucs, who've gotten off to an unexpected 6-4 start. They've revitalized the city and given Yinzers hope that better days may be closer than they thought.
Cruz himself has been solid too. In nine games, he'd gotten on base at a .375 clip, hit a homer and stole three bases. But Cruz represents so much more, for this city and team, than an exciting young player with a high ceiling. He's Pittsburgh's transition back to baseball relevance.
Now, he's out roughly four months. And the Pirates' hopes of playing competitive baseball are probably shot. Who they ask to play shortstop (Rodolfo Castro) is probably irrelevant. The season now becomes a mission to resign Bryan Reynolds and make the correct pick come July.
Phillies Lose Another First Baseman
Five hours east on I-76, another Pennsylvania team is dealing with their own bad luck.
The Phillies started their season undermanned, when Rhys Hoskins tore his ACL in a spring training game. That pushed Darick Hall to the top of the depth chart.
Hall is known for his power. He hit nine home runs in just 142 plate appearances last year. He's not Hoskins, but he's a big bat in the middle of a lineup that would've given him plenty of opportunities to hit.
Instead, he's expected to be out roughly two months after tearing a ligament in his right thumb.
A thin Phillies lineup gets even thinner. So where do they turn at first base?
I'd imagine that'd likely be a matchup-based decision.
The Phillies called up Kody Clemens (yes, Roger's son) to get some at-bats against righties. Clemens had a solid spring, hitting over .300 with three home runs, but he's a career .137 hitter in 124 at bats.
Against lefties, you'd have to imagine Alec Bohm is going to slide from third-to-first and Edmundo Sosa would slot in at the hot corner.
Two positives on the Phillies' injury front?
Ranger Suarez threw 35 pitches in a bullpen session and looked "outstanding," per his manager.
And, Bryce Harper has been launching nukes in BP.
Seattle Down a Top Reliever
One of my favorite baseball-watching hobbies is finding electric relief pitchers and locking in on every pitch they throw.
Andres Muñoz is one of those guys, who is must-watch TV when he's on the mound.
Unfortunately for the Mariners, he landed on the 15-day injured list this weekend with a right deltoid strain. He said it's more precautionary than it is a significant injury, and that he could be throwing shortly, but nonetheless this is tough for the M's.
Insert Matt Brash, Gabe Speier, Diego Castillo and Trevor Gott.
Scott Servais will probably mix and match when it comes to late-inning work, but let me be the one to make the cases for Speier and Gott. Both have quietly been very solid, not allowing an earned run yet in 5 1/3 and 6 1/3 innings of work, respectively.
The Mariners will need them to keep chucking zeros for the next two weeks.
Yankees' List of Injuries Lengthens
Frankie Montas. Luis Severino. Lou Trivino. Tommy Kahnle. Carlos Rodon. Josh Donaldson. And now, Jonathan Loaisiga.
The Yankees' eighth-inning man hit the IL this weekend with elbow inflammation. What that means, the team hasn't said. But what it does is lengthen the already long list of Yankees pitchers who've gotten hurt already.
The Yankees are now down three of their highest-leverage middle relievers, and it's forcing them to rely on a combination of Ian "Slambio" Hamilton, Jimmy Cordero, Albert Abreu and Colten Brewer to get big outs.
Not for nothing, but they HAVE been pretty good to start the year.
Then, Yankee World freaked out a little bit Tuesday when it came out that Carlos Rodon had back stiffness and his return would be pushed back. Aaron Boone said he threw a bit on Tuesday, was scheduled to throw a bullpen Wednesday and should go back to facing live hitters after that, if all goes well. Seems like a lot more in the worry department than in the things-are-actually-wrong department.
Severino is supposed to throw a bullpen Thursday. That's the update on him.
All this really means, at least in the short term, is that Jhony Brito is going to continue to get looks for the time being, and MAN has he been good. He's allowed just one run and five hits, while striking out eight through 10 innings of work. If he continues to throw the ball this well, he could push Clarke Schmidt out of the rotation.
Joe Musgrove Setback in Padres Return
We're all waiting for Joe Musgrove to get back on the mound, but we might have to wait a little longer.
Java Joe landed on his right shoulder while fielding a comeback the other day and needed a cortisone shot because of it.
Here's what it looked like:
Padres manager Bob Melvin said he's feeling better, but they'll be cautious.
Thankfully for them, Michael Wacha and Seth Lugo have been fantastic to start. They'll need some more of that.
There is some good news for the Friars, though. Fernando Tatis Jr. returns in a week.
The Rays' New Arm Hits the Shelf
Everything has gone the Rays' way to start the year.
11-0. Crushing baseballs. Striking out dozens. They look like world beaters.
But the injury bug can strike any team at any time, and the Rays are no exception.
Zach Eflin hit the injured list Tuesday with back tightness.
So what does that mean for a starting rotation that's already down Tyler Glasnow?
Oh, no big deal. Just another top prospect getting the call. The Rays called up pitching prospect Taj Bradley to make his big league debut Wednesday. Bradley was a fifth-round pick in 2018. Last year, he split time at Double-A Montgomery and Triple-A Durham, posting a 2.57 ERA through 133.1 innings, striking out 142 batters in the process. Bradley is the #18 prospect in the game, according to MLB Pipeline.
These Rays, man. Their front office has cracked the code. Just wait 'til Glasnow gets healthy.
Tim Anderson Heads Back to the IL
Does it not feel like the White Sox lose a key piece every year?
Last week, they found out Eloy Jimenez would miss time because of a hamstring strain. Then Tuesday, they find out Tim Anderson is going to hit the shelf because of a knee sprain. The initial report says he'll be out 2-4 weeks, leaving another hole in the Sox lineup.
Anderson was having a very nice start to his season. He was slashing .298/.327/.404 and was a perfect 5-for-5 swiping bags.
In his absence, the Sox are calling up the organization's No. 8 prospect Lenyn Sosa, who's been tearing up Triple-A so far this year. He's 13-for-29 (.448), with five doubles and two home runs to start the year. He will likely slot in at second base, while the elder statesmen Elvis Andrus slides over to shortstop.
Hopefully for the Pale Hose, Sosa will bring his red-hot stick with him.
Adam Duvall Goes Down After Hot Start
This stinks.
One of 2023's best stories so far has been the resurgence of Adam Duvall.
How's this for a slash line? He's hitting .455/.514/1.030 to start the year. That is wild stuff. He's also tied for second in the league in RBI with 14. He's been Boston's one, lone bright spot.
Now, a fractured wrist will have him out for about six-to-eight weeks. Thankfully, he won't need surgery, but it's still crushing for Duvall, whose 2022 season ended in July because of an injury.
In his place, the Sox are going back to the Bobby Dalbec well. He was recalled from Triple-A Worcester and will likely see some at-bats in the infield. Kiké Hernandez will probably play more center field, a position Duvall had held down in the first handful of games. Raimel Tapia will also probably see more AB's. Last but not least, Rob Refsnyder's utility talents will be key, as the AL East's last-placed team tries to replace Duvall's production by committee.