Analysis
Mitch Keller is Firing on All Cylinders Towards Contract Extension
Having established himself as the ace on a Pirates team that got off to a surprisingly good start, Mitch Keller is an extension candidate.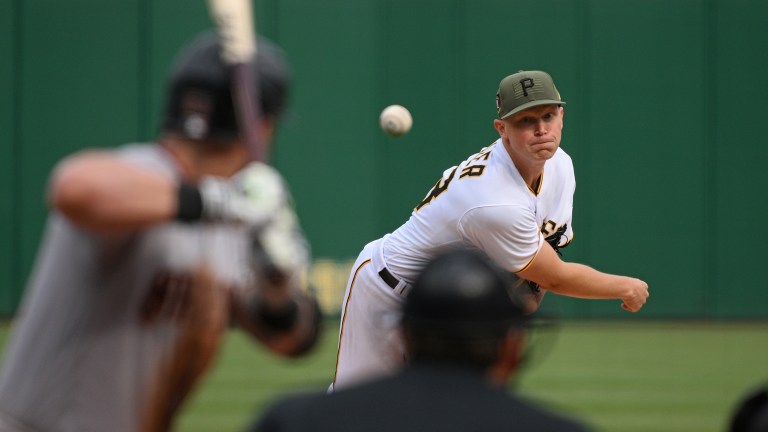 The Pirates have been the darlings of the baseball world, as their young core helped them shoot out of the gate and put them in a position to compete for a playoff berth.
This success, in turn, led ownership to open up the check book and sign outfielder Bryan Reynolds to a $100 million extension. Mitch Keller, like Reynolds, has been a big part of the Pirates success, and is also in talks with the front office regarding a potential extension.
There is no question that Keller has been incredibly productive to start the season, finally living up to the hype that followed the second round draft pick through the minors. When he was in the minors, each of his four pitches at the time received the highest grade possible.
However, Keller struggled once he broke into the big leagues, and posted a 5.01 ERA through his first four seasons. He routinely found himself in the bottom 5% of the league in hard hit percentage, walk percentage, WOBA, and exit velocity. These numbers, coupled with injuries, led many to label Keller as a bust.
Then Keller flipped the script. Through his first nine starts this season, Keller is an impressive 5-1, has posted a 2.44 ERA, and already thrown a complete game. His K/9 is at a career-best 11.06, and his BB/9 is at a career best 2.01.
He is now in the 83rd percentile in average exit velocity, and the 91st percentile in hard hit percentage. His fastball spin, strikeout percentage, opponent xBA, and opponent xSLG are all in the top 25% of the league.
The turnaround can be attributed to two main factors, both involving Keller's pitch mix. First, he has dramatically reduced his fastball usage. When he first broke into the league, Keller threw his fastball between 55%-60% of the time, allowing hitters to hunt the pitch. He now throws his heater just 25.1% of the time, which has kept hitters off balance and held them to a .154 average against the pitch.
The other major change was the addition of two new pitches, a sweeper and a sinker, in 2022. While he was still getting a feel for these pitches last year, it is clear that he now has a level of comfortability with them, and this expanded repertoire gives hitters more to think when in the box.
The question now facing the Pirates, though, is is this performance sustainable. The potential extension would be very different if they believe Keller can continue to throw like an ace than it would if they believe he will regress back to the pitcher he was through the first four years of his career.
While some of the underlying numbers, such as his average exit velocity and hard hit percentage suggest that Keller will remain dominant, there are others that are not as promising.
For example, Keller's barrel percentage is only in the 36th percentile, and his whiff rate is in the 28th percentile. In other words, Keller is not consistently missing bats, and hitters are barreling up his offerings. Further, Keller has stranded an impressive 75% of runners, and opponent BABIP is about 15 points lower than league average, suggesting that there has been a bit of luck leading to his success so far this season.
In all likelihood the "true" Keller is somewhere between the struggles he faced to start his career and the utter dominance he has displayed so far in 2023. Still, as the Pirates continue to build around their young core, Keller is certainly someone worth extending that can anchor the middle of the rotation for seasons to come.