Analysis
Milwaukee Brewers Offseason Outlook
The Brewers stood mostly pat last offseason and it ultimately resulted in missing the playoffs. What will they do to change that in 2023?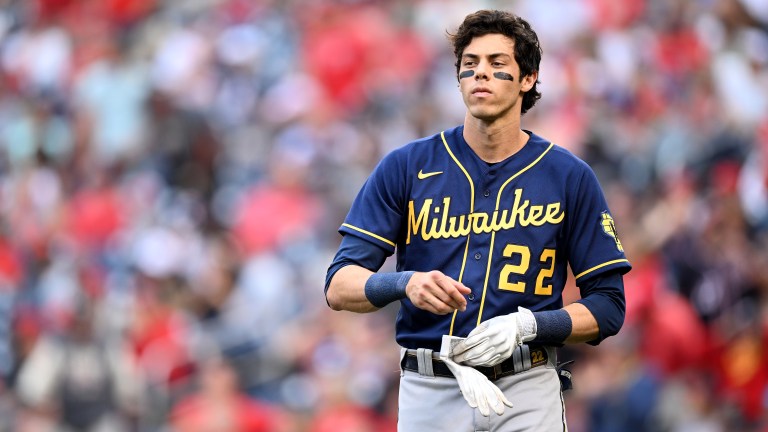 Coming off a 95-win 2021 season, expectations for 2022 were high. The roster looked similar to 2021 and the offseason moves put a band aid on the holes instead of fixing them. Luckily, the National League Central was weak and the Brewers ran away with the Division lead by their pitching, right?
Wrong. Corbin Burnes and Brandon Woodruff continued to dominate but the offense was not enough. Credit to the Cardinals who added at the deadline and proved to be the better team.
A second place, 86-win, no playoff season felt like a step in the wrong direction. After the disappointing playoff finish in 2021 and underwhelming 2022 season, the Brewers will need to make changes if their goal is to win a Championship in 2023.
Of course, trading Josh Hader off a competing team was risky, but smart. This move tipped the Brewers hand a bit showing they will not pay top dollar for bullpen arms, regardless of who they are. The bigger question is: Will they pay top dollar for anyone?
Shake Up the Infield
For the better part of two years, the Brewers have rolled out an infield of Rowdy Tellez, Willy Adames, Luis Urias, Kolten Wong, and Jace Peterson in some form or fashion. Of those players, Adames is the only one playing at a high enough level to be written in with Sharpie for next season.
Kolten Wong is in the final year of his contract and is due to make $10 millon in 2023. Last season he posted a .251/.339/.430 slash good for a 116 wRC+. A perfectly reasonable second basemen, but injuries have been a minor concern. Wong slashed .138/.266/.175 against lefties proving he's nothing more than a platoon option. Urias hits lefties well making him a perfect platoon. If that is the route they take, third base remains a need.
The free agent pool at third is rather risky. Justin Turner, Brandon Drury, Evan Longoria, Donovan Solano, and Matt Duffy all come with questions and concerns. If they decide to swing a trade, a young outfielder could be on the table. Sal Frelick, Joey Wiemer, Garrett Mitchell, and Esteury Ruiz are all knocking on the door to factor into 2023.
With Hunter Renfroe, Tyrone Taylor, and Christian Yelich all possibilities, the outfield gets crowded fast. Rather it's third base or another position, a trade from their outfield prospect pool appears to be the best route to acquiring a difference maker for this team.
Rowdy Tellez has had his moments in Milwaukee, but he is still a middling option at first. A 110 wRC+ from your first baseman is not good enough to cement his name in the lineup now and in the future. Maybe a platoon option could help. MAYBE that platoon option could also serve as the DH……
Sign a Legit Designated Hitter
Milwaukee showed they are not afraid to sign older players inking Andrew McCutchen, 35, to a deal last offseason. While the majority of the options are older, the Brewers might be able to get one last year (or two) out of a player without having to pay "prime years" money.
The first name that comes to mind is a player I thought the Brewers could have targeted at the deadline last season. Chicago White Sox slugger Jose Abreu. Sure, the power numbers took a dip in 2022 hitting only 15 home runs, but Abreu still posted a 137 wRC+ and a 4 fWAR. Abreu could play DH and relieve Tellez (if not upgraded from) against lefties. At 36 years old, a one or two-year deal should get it done.
J.D. Martinez is another older option that is still producing. Michael Brantley, Joc Peterson, Brandon Belt start the list of less intriguing but productive possibilities. Another route could be making Yelich the full-time DH and plugging in one of the previously mentioned prospects in left. If Renfroe is back in right, Ruiz will likely be in center, but there is not a lot of certainty behind that.
Milwaukee needs an impact bat. Yelich no longer fits that description and no one else on the roster has truly fit that description yet either.
Will The Brewers Spend?
I know, I know, the same old question for all small market teams. But the Brewers are in the stage of their team life cycle where it's time to go all-in. Burnes, Adames, Woodruff, Lauer, and other key pieces are seeing their salary go up in arbitration while many are set to hit the open market after 2024. So, how much will the Brewers have to spend this winter?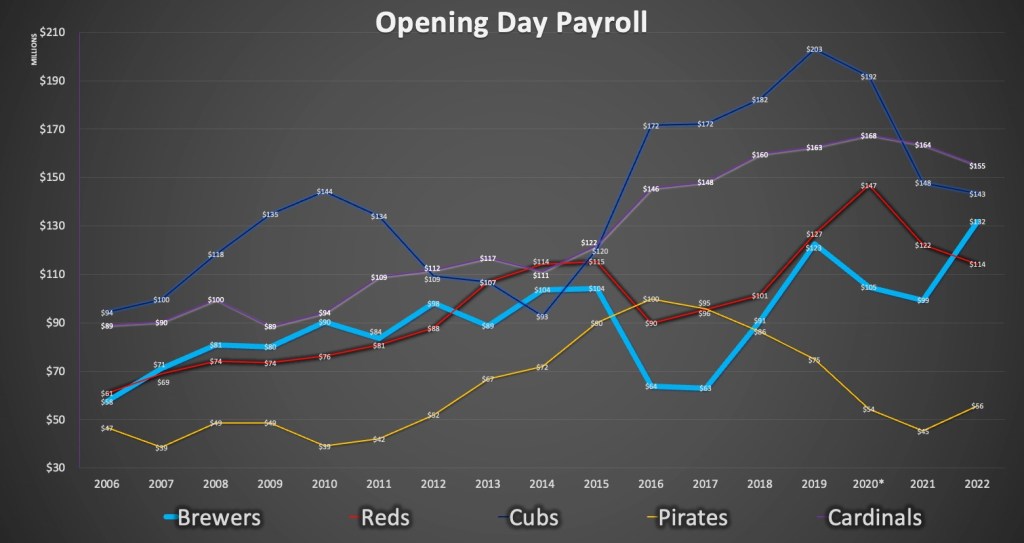 Thanks to the fine work of Nick Kirby, the above graph shows Milwaukee was at an all-time high for payroll in 2022. Because the front office has not made any drastic payroll bumps from one season to the next, we will assume the same will be true this winter.
The only players under guaranteed contract are Aaron Ashby, Freddy Peralta, Kolton Wong, and Christian Yelich. The rest of the primary roster options are arbitration eligible and will get a bump in pay. The Brewers could bring back most of the same roster, but that would leave the same holes and less money to fill them.
The more likely option would be to move on, either trade or non-tender, several contributing players and use that "saved" money elsewhere. The time is now to try an make a push for a title. A mostly rebuilding division will only get more difficult in the coming years as the building blocks of the team approach their free agency paydays.
If the plan is all in, expect some big changes to the middle and back-end of the roster. If Milwaukee replicates the 2021-2022 offseason, expect similar results in 2023.