Analysis
Mike Trout is a Fan of Playing Wild Games at Coors Field
The Los Angeles Angels played a crazy series in Colorado last weekend, where Mike Trout was able to enjoy the friendly confines of Coors Field.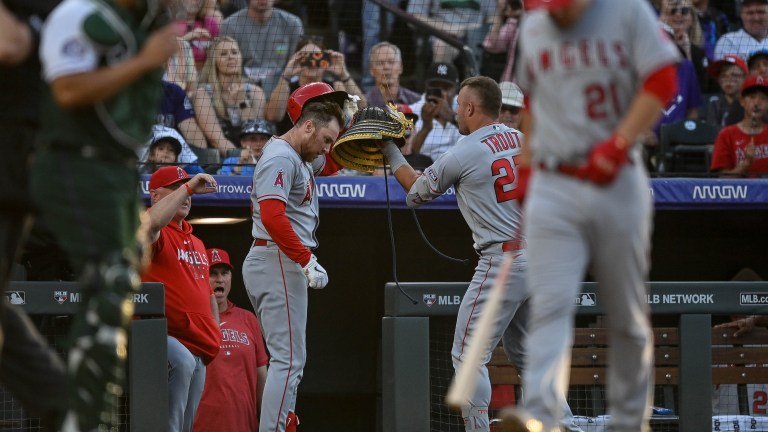 The Los Angeles Angels finished a wild series at Coors Field last weekend.
On Friday night, Shohei Ohtani was just a triple shy of hitting for the cycle when the Colorado Rockies came from behind to win with Elias Díaz hitting the team's first grand slam home run in 256 games.
Then on Saturday night, the Angels defeated the Rockies in an historic 25-1 shellacking that would set a new single-game Angels franchise record for hits (28) and runs scored (25). They would also leave their mark in the MLB record book.
For the Sunday finale, the Angels lost the third game of the series, resulting in another weird historical note.
Mike Trout, however, was in fine form throughout.
But as Trout explains, he always enjoys playing at Coors Field.
"I love it," he said, "I mean I love it — a big outfield, a lot of hits, and the ball goes pretty good."
That would make sense given how well Trout has performed there. He's played 13 games at Coors Field, hitting five home runs and slashing .429/.548/.776 with an OPS of 1.324. In 62 plate appearances, he has struck out only seven times.
He's not thrown off by the massive Coors outfield, either.
"When you're out there, you get to run some stuff down," he said. "It's fun to be able to just go out there and just be free out there."
He does not substantially rethink his approach to playing defense, either.
"I think we might just take a few steps a little deeper, but I'm not going to change anything."
He seems pretty comfortable out there.
Unlike some players, Trout hasn't noticed any real changes in playing at elevation.
"I haven't really felt anything," he said, "just try to stay hydrated" though he does add a few more carbs to his diet.
When you're Mike Trout, you hit a lot of home runs. And if you play for the Los Angeles Angels, hitting a home runs means getting to wear their celebratory Samurai helmet.
That's so awesome it merits a second look.
"It's pretty heavy," Trout said, adding, "It's big, just a cool little thing that we're doing. Obviously, with Shohei, we've been going with it, and it's fun."
Given the Angels' success — currently, they have the third Wild Card in the AL with Shohei Ohtani continuing to shatter MLB records — Trout and his teammates will be fine with carrying that extra weight.