Feature
Michael Massey: A Tale of Two Months
One of the worst April's in Major League Baseball allowed the young second baseman to flourish in May.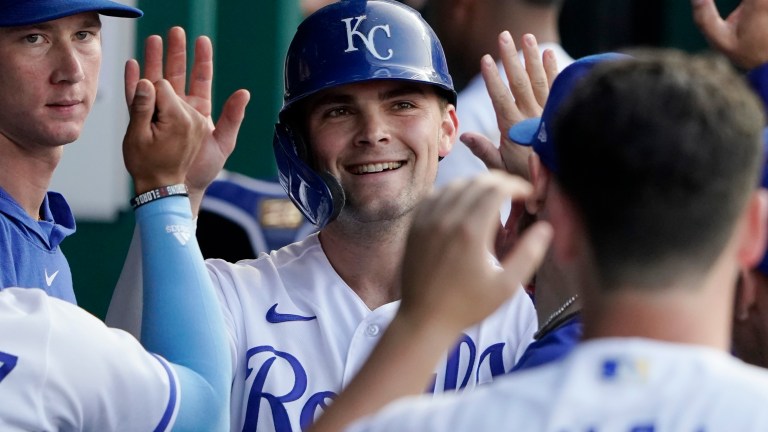 The start of the 2023 season came quick, and Kansas City Royals fans were excited to see their young core in action. Unlike 2022, the Royals were "letting the kids play" from the start of April. Bobby Witt Jr., MJ Melendez, Vinnie Pasquantino, Kyle Isbel, and Michael Massey all started the season in the starting lineup.
Everyone knew the hype around Witt, Pasquantino and Melendez, but there were also lofty expectations set on a fourth guy: Michael Massey. With the trade of Whit Merrifield and a recent lack of offensive production from Nicky Lopez, Massey was expected to come in, take over second base, and provide the Royals the much-needed offense and gold glove defense they were looking for from that position.
April Woes
April was unkind to Massey. He looked uncomfortable at the plate, and just couldn't seem to get into a rhythm. Simply put, it seemed like Massey could not pick up a single pitch big league arms were throwing him; he was basically swinging at everything as soon as it left the pitcher's fingertips. Massey struck out 31 times in 81 plate appearances (38.3% K%), and you were just hoping that he would show some signs of production sporadically. On top of the strikeouts, he had zero walks, only one extra base hit, and was sporting an OBP of .163. Massey had a -19 wRC+ to end the month of April. 
The number of competitive teams the Royals played in April didn't help Massey's chances of getting out of his slump. It seemed like every series he was facing some tough pitching that didn't get any easier. The early struggles led many fans to call for his demotion to Triple-A. With the Royals struggling to win any games, and guys like Samad Taylor thriving in Triple-A, fans wanted a change. The 25-year-old Massey was facing even more pressure to perform with the looming potential of being sent back down to the minors. But, the Royals remained patient with their young second baseman. They had plenty of opportunities to send him down, but remained confident in Massey to turn things around. May was right around the corner, and the schedule got easier with the likes of the Chicago White Sox, Oakland Athletics, and Milwaukee Brewers on the radar. The patience by Manager Matt Quatraro and the front office paid off. 
Thriving May
Massey has made a complete 180º turn to start the month of May. He is showing a refined approach at the plate and has become a lot more patient in his ability to find his pitch and drive it. In 67 plate appearances, he has decreased his strikeout percentage by a little over 11% (26.9%), and his walk percentage for the month of May is 10.4%. Not only that, Massey has shown off the pop that has been hiding, knocking three doubles and three home runs thus far. The improvements have been impressive. His timing is locked in, and he is making much-improved swing decisions. 
Ultimately, the improvements can be boiled down to confidence. Oftentimes, the first move is to just send a guy down and call someone new up. The Royals and manager Matt Quatraro showed Massey they were confident in him. They gave him the ease of mind to let him trust the process and believe in himself by not sending him to Triple-A to figure things out; that pays huge dividends in a young player's development. 
The early struggles for Massey also presented him with an opportunity to overcome adversity; to figure out how to handle the ups and downs of playing at the major league level. Baseball is a game of failures, and his struggles in April 2023 won't be the last time he struggles. Massey saw his slump as an opportunity to learn and grow in his young career.
In an article by Vahe Gregorian of The Kansas City Star, Massey said, "What a great opportunity for me to learn how to not have stuff go my way and handle it." 
Powering through failure in the game of baseball is easier said than done, but Massey is early into his career. It is a powerful lesson about how patience can pay off–how trusting the process can eventually lead to the results you want. As we start to turn the corner into June, let's hope the success Massey found in the month of May continues. He already has the elite glove to be an everyday second baseman. The continued improvement at the plate will allow him to stick there for a long time.