News
McNeil's Late Homer Powers Mets Past Phillies
Jeff McNeil's first homer in nearly two months, helped push the Mets past the Phillies and poke a whole in their division rival's playoff hopes.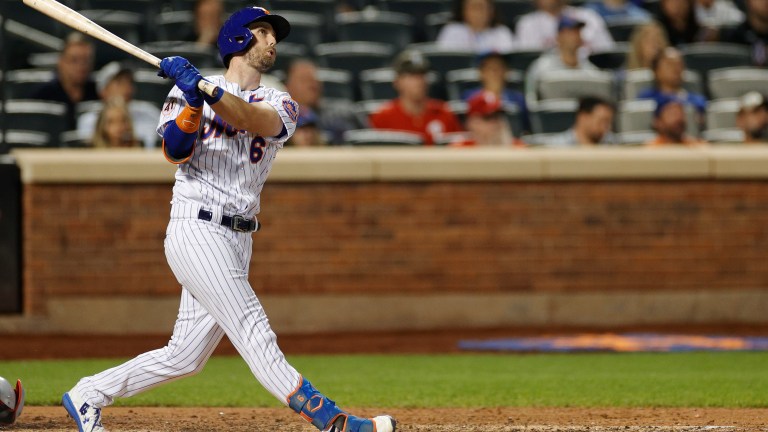 The Mets picked up an evasive one run victory on Sunday night, scoring three unanswered runs to edge out the Phillies 3-2 and avoid the sweep. The Mets entered day 1-6 in their last seven one run ballgames, including three one run defeats during the team's home stand.
Following the theme of breaking trends, Jeff McNeil slugged his first homer since August 1, launching the go-ahead solo shot off of Phillies starter Kyle Gibson in the seventh inning. Despite a limited power output, McNeil has shown signs of life over his last 15 games, slashing .288/.321/.423 with only five strikeouts in 55 plate appearances.
"I've done it for three years. I've done it over 1,000 at-bats," McNeil said. "I know I'm a very good hitter. A few hundred at-bats doesn't make me a bad hitter at all."
Rich Hill started the game for the Mets, tossing 4.2 innings of two-run ball while striking out seven. It was somewhat of an early pull of Hill who was only at 86 pitches, but the move from Luis Rojas proved to be the right one. Jeurys Familia stepped in and struck out the only batter he faced on three pitches, then the Mets bullpen proceeded to pitch four scoreless innings. Aaron Loup continued his hot streak in relief for the Mets, lowering his ERA to just 0.35 in his last 30 appearances with 1.1 scoreless innings.
Phillies starter Kyle Gibson cruised through his first four innings before running into some trouble in the fifth. Jeff McNeil, Tomas Nido, and Dom Smith racked up three consecutive hits, including a two-RBI double by the pinch hitting Smith to tie the game. Gibson settled back in retiring the next three batters to keep the game knotted at two.
After a scoreless sixth inning, Gibson went back out for the seventh and retired the first batter he saw. Next up was McNeil who launched a no-doubter to right center to give his team the lead. Gibson would get one more out before giving way to Cam Bedrosian in relief. It was a tough loss for the Phillies starter who finished 6.2 IP, 7 H, 3 ER, 9 K's, and 1 BB.
Bedrosian kept the deficit at one run, setting the stage for the Phillies to try to tie it up in the ninth. Bryce Harper had a chance to give his team the lead with a runner on first and two outs, but just missing a deep fly ball that died at the left field warning track.
It was more of a devastating loss to the Phillies than a big win for the Mets, as Philadelphia dropped to 3.5 GB of the final playoff spot in the NL, while the Mets gained no ground at 7 GB. Joe Girardi's team has a favorable schedule moving forward, with 10 of its 13 remaining games against the Orioles, Pirates and Marlins. As for the Mets, they remain mathematically alive, but that is about it. Luis Rojas' ball club will travel to Boston to take on the Red Sox with a chance to play spoiler before heading to Milwaukee for a four game set. The Mets wrap up the season with a home series against the Marlins and a road finale in Atlanta.