Analysis
Marlins Offseason Preview: One Ideal Scenario
The Marlins are expected to be active in what is a pivotal offseason for the franchise.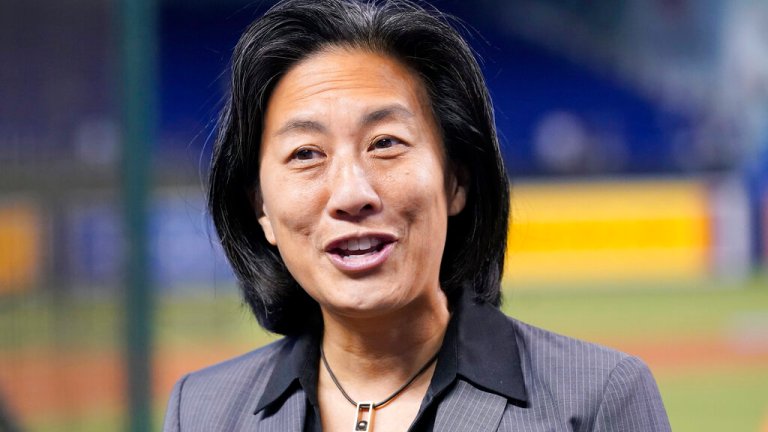 The Miami Marlins face a franchise defining offseason in the winter of 2021.
The team is entering the fifth year of a monumental rebuild and losing is no longer acceptable. The success or failure of their teardown will be determined in the next few months.
After the franchise reached the Postseason for the first time in 17 years in 2020's 60-game season, they suffered a major setback in 2021. The team was entirely uncompetitive, finishing 28 games under .500 and 21.5 games out of first place and they failed to win 70 games for the third straight 162-game season.
While nobody expected the Marlins to be World Series contenders in 2021, putting that kind of product on the field four years into a rebuild was disheartening to the fanbase.
The main reason for the product's lack of quality was the offense as the Fish ranked 27th in team wRC+ with 84 and 29th in OPS at .671. They had six players with at least 200 plate appearances and less than 80 wRC+. Three of those six had 60 or less.
The Marlins have a tremendous core of young pitching in the organization headlined by Sandy Alcantara, Pablo López and Trevor Rogers. With all three guys young and controllable, and an arsenal of arms behind them, the Marlins window is opening now.
If the Marlins are to turn themselves into contenders this winter, they will need significant changes. They cannot run AAA quality players out there as much as they did last year. They must also acquire some star power to create an offensive core.
The Marlins have three needs that must be addressed this offseason: center field, catcher and corner outfield. If I were the front office, this is how I would approach those areas. It may be unrealistic but this would be my ideal scenario.
Center Field: Trade for Pittsburgh Pirates OF Bryan Reynolds
The Marlins have two glaring holes on their roster: center field and catcher. Marlins center fielders had a .730 OPS in 2021, while their catchers had a .565 OPS.
For some, catcher would be the higher priority but to me center field is where you are more likely to get a lineup-changing bat. For this reason, I would put center field at the top of the Marlins need list this winter.
That is where Bryan Reynolds comes in. To me, Pittsburgh's star outfielder is the perfect option for the Marlins. Reynolds just turned 26, has four years of team control left and is an all-around great player. He hits for average and power, does not strike out a lot, and plays a very solid center field.
Reynolds struggled in a COVID-shortened 2020, but in his two 162-game seasons in the big leagues he has 130 and 142 wRC+. He had 5.5 fWAR in 2021 and was named to his first All-Star Game.
His 2021 slash line was a beautiful .302/.390/.522 with a .912 OPS, 24 home runs, an 11.6% walk rate and just an 18.4% strikeout rate. He also had just two errors in 154 games in the outfield. Basically, he is the exact type of player the Marlins need.
The Marlins reportedly discussed a trade for Reynolds at the deadline, but the package the Pirates wanted was too hefty. They will have to give up a haul to get him, but if they are really in win now mode they should not hold back.
A package would likely have to include top pitching prospect Max Meyer and/or top hitting prospect Kahlil Watson. The Pirates should be in no rush to move their start center fielder, so both being included is likely. While it would hurt to part ways with those prospects, you have to give value to get value and there may not be a more valuable player available to the Marlins right now than Bryan Reynolds.
Catcher: Trade for Chicago Cubs C Willson Contreras
The Marlins got absolutely nothing from the catcher position offensively in 2021, ranking 28th in the league with just 63 wRC+ from their catchers. Of their three catchers with over 100 plate appearances, none of them had more than 73 wRC+.
Upgrading at catcher is a must and it has to be a major upgrade. They have a serious lack depth at the position in their organization, so they need a guy that can lock down the position for years.
Enter Willson Contreras.
Contreras has become a cornerstone of the Cubs franchise and has had the backstop on lock since 2016. He is the one remaining piece of their World Series core on offense and his contract expires after 2022, making him a prime trade candidate this offseason.
The 29-year-old Venezuelan is another player the Marlins had reported interest in before, so it would make sense for them to pursue him again. However, the trade only works under the assumption that the Marlins sign Contreras to an extension after acquiring him.
Because he would technically be a rental, Contreras's trade value is likely to be much lower than Reynolds'. The reported hold up in the deal last winter was OF Peyton Burdick, per Craig Mish of the Swings and Mishes Podcast. This time around, I think the Marlins should be more willing to part with a player like Burdick to acquire an impact bat.
Contreras slashed .237/.340/.438 with 21 HR 109 wRC+ a 10.8% walk rate and a 28.6% strikeout rate in 2021. His 109 wRC+ was fifth among catchers with at least 400 plate appearances in 2021.
While some would like better defensive options–such as Jacob Stallings–behind the plate, I believe the Marlins need to pursue offense at this position. There may be no better offensive catcher available to the Marlins this offseason than Contreras.
He is no schlub behind the plate either! Contreras ranked in the 67th percentile in framing according to Baseball Savant–Stallings was 43rd–and allowed just three passed balls. He also has a very good arm behind the plate and above-average speed.
If I am the Marlins, I would opt for Contreras's elite offensive production for a catcher and above-average defense over Stallings's average offense and elite defense. They must do everything they can to bring in multiple impact bats to turn the franchise around.
Corner Outfield: Sign Free Agent OF Nicolas Castellanos
This may seem like a pipe dream, but the Marlins reportedly have serious interest in Castellanos. Mish even reported that the Marlins and Castellanos–a South Florida native–could have mutual interest.
The 29-year-old is all but guaranteed to opt out of his contract and into free agency this winter. He will be looking to top the $17M salary that he will be opting out of.
Whether the Marlins can pull off a headline free agent signing is yet to be seen, but they have not been known to pull out the checkbook.
Also, nobody really knows how much money is available in that checkbook. One thing we know is the Marlins have more money than last year. A new TV and stadium naming rights deal have added around $35M in revenue to the team and by all reports that money will help go towards increasing the payroll of the team.
Even before the reports about the Marlins interest in Castellanos, I have held that he would be a perfect free agent option for them.
With their young and exciting talent Jesús Sánchez practically having right field on lock, the Marlins need an impact bat in left field. Signing Castellanos would also allow Bryan De La Cruz to provide great depth off the bench as a fourth outfielder.
The Marlins would be hard pressed to find a better bat available on the open market. Castellanos had 140 wRC+ in 2021 and nearly won the batting title by putting together a .309 average. He also hit 34 home runs and struck out just 20.7% of the time.
While a lot of those home runs would turn into doubles in loanDepot Park, that is not a problem for Castellanos. He has always been a great doubles hitter and could post great numbers going into the gaps in Miami. In 2019, he had 58 doubles and 27 home runs. He had had 38 doubles to go with 34 home runs in 2021.
If the Marlins are serious about spending money and acquiring offense, this is the perfect signing to prove it. I believe they should–and will–be heavy players for Castellanos this winter.
Whether they get outbid or not is the only concern and it should be a huge one for Marlins fans. It is time for the team to put their money where their mouth is and spend on impact players.
Finishing Touches
The Marlins still have other holes to fill on their roster. They need more infield depth and one or two big-time bullpen arms.
Guys with high velocity and strikeout rates should be where the Marlins look for bullpen help. They were burned by going with a groundball pitcher in Anthony Bass to be their closer in 2021 and it cannot happen again.
They also lack infield depth at the higher levels of the organization and need to cushion the blow if their starters go down. Fans saw too much Isan Diaz (60 wRC+) and Joe Panik (51 wRC+) in 2021 in the absence of 3B Brian Anderson, who played just 67 games.
A cheap veteran like Josh Harrison should really interest the Marlins to provide depth there. While some think acquiring a headline third baseman could be a good plan, I think they have bigger needs to address.
The main goal should be to cut loose the dead weight and make significant upgrades. The Marlins simply cannot afford to keep carrying non-MLB quality players around with them. They have to upgrade the top and bottom of the roster if they are serious about competing in 2022.
This winter will define the Miami Marlins and while some may consider my scenario unrealistic, it should not be. The Marlins must make significant changes to the roster or else their rebuild will go down as a failure.
They have the assets to make the trades, and they should have the money to make the signings. They will need cooperation from other parties to make this happen, but they should not hold back.
Now is not the time for prospect hugging or penny pinching. Now is the time to bring a winning baseball club to Miami.