Feature
Major League Baseball's Greatest Gifts
This holiday season, we are celebrating some of the greatest gifts ever given in MLB history, such as Babe Ruth being gifted to the Yankees.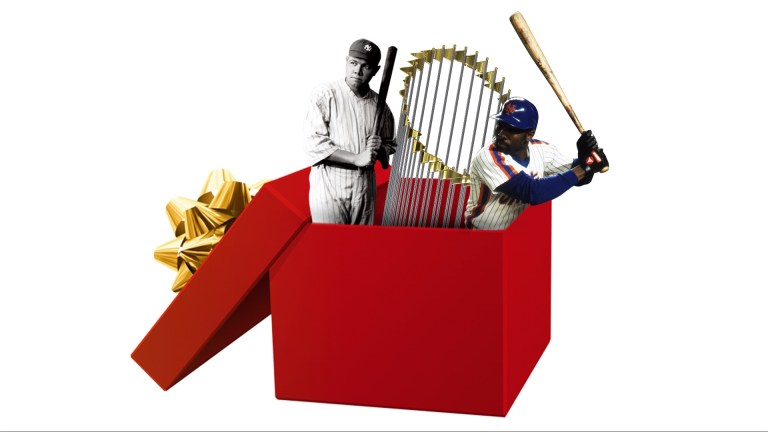 The season of giving reminds us that sometimes the best presents are the ones that are least expected. Here are some instances in baseball history in which a person or collection of people were more generous than they would've preferred.
From: Harry Frazee
To: New York Yankees
Item: Babe Ruth
It's a tale older than Rudolph the Red-Nosed Reindeer and will endure just as long. The legacy of Boston Red Sox owner Frazee selling his best player to the Big Apple for the sum of $100,000.
The apocryphal narrative that he did it to fund a Broadway play called 'No No Nanette' only added to Red Sox fans' frustrations as they watched their team go decades without a World Series ring since 1918, when Ruth was a integral member both with his bat and his pitching arm. Ruth developed into an American icon while jump-starting a Yankees dynasty that continued well after he was gone.
'The Curse of the Bambino' may be over, but its origin remains among the most one-sided transactions in sports history.
From: Don Denkinger
To: Kansas City Royals
Item: Safe call in ninth inning of Game 6, 1985 World Series
In fairness, it's one of the hardest plays for an umpire to judge. So Denkinger, the first base umpire, should get a little bit of slack. The Cardinals were three outs away from the title and up 1-0. Jorge Orta led off the bottom of the ninth with a dribbler to the right side. First baseman Jack Clark fielded it and threw to pitcher Todd Worrell covering. Denkinger called Orta safe. Instant replay wasn't available to confirm or overturn calls, but was certainly available for public viewing. And Orta was clearly out.
The Cards also shared in the generosity. Clark misjudged a popup on the very next pitch. The Royals followed with a single, sacrifice bunt turned force play, got a passed ball by Darrell Porter, and finally a two-run single from Dane Iorg that scored the tying and winning runs.
St. Louis had completely unraveled and it only got worse in Game 7 in an 11-0 Kansas City rout.
From: John McNamara and the Red Sox
To: New York Mets
Item: Game 6, 1986 World Series
The image of Mookie Wilson's ground ball going through the legs of Bill Buckner is seared forever, but history shows the blame should go in many directions. In the '86 postseason, Boston won seven times, and each instance Buckner and his aging knees were replaced by the younger Dave Stapleton.
Sox manager McNamara decided against this move on a Saturday night at Shea when his team held a 5-3 lead with a 3-2 series advantage going into the bottom of the 10th and, well…you know the rest. Calvin Schiraldi got the first two men out before giving up three straight hits.
Bob Stanely came in with the score 5-4 and runners on first and third. His 2-2 pitch went to the backstop, but should've been caught by catcher Rich Gedman. Ray Knight was caught leaning off second base but Stanley didn't make a pickoff throw. Stanley also may have been late in covering first on the grounder that was the Buckner error.
From: Fred Merkle
To: Chicago Cubs
Item: New life in 1908 National League race
Poor Fred. He was a 19-year-old making his first big league start in the middle of a pennant race. The New York Giants were tied atop the National League standings with less than two weeks left when they hosted the Cubs on September 23 at the Polo Grounds. It was 1-1 in the ninth with darkness looming and New York had runners on the corners. Merkle was on first.
Al Bridwell got a hit to right field. Giants win, right? Fans rushed the field, as was the norm those days. Merkle, in his haste to get to the clubhouse, never touched second base.
The Cubs' Johnny Evers retrieved a baseball (unknown if it was the game ball) and stepped on second. Umpire Hank O'Day called Merkle out. The run was nullified. Because of the late hour, it was declared a tie and the game would be replayed if two clubs ended the regular season with the same record. They did.
The Cubs won the makeup and eventually the World Series. The September incident was given the unfortunate nickname "Merkle's Boner." Poor Fred.
From: Alex Gonzalez
To: Florida Marlins
Item: Free baserunner in Game 6, 2003 NLCS
Like Buckner, Steve Bartman plays the role of undeserving scapegoat. Gonzalez's miscue at shortstop was far more costly and could have prevented the Cubs fan from his infamy.
After that over-examined foul ball down the left field line that avoided the glove of Moises Alou, the Cubs were still very much in control: ahead 3-1 with a 3-2 series lead on the Florida Marlins. Their first World Series since 1945 was five outs away.
The Marlins threatened with runners on first and second. But that rally was certain to end once a 20-year-old named Miguel Cabrera hit a tailor-made double play ball. Gonzalez got a couple big hops and tried to backhand it. But it clanked off the heel of his glove. Everyone was safe.
The Marlins used the error as a springboard to eight runs, a Game 6 win, a victory in Game 7, and the World Series title.
From Lonnie Smith
To: Minnesota Twins
Item: Staying at second base
The classic 1991 World Series Game 7 pitchers' duel between Jack Morris and John Smoltz, which went scoreless into extra innings, wouldn't have been that way if Lonnie Smith exhibited better baserunning.
The eighth inning remains one of the more tension-filled frames in history. It began with a Smith single. Terry Pendleton followed. Smith ran on a pitch and didn't look back to see Pendleton hit a drive into the left-center field gap at the Metrodome — a sound machine replete with fans waving white handkerchiefs. Instead, he saw Chuck Knoblauch pantomiming a double play with Greg Gagne.
Confused, Smith held at second base. By the time he picked up the ball, it was too late. Despite having two on with no outs, the Braves were kept off the scoreboard that inning and for the rest of the night. Morris went the distance and the Twins walked it off in the 10th.
From: Los Angeles Dodgers
To: Pittsburgh Pirates
Item: Roberto Clemente
The Rule 5 Draft allows clubs without a full 40-man roster to select players from other clubs who aren't on their respective 40-man rosters. Clemente remains the most extreme example of what could happen when someone is left unprotected.
The Dodgers would get championships in 1959, '63, and '65. Imagine what more they could have won with the Hall of Fame right fielder. Instead, Clemente became the Pirates' found treasure. He joined Pittsburgh in 1955, won four batting titles, 12 Gold Gloves, and made 15 All-Star Games while being a key member of two World Series winners.
For a franchise that has long been one of baseball's model franchises, it's easily the Dodgers greatest personnel oversight.