Analysis
Maikel Garcia Showing Why He's a Key Piece of the Royals Future
While he wasn't a big name prospect coming into the season, Maikel Garcia's breakout with the Royals promises a bright future in Kansas City.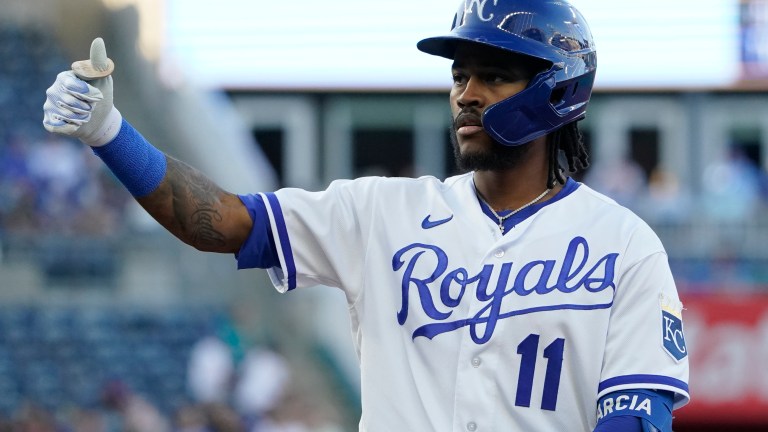 Coming into the 2023 season, outside of Bobby Witt, Jr., it wasn't clear which of the young prospects would be centerpieces the Kansas City Royals could build around moving forward.
MJ Melendez, Michael Massey, Vinnie Pasquantino, Nick Pratto, Kyle Isbel, and Drew Waters all came up, but there were still questions on how they would adapt. Along with Bobby Witt, Jr., Pasquantino came into his own before having season-ending surgery, giving the Royals two pieces they knew they could build around for the future.
Outside of those two, the others have struggled to find consistent success throughout the entire season. Melendez has shown some potential recently with his bat, but there are concerns on whether he will hit enough to make up for his poor defense. Michael Massey has been playing Gold Glove defense, but the bat has struggled throughout the year. Others like Pratto, Isbel, and Waters have struggled to find their way.
One guy has fallen into the shadows but has quickly paved his way to solidify himself as a massive part of the future of the Kansas City Royals. Maikel Garcia. Garcia has done everything you could want on both sides of the ball at third base, especially after the Royals were rolling out a mix of Nicky Lopez and Hunter Dozier.
Offensively, Garcia has been elite in so many different categories. According to Baseball Savant, he ranks in the 91st percentile in HardHit%, 90th percentile in Chase Rate, 86th percentile in Whiff%, and 82nd percentile in Avg Exit Velocity.
The biggest knock on Garcia when he was a prospect was that no one thought he would hit for enough power due to his size. But even when he was small, he could find barrel with ease and spray the ball from line to line. Since then, he's grown a ton, and that ability hasn't gone away. He still features more gap power than over-the-fence power, but now can possibly hit 10-15 HRs per year. 
As seen by his Chase Rate, Garcia also has excellent plate discipline. He isn't going to chase a pitch out of the zone. He showed much better walk rates in the minors, but that has yet to translate to the majors. It hasn't hurt them due to his ability to take what the pitcher gives him and battle until he can put something into play. His consistently getting on base has helped him take over as the Royals leadoff hitter. He even had the longest hit streak by a Royals rookie at 18 games. 
Garcia's success hasn't just been at the plate. He's found a way to become a threat on the base paths. He's a plus runner with 19 stolen bases in 93 games. The fact that he has the potential to be a double-digit home run and stolen base threat should excite many Royals fans.
What's been even more impressive is Garcia's defense. He's always been a plus defender at shortstop with a plus arm, but he moved to third base because they have a superstar and potential future MVP candidate in Bobby Witt, Jr. Garcia hasn't seemed phased since day one. He ranks in the 97th percentile in Outs Above Average and 68th percentile in arm strength. 
Gunnar Henderson, Masataka Yoshida, and others will likely make it hard for Maikel Garcia to win Rookie of the Year. Still, he at least put himself in the conversation with his fantastic play this year. Ultimately, it doesn't matter if Garcia makes a run at Rookie of the Year. What matters is that Garcia continues to play at this level, and the Royals know going into 2024, they have a fourth guy they can build around with Bobby Witt, Jr., Vinnie Pasquantino, and Salvador Perez.
Garcia's success shows that prospect development isn't linear. He went highly unnoticed for many years until his ultimate breakout in 2022. No one was expecting much out of him besides the potential to be a utility player. It's hard to deny what Garcia has done and meant to the Kansas City Royals this year. Third base has been an empty hole of production ever since Mike Moustakas left, and it has been incredible to see a guy get called up and completely change the narrative.
Garcia was a gem of a find for a team that has had recent struggles in developing international prospects. It has been a rough season for the Royals, and he gives them hope. He's a guy they already see as a significant part of the team for the foreseeable future, which is something for fans to get excited about.