Analysis
Luis Robert Has Shown Us Both Heights of the Rollercoaster
In the midst of his fourth season, Luis Robert Jr. continues to show flashes of brilliance but with the consistency that eludes him.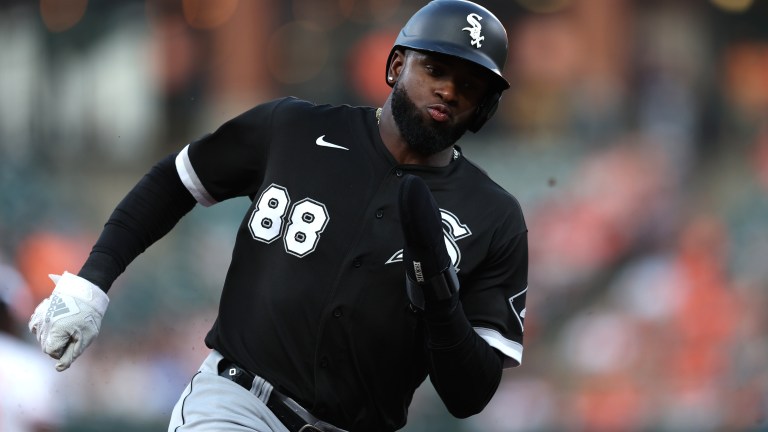 There are top prospects with all the tools needed to succeed in this league and then there are big league stars that make the most of their skill-set in order to have a successful MLB career.
Some players are able to transition that first version into the second en route to becoming stars in this league, but ultimately a much larger portion are unable to do so completely and never reach their potential.
We have seen both versions when watching Luis Robert Jr. over the past few years and already this season in a short sample of fewer than two months. Robert was highly-touted when the White Sox inked him for a signing bonus of $26 million. I remember the day he signed when I was on a school trip and the news broke of the five-tool Cuban superstar signing with my favorite team like it was yesterday. His combination of size, speed, and power made him one of the top international signings of the generation.
Robert, like most of the core White Sox players, has dealt with his fair share of injuries that have hampered his talent in the past few seasons and his up-and-down stats show that. He won a Gold Glove as a rookie in 2020 and flashed his power with 11 home runs in just 56 games during the shortened season. He was off to an unbelievable start in 2021, but injuries limited him to just 68 total games in which he finished with a .945 OPS and 13 home runs.
Last season wasn't kind to Robert and while you can point at injuries that likely limited his production, he didn't improve at all and declined from his impressive yet limited 2021. He once again dealt with injury, only playing 98 games, and his stats dropped in a big way. He fell to a .745 OPS with fewer home runs, less overall power, and a worse plate approach than the year prior in 30 additional games. However, he still flashed the tools of an elite player and the expectations remained high coming into this season.
Flash forward to this year and he's been healthy (*knock on wood about ten times*) and has shown a variety of impressive attributes but has also been held back at times by things he's continued to deal with throughout his career on the field. So it seems like the right time to look at the rollercoaster that has been his season. I also want to give a shoutout to fellow White Sox fan (barely these days) Jack McMullen for the clever name of this piece.
Let's look into the good and bad elements of Robert's season and what that means going forward in terms of what should be expected from the talented center fielder.
All stats taken prior to play on May 22nd
The Bad
While there are other areas that can be improved upon, this can pretty simply be summed up by one word: Approach.
Luis Robert Jr. still has not developed a plate approach that leads to long-term success at the MLB level. While he's found ways to work around it (we'll get to that later), he continues to swing way too often while striking out too much and rarely walking.
He has the tendency to chase offspeed, specifically sliders, as he looks to pull every pitch he sees at times. His strikeout rate this season is at 26.4%, while his walk rate is just 5.2%. This isn't sustainable but it has improved during the season.
Robert started the season hot out of the gate with five home runs through his first 11 games and an OPS over 1.000 during that time. He looked like the player we had hoped to see for a long time as he made spectacular catches in center field with a few moonshot home runs that gave hope to the fans.
Everything started to spiral for Robert in the middle of April. On April 13th, Robert had a 1.038 OPS on the season while hitting .340 and leading the team in almost every offensive statistic. From April 14th until the end of the month, Robert recorded just five total base hits and his OPS fell to .661 on the season after two weeks of miserable baseball.
He was selling out for big swings and chasing every single pitch being thrown in his direction during that timeframe. His average exit velocity dropped drastically as he made hard contact at times but was often striking out or just rolling over on bad pitches.
Simply put, his approach and lack of focus caught up to him and made him one of the worst hitters in baseball for the second half of April. After a stretch of not looking serviceable at all, he was benched on April 29th for what later was reported to have been related to an injury that he didn't disclose to the staff but appeared to be a serious lack of hustle on his part at the time.
Fans grew increasingly frustrated with Robert and the team as a whole as they continued to fall apart on and off the field. Robert showed early in the season that he was ready to go this season and take his game to the next level, but it was hard to believe after two weeks of terrible baseball. Robert was benched again the day after this incident and returned another day later after a day off on May 2nd.
He clearly needed to adjust his approach, mindset, and way of thinking about his at-bats heading into the new month…and it's safe to say he's done so.
The Good
Following three days of playing full games for the team, Robert became a new player in the month of May. While he hasn't completely changed his approach, it's improved enough to let his talent shine despite a less than an ideal approach.
In the month of May, Robert is slashing .358/.434/.821 with a 1.255 OPS, eight home runs, and 24 hits across 78 plate appearances. Yes, those are real numbers. He's been arguably the best hitter in baseball this month and has shown all the attributes that we have seen glimpses of over the past years.
While the improvement hasn't been huge with his approach, he's seeing the ball better and allowing his natural power to do more of the work. He's started to see off-speed better and allow himself to remain competitive in at-bats in order to force pitchers to throw him more hittable fastballs that he knows he can crush.
His six walks in May compared to four in April isn't drastic but he's got room to improve upon that still over the next nine days and it's already an increase. He still has room to grow with his ability to hit off-speed, but right now he's firing on all cylinders.
Robert is able to get the most of his power right now as his barrel rate is higher than ever at 14.5% and his sweet spot rate is near the level it was during his short but impressive 2021 campaign. His wRC+ is up to 139 right now, despite a few weeks of being awful at the plate and could easily continue to rise the way he's hitting right now.
Robert's power is on full display thanks to the improvements in his approach and it feels like he's hitting home runs with such ease right now. His Isolated Power of .297 is the sixth-best in all of baseball this season.
Aside from the impressive offensive output, Robert has been able to reach his defensive ceiling thanks to primarily being fully healthy. His various lower body issues have prevented him from being active in center field for the last few years. He's putting it all together and is tied for the lead in Outs Above Average for all outfielders in baseball.
He's always been able to make crazy catches but he's doing all the little things right and has turned countless difficult plays into easy ones for him by putting his speed and size to use.
The combination of his red-hot month at the plate with his defensive prowess has him currently tied for the third-best bWAR in baseball among position players at 2.7. That's more WAR he accumulated through 98 games last season and he's played just 47 games so far this year. He's showing what he's always been capable of right now.
Outlook
Look, he's not going to be a 1.255 OPS hitter the rest of the season and chances are he won't remain on pace for over 6 WAR. But Luis Robert Jr. is one of the most naturally talented players in baseball and we're seeing that on full display right now.
The approach remains an area that needs improvement, but if he's able to maintain his May playstyle for the rest of the season, it will be good enough.
It's always been a matter of when for Robert in my eyes. He's too good of a baseball player to not be at the very least a borderline All-Star player. I think he's going to make his first All-Star team this year and I think we can expect him to be around the type of player that his current season stats indicate. Despite stretches of being hot and cold, he's at nearly a .900 OPS right now while being a top-three center fielder in the league.
And if he can become someone that walks at even an 8% rate with a slightly lowered strikeout rate as well, he could be a perennial All-Star in this league. He has the tools to be that, but the question remains if he can do it consistently.