Feature
Kerry Wood's 20-K Day 25 Years Later
More rare than a perfect game, what Kerry Wood accomplished a little over 25 years ago remains one of the best pitching performances ever.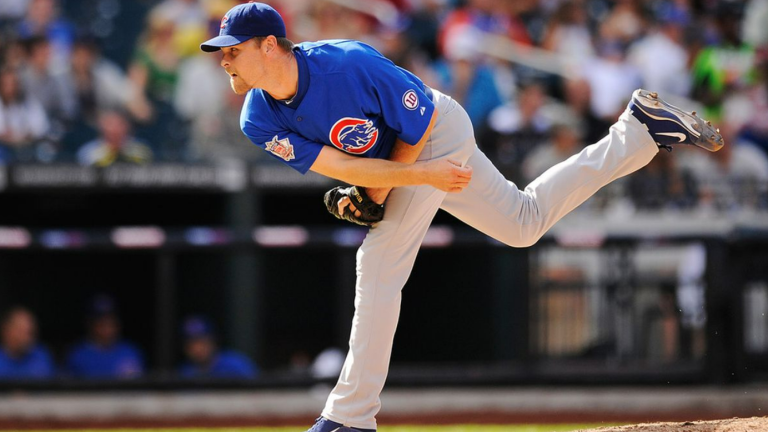 There had been two 20-strikeout performances before this and two after. But never was it more surprising.
Kerry Wood didn't come out of nowhere. When he was a high schooler in Texas, Wood's fastball drew comparisons to Lone Star predecessors Roger Clemens and Nolan Ryan. That's a lot of expectations to place on young pitcher, and the hype only grew stronger as the 20-year-old debuted in early in the 1998 season — nearly three years after being selected as the Chicago Cubs' No. 1 pick.
May 6 at Wrigley Field was his fourth career start and Wood delivered an outing that somehow exceeded the predictions. Doing what Clemens had solely done in major-league history, Wood matched the single-game high of 20 strikeouts. The Houston Astros managed just two baserunners all afternoon.
The first inning was a sign of things to come: strikeout, strikeout, strikeout. The trio of Craig Biggio, Derek Bell, and Jeff Bagwell were no match. Neither was Jack Howell and Moises Alou, the initial two batters in the top of the second. Wood began with five consecutive K's before a Houston hitter hit a fair ball.
Ricky Gutierrez opened the third with an infield single and Biggio was later hit by a pitch in the sixth: the only two instances in which an Astro wasn't retired.
Through six innings, Wood had 12 strikeouts. Impressive for sure, but not yet historic. Then came a finish reminiscent of Tom Seaver when he struck out the final 10 for a 19-K day. Wood fanned Bagwell, Howell, and Alou in the seventh. Wood fanned Dave Clark, Guiterrez, and Brad Ausmus in the eighth. He got Bill Spiers swinging to start the ninth for No. 19.
If not for Biggio grounding out to short, Wood would've had a shot at matching Seaver's 10 in a row.
Nonetheless, a first career shutout and a one-hitter was at stake — not to mention tying Clemens' record. Wood got all three when Bell wailed at a ridiculous breaking ball for a game-ending strike three.
Clemens initially set the mark in 1986 against Seattle, then matched it 10 years later in Detroit. Randy Johnson got his 20 in extra innings versus the Cincinnati Reds in 2001 and Max Scherzer did it while with the Washington Nationals in 2016.
But Wood's may rise above all of them. According to Bill James' "Game Score," a statistic that measures a pitcher's performance, this one was a 105. It remains the highest ever recorded for a nine-inning start.
Houston's lineup was also no pushover. In fact, it went on to lead the National League with 874 runs scored and win 102 games. Several players were or would be All-Stars and two went on to the Hall of Fame (Biggio and Bagwell).
The game offered exponential anticipation for Wood. Although he'd go on to win National League Rookie of the Year and record at least 200 strikeouts in four of his first five seasons, injuries were his biggest enemy. He missed all of 1999 due to Tommy John surgery and was on the injured list 14 times in 14 seasons. Wood eventually transitioned to be a relief pitcher and recorded 34 saves in 2008.
It may not have had the longevity or the accolades, but Kerry Wood's career has an accomplishment rarer than a no-hitter or a perfect game.