Analysis
Justin Turner Has Come as Advertised for the Boston Red Sox
The Boston Red Sox signed Justin Turner for his bat and leadership in the clubhouse and he has filled both duties exceptionally well this year.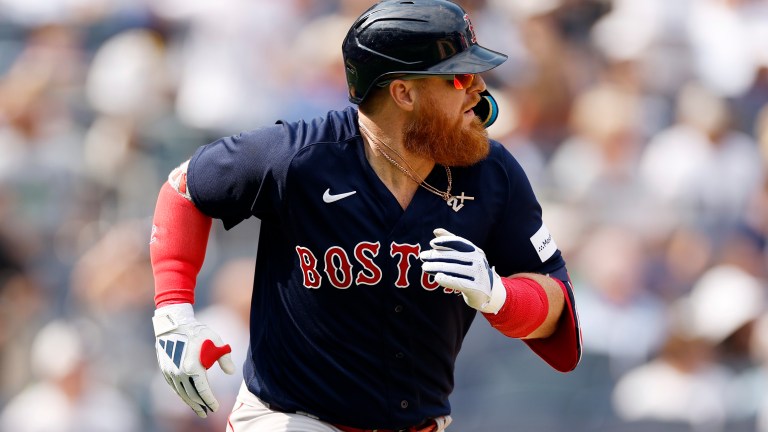 Justin Turner's first season in Boston has gone as well as anyone could have hoped it would. In the offseason, the Red Sox and Turner's former team, the Dodgers, essentially swapped players. With the Dodgers declining Turner's option, leading to him signing a two-year deal in Boston days before J.D. Martinez inked a deal in L.A.
Knowing Martinez likely would not be back with the 2023 Red Sox, Turner was the perfect player to fill his spot. He offered the Sox a much-needed right-handed bat, a bit of help in the field and perhaps most importantly, a veteran presence in the clubhouse.
"He embraced this," Cora said ahead of the series against the Dodgers. "I haven't seen a guy that has made such an impact, not only on the field but off the field, so quick with another organization."
Turner came to a Red Sox team full of promising young players that could benefit from a little veteran guidance. His presence was felt immediately. All season long, coaches and players have praised Turner's leadership. The love Turner has for these players and the respect they have for him is evident when you see how they interact during games.
In addition to clubhouse leadership, Turner has proved that at 38, he can still be a top contributor on the field as well. He's batting .290/.361/.495 with 22 home runs and 85 RBIs. In 2016 he set his personal single season record for home runs and RBIs, with 27 and 90, respectively. Something he's closing in on replicating, or even surpassing, this season.
His numbers are even more impressive when you look at what he does with runners in scoring position, posting a .370 batting average and 1.050 OPS.
Regardless of if the Sox end up in playoffs, the fact remains, Justin Turner has been a spark for this team. He's united a clubhouse that's faced a lot of turnover the last few seasons, and consistently delivered at the plate.
"Turner is the type of player you want to build," David Ortiz said on NESN. "You want to take advantage of his next couple of years coming up. This is a good sign at the age of 38. People always focus on age. Some people don't realize the importance of having a guy like him in the clubhouse. This is a guy that's a leader. He comes from a winning ballclub. He knows what it takes to get to the promised land."
Turner's future with the Red Sox is uncertain. He has a $13.4 million player option for the 2024 season, but it's likely he could fetch more money if he opted out. With the way he's played this season, it's not out of the question for the Red Sox to offer Turner a higher salary if he chooses to decline his option.
However, bringing Turner back as a DH, takes away the Red Sox option to utilize Rafael Devers or Masataka Yoshida in that role. Defense has been one of the biggest roadblocks for Boston this season. They may be unwilling to leave two below average defenders on the field for another year, despite what Turner offers this team.
Whatever the future holds for Turner, one thing is clear. He has delivered in every possible way for the Red Sox this season. He was advertised as a solid hitter and clubhouse leader, and that is exactly what he has been.