Feature
Just Baseball Highlight Reel: The Josh Naylor Game!
All of the highlights you have to see from Monday's MLB action.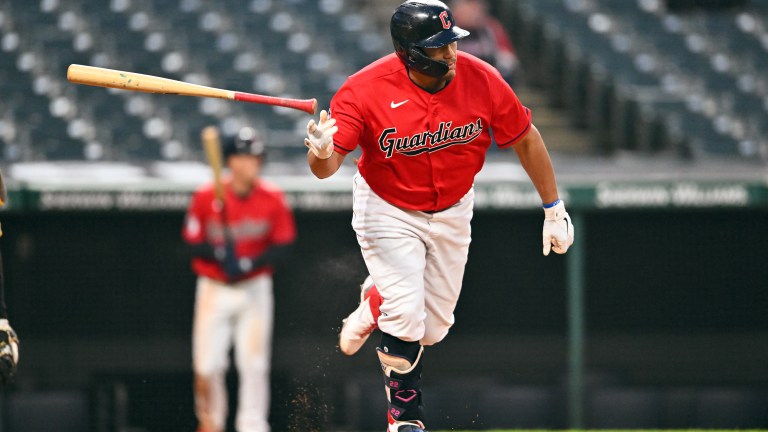 Two makeup games and a whole lot of craziness elsewhere made for a fun Monday in Major League Baseball. We start with an absolutely epic game that was so good and crazy I had to rearrange this article when it went down.
The Josh Naylor Game
The Guardians-White Sox game could have an entire Highlight Reel all to itself. This game was absolutely insane. So crazy in fact, we are gonna skip right over Michael Kopech taking the league lead in ERA at 0.93 with seven one (unearned) run innings.
We are just going to go straight to the ninth with the Guardians trailing 8-2. Andres Giménez got things going with a solo homer, then Amed Rosario got to third on a throwing error and scored on a fielder's choice. They then proceeded to load the bases for Josh Naylor, whose night was only beginning.
The Sox had a chance for redemption in the bottom of the ninth and loaded the bases for Adam Engel. He smoked one down the third-base line, but José Ramírez came to the rescue with an incredible play. Check out the scoop by the star of the night at first base too.
Both teams scored in their halves of the 10th, and the White Sox had a chance to walk it off right there. With the bases loaded and one out, Yoán Moncada grounded to Giménez at short who threw home to get the out. Emmanuel Clase rolled another ground ball with two outs and escaped without giving the game away.
In the 11th, the Guardians had two on for Naylor once again. This is 'The Josh Naylor Game' for a reason. You already know what he did, and there was no doubting the result from there.
Orioles 6, Royals 1
I made a mistake in Monday's Highlight Reel saying that baseball started at 1:05 with the Yankees and Rangers. It actually started even earlier than that with the Orioles and Royals, who were also making up the third game of a weekend set on a shared off day.
Kansas City took an early 1-0 lead as Bobby Witt Jr. manufactured a run virtually by himself.
That lead held until the fifth when the Orioles suddenly pounced on Carlos Hernandez. It started with a walk by Tyler Nevin and an Anthony Benboom double. A Jorge Mateo single tied the game and set Baltimore up with runners on the corners. Mateo stole second and MJ Melendez uncorked a horrible throw, allowing the go-ahead run to score and Mateo to get to third.
The onslaught continued and the O's would put up four more in the inning on two singles, a hit-by-pitch and a wild pitch. In the end, Hernandez failed to get through five and allowed six runs on seven hits and two walks. His ERA on the year is now 7.15 and Kansas City's 4.58 team ERA is 28th in the league.
Yankees 1, Rangers 0
Friend of Just Baseball, Nestor Cortes, continues to rampage through the competition this year after 7 1/3 shutout innings. He flirted with a no-hitter, getting pulled only after he gave up his first hit to Eli White. It was his 103rd pitch of the game and it would have been interesting to see if Aaron Boone would have given him a chance had he gotten out of the eight. Cortes struck out 11 Rangers along the way and dropped his ERA to a minute 1.41.
The Yankees offense was not much better, scrapping together five hits and just one for extra bases. That sole extra-base hit scored the only run of the game, a double by Anthony Rizzo. It was just his third hit in May and may be exactly what he needs to snap out of a 2-for-23 slump.
The Yankees join their Subway rivals as the only teams in the league with 20 wins and are 8-2 in their last 10. The Rangers are just 11-16, but have a -3 run-differential and that is with barely any production from Marcus Semien. Things may not be as bad as they seem.
Pirates 5, Dodgers 1
The Pirates got to Julio Urías for 11 hits but managed to scratch just two across off the southpaw. They took a 1-0 lead in the fourth after Michael Chavis tripled and came across to score on a sac-fly. Then they extended the lead on a solo home run by Michael Perez in the seventh, with another coming across to make it 3-0.
José Quintana allowed four walks in six innings, but just two hits and kept the Dodgers off the board. By picking up a win in the decision, he becomes the first Pirates pitcher to record a win this season. To seal the deal, Jack Suwinski hit his first career home run to make it 5-0 and stick a fork in Los Angeles. This result is certainly the surprise of the night.
Reds 10, Brewers 5
The Reds have matched their win total from their first 25 games in the last four games they have played. They ran threw the Brewers tonight, doubling them up 10-5. They shelled Brandon Woodruff in 4 1/3 innings, racking up six runs on eight hits and clubbing two home runs. The first came from Colin Moran and it was his third homer in as many at-bats dating back to Sunday.
The Brewers actually took a 3-1 in the fifth before the Reds quickly answered with five to chase Woodruff. Brandon Drury drove in three of those runs with a big fly and they lead 6-3 after five.
Miwaukee brought it back within a run in the sixth with two runs coming across, the second on an RBI single by Jace Peterson.
The two runs forced a response from the Reds and they answered the call in a big way. They put up one in the sixth, then poured it on in the seventh. Kyle Farmer crushed a three-run homer to right field and the Reds reached double digits. Cincinnati has now won back-to-back games for the first time all season and have won three-of-four shockingly enough!
Athletics 2, Tigers 0
The Tigers are the third team to 20 losses after a shutout defeat Tuesday. Michael Pineda went 6 2/3 and allowed just two runs, but got no help from his offense. If pitching wins mean anything to you, Paul Blackburn is now 4-0 in six starts following 6 2/3 shutout innings tonight. The A's scored a run in both the third and fourth and the two teams combined for just 10 hits. One of them was a rare Tony Kemp home run to put Oakland up 1-0 and it turned out to be enough.
Angels 11, Rays 3
The Angels offense is here and they are fun. It is so wonderful to see Mike Trout and Shohei Ohtani in the middle of a lineup with tons of firepower around them. Jared Walsh put them up 3-1 with a three-run blast that traveled 427 feet.
Trout and Ohtani enjoyed themselves, as the two superstars went back-to-back to open a 6-1 lead in the sixth.
It was Ohtani who had even more fun than Trout Monday night. With the Angels already up 7-3, he launched his second home run of the game and this was a little extra special. He launched his first career grand slam to the opposite field and put the Angels up 11-3. It put a magical exclamation point on their fifth win in six games.
Cubs 6, Padres 0
The Cubs offense has been dismal of late but they woke up a little Monday. Seiya Suzuki, coming off a terrible week, got things started with an RBI double in the first inning.
MacKenzie Gore allowed seven hits in five innings, but limited damage quite well and held the Cubs to just three runs. It was all for not because the Padres gave him absolutely nothing in run support. That is in part thanks to Kyle Hendricks who was vintage Monday night. He dealt 8 2/3 shutout innings and struck out six, allowing no walks and just three hits. The Cubs pulled him one out from a complete game as the pitch count got just a little too high at 116.
Diamondbacks 4, Marlins 3
There is plenty of speculation around the Miami Marlins now that top prospect Max Meyer could soon make his Major League debut. With that looming, the pressure has been on Elieser Hernández to perform and he simply has not done enough. He allowed a ton of hard contact tonight and fell behind early once again. The D-Backs got two in the first, then the Marlins answered with two of their own in the second. It did not matter, because Hernández gave it right back in the next half on an RBI single by Daulton Varsho.
The back-and-forth nature of this one continued in the fourth when Garrett Cooper hit a rocket the other way to tie the game at three.
Hernández settled in a bit and battled to get into the sixth. He did not allow a run for three innings and kept the pitch count down. It gave the Marlins a chance to get their starter through six as they wind down a stretch of 16 consecutive games. It was not meant to be.
Hernández left 91 over the plate to Ketel Marte in what very well may be his last pitch as a starter in Miami. His spot is up next Friday at home against Milwaukee, which seems like a prime opportunity to unveil the organization's top prospect.
Phillies 9, Mariners 0
The Phillies are exactly who everybody thought they would be. They are weird, they are fun and they do not make a whole lot of sense. Their offense also has a ton of fire power, it is just up to them when they want to show it.
It was on full display Monday while piling up nine runs on 17 hits. Six of those runs and nine of those hits came against Chris Flexen who managed to survive through five. The damage started with back-to-back homers by Jean Segura and Rhys Hoskins.
Ranger Suárez was really good, recording seven strikeouts in six shutout innings. Seven Phillies had multiple hits and three of them—Hoskins, Bryce Harper and Nick Castellanos—had three. If they could just find some consistency this team would be so, so good.
Giants 8, Rockies 5
The Giants seemed to have emerged from their COVID outbreak and are back to their winning ways. Carlos Rodón has to be an early Cy Young candidate and maybe even favorite. All this guy does is strike people out, recording 12 more Monday and upping his league-leading total to 53 in 35 innings.
Both teams had 11 hits in this one but it was the Giants who took advantage of theirs. This was actually quite the blowout until the Rocks scored three in the ninth off Jake McGee. Luckily they led by six and had enough cushion to soften the blow as McGee finished the ninth. Mauricio Dubon put the Giants up 3-0 in the third with a two-run homer, his second of the year.
Tuesday's action begins at 1:10 with a doubleheader between the Tigers and A's. In a weird scheduling quirk, the Tigers are the home team in Detroit in game one while the A's are the home team in game two. That is one I have not seen before.