Feature
Just Baseball Highlight Reel: Pete Alonso's Epic Blast Gives Mets Another Win
All of the highlights you have to see from Thursday's MLB action.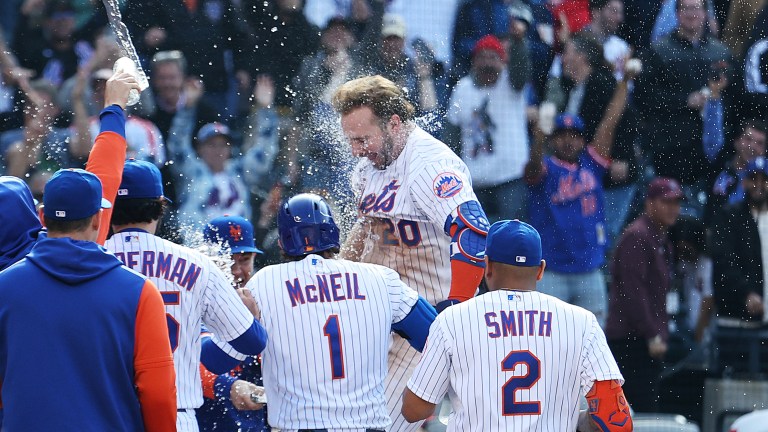 Just eight games on the schedule Thursday but there was still plenty of excitement. There were five afternoon games, and at one point three of them got tied up within a 10-minute span. That gave way to two walk-off wins and another comeback win on the road. We start in the Big Apple, with an epic walk-off for the Amazins.
Mets 7, Cardinals 6
The Mets are really good and they just keep finding different ways to win ballgames. They went ahead 2-0 in the first inning before the Cardinals quickly tied things up with a run in each of the second and third innings.
The Cards took a 3-2 lead in the fifth, before New York scored three in their half to go ahead 5-3. That set the stage for a late rally by the St. Louis, who got it to 5-4 in the seventh. They scored on a sac fly that resulted in a really fun double play turned by Jeff McNeil in left field that garners play of the day honors.
With two outs in the ninth, Paul Goldschmidt grounded a ball to Eduardo Escobar at third, and all of a sudden the Mets were doing the Mets thing again. A team often known for shooting themselves in the foot has been pretty immune to it this year. All of a sudden, a day after Max Scherzer went down with an oblique injury, it seemed like the ghosts of Mets past were coming back to bite them.
That was until the 10th inning when the Mets showed who the 2022 Mets are. They are clearly a resilient club, capable of winning games at any time in any way. This time, after giving up a run in the top half, it was the Polar Bear coming through. Pete Alonso absolutely eviscerated a baseball 113.7 miles per hour and 447 feet into the second deck and the Mets begin life without Mad Max—at least for six-to-eight weeks—victorious.
Orioles 9, Yankees 6
A wild back-and-forth game at Camden Yards between these two AL East foes. We pick it up in the fourth inning with the Yankees down 3-2 and Giancarlo Stanton at the plate.
If Stanton is at the plate in the highlight reel, I think you can guess what happened next. He becomes the first road player to hit a home run into the new dimensions at Camden Yards.
New York then got out to a 5-3 lead and looked to be cruising. That lasted until the sixth, when the O's came roaring back with three runs to take the lead. The Yankees had to use three pitchers in that inning because Miguel Castro struggled and Chad Green was removed with an injury. Rougned Odor gave Baltimore a 6-5 lead with an RBI single.
That lead lasted until there were two outs in the ninth with Isaiah Kiner-Falefa standing on second and DJ LeMahieu at the plate. LeMahieu drove in IKF to tie the game 6-6 and send it to extra innings.
The Yankees came up empty in the 10th, and the O's added a runner to the man on second. That brought Anthony Santander to the plate for his epic moment of the afternoon. He hit this one on a rope, not quite as impressive as Alonso's, but it produced the same result. Two walk-offs within 10 minutes on an eight-game slate. Baseball is the best.
Padres 2, Phillies 0
Much less exciting game here. Both starters were good but Yu Darvish was much better. He went seven shutout inning and allowed just six hits and no walks. He struck out five and he along with Luis García and Taylor Rogers kept the Phillies off the board. Robinson Canó came through with his first big moment as a Padre, an RBI single that held up as the game-winning hit in an affair that was devoid of offense.
Reds 4, Guardians 2
The Reds are the second-hottest team in baseball!
They are 7-3 in their last 10—only the Yanks at 8-2 are better—and they kept it rolling against their instate rivals. It was a pretty boring game, neither pitcher was fantastic, until the eighth inning. The Reds put up three in that inning to put them up 4-1 and that was all they needed. The Guardians got one back but it proved irrelevant. Kyle Farmer delivered the big hit for the Reds, an RBI single that gave them the lead.
White Sox 7, Royals 4
This could have led off the reel, had it not been for the two epic walk-offs. KC got out to a 2-0 lead early with a two-run homer from Hunter Dozier. The White Sox looked lifeless and it seemed their struggles would continue as the lead grew to 4-1.
The Sox clawed back into it with a two-run single from Tim Anderson and then Luis Robert began to make his presence felt. First, it was an RBI single to tie the game in the sixth inning.
When Lu Bob tied this game, it was the third one-run game in a span of a few minutes that was tied up. It was an absolutely insane sequence of baseball happening all at once. With the lead already in hand, the Sox needed a big hit to really lock this one down. Here came Lu Bob again, this time bringing out the two iron with a gorgeous swing to give Chicago a 7-4 lead.
The win pushes Chicago back to .500 at 19-19, a hill they can just not seem to climb over quite yet.
Red Sox 12, Mariners 5
A major offensive outburst from Boston took place at Fenway Park. That was the only offensive outburst from a Boston sports team on the night. Cannot think of another one anywhere. The Sox were lead by what may be Trevor Story's coming out party in Boston, as he went 4-for-4 with three home runs. The first hit of the night was a two-run homer that cut what was a 4-0 deficit in half.
His second hit of the night, another two-run blast, tied the game 4-4 in the fourth and set himself up for some more heroics. In a 4-4 game in the sixth, Story flared one into center to move Alex Verdugo to third, who then scored on a throwing error to give the Sox a lead they would not look back from.
And just for good measure, with Boston already leading 9-5, Story put a stamp on a career night. This time, a three-run bomb really made it ugly and may just spark him out of a dreadful start to the season. The Mariners have just one more win than the Red Sox, as these may be the two most disappointing teams in baseball.
Cubs 3, Diamondbacks 1
Two high-profile starting pitchers got the ball in this one and both were solid, neither great, in five innings of work. While Zac Gallen held the Cubs to just one run, he walked three and only struck out four. Marcus Stroman allowed three runs on five hits but did not allow a walk and struck out six. This one came down to the fourth inning as all four runs in the game were scored in that inning. The D-Backs three-run fourth held up for the win. It started with a solo shot from Daulton Varsho.
Astros 5, Rangers 1
Not a whole lot of flare in this Lone Star showdown. In fact, it was not much of a showdown at all. Framber Valdez shined for the Astros, racking up seven strikeouts in seven innings of one-run ball.
The Rangers went ahead 1-0 in the first, then the Astros answered right back with two in their half to make it 2-1. That score held up for nearly the entire game until the eighth inning. That is when Houston got some insurance from an unlikely source, as Martin Maldonado cleared the bases with a double. The Stros are now 25-14, good for the second-best record in the AL.
Back to a full slate of games Friday and the action begins as it should: with afternoon baseball at Wrigley. The Cubs host the Diamondbacks at 2:20 to kick off the weekend.