Feature
Just Baseball Highlight Reel: Mets Stun Phillies with Seven-Run Comeback Win
All of the highlights you need to see from Thursday's MLB action.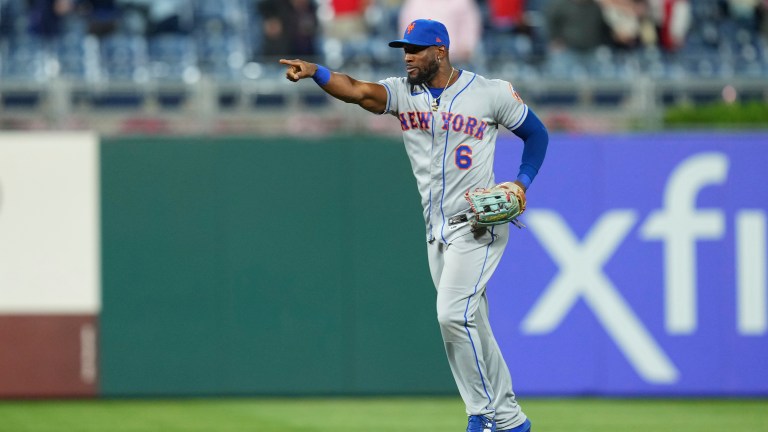 Can we all collectively laugh at the city of Philadelphia?
A place where they "Trust the Process" of losing and then are surprised when they never win when the games count. A baseball team that is completely ignoring the concept of defense in a game where it takes 27 outs to win. As Phillies fans learned Thursday night, you need to get all 27 of those outs. Those last three are just sometimes the hardest one's to get.
Now before you pin this anti-Philly sentiment on the kind Reds fan who wrote today's highlight reel, I want to make this very clear. This is an editor's takeover. And today, we laugh at the Phillies.
Phillies 7, METS 8!
The Phillies don't deserve for you to see the highlights of them piling seven runs against Taijuan Walker in the first four innings. That should have been more than enough to beat the Mets, don't you think?
Starling Marte hit a solo home run in the sixth, but the Mets offense failed to muster much more over the first eight innings. Then we got to the ninth, where the Mets accomplished a next to impossible feat.
Marte led things off with an infield single and would later get the chance to cap a seven-run rally with a double. Across those 10 at-bats, the Mets racked up eight hits on just 26 pitches and were able to take the lead in a game they never once led.
This is the highlight reel, so let's show you some highlights. Enjoy every one of the Mets eight hits, which will surely haunt the dreams of Philly sports fans forever.
I will now pass the baton off to Mr. Clay Snowden for the remainder for your MLB highlights. But I do have some parting words for any Philly readers who have actually made it this far. Heat in five.
Angels 8, Red Sox 0
Rich Hill and Shohei Ohtani were great, but the Boston bullpen (again) could not get it done. Scoreless after seven, Jared Walsh broke the tie guiding the ball just past the right field foul pole making it 1-0.
With the bases loaded in the eighth, the Angels got a typical David Fletcher single making it 3-0, followed by an Ohtani single off the Green Monster, a Rendon RBI ground out, and finally a .100 xBA two-run single by Jared Wash making it 7-0. Brandon Marsh broke his cold spell with a two-hit day including his fourth long ball of the season which made the final score of 8-0.
Ohtani put on a show. Seven innings of shutout baseball striking out 11. Add a 2-for-4 day at the plate. What we get to see from Ohtani is beyond special.
The Red Sox fall to 10-16 on the season as questions and concerns swirl around Boston.
Brewers 10, Reds 5
Cincinnati jumped out to a surprising 3-0 start in the first behind RBI singles from Tyler Stephenson and Colin Moran giving rookie starter Hunter Greene a nice cushion.
In a blink of an eye Luis Urias and Christian Yelich wen back-to-back opening the flood gates.
A couple of doubles followed by a Willy Adames home run extended the lead to 6-3.
Tyrone Taylor and Keston Huira home runs made it 8-3. But let's add a Reds highlight for a change. Tyler Stephenson's third of the year. One of the top young catchers in the game.
Willy Adames added yet another long shot to bring the final score to 10-5. Brewers move to 18-8 while the Reds fall to an MLB worst 3-22. It's going to be a long summer in Cincinnati.
Rockies 9, Nationals 7
The final day game on Thursday was a thrill. Every time the Rockies gained more of a lead, the Nationals would claw back into it, but in the end the Rockies bats were just too much.
The game started with a Juan Soto home run, which is always a highlight.
After falling down 2-0, Brendan Rodgers doubles in a run and Garrett Hampson goes yard to put Colorado up 4-2. Rodgers is finally starting to heat up, going 2-for-4 including his first home run of the season.
Keibert Ruiz added a home run and double clawing the Nationals back once again. Randal Grichuk made it 9-6 before the Nationals comeback came up just short.
Guardians 6, Blue Jays 5
Vlad did not waste anytime time leaving the yard in this one, giving the Blue Jays a 2-0 lead.
We've seen plenty of Vlad home runs, but today we saw our first Steven Kwan tank. The rookie continues to hit now slashing .328/.419/.443 on the season.
A couple of RBI singles and groundout extended the lead before an Andres Gimenez double scored two making it 6-2. The Blue Jays made one last push, with a two-run double and Alejandro Kirk home run but Emmanuel Clase shut the door.
Guardians move to 12-13 and second place in the AL Central.
Orioles 5, Twins 3
The Baltimore bullpen stepped up in a big way on Thursday night going 5.1 scoreless innings helping seal the victory. The Orioles offense was led by Cedric Mullins and Ryan Mountcastle who each went deep twice on the night.
Jorge Mateo and Austin Hays added a home run as every Baltimore run came via the solo shot. Hays has really looked great at the plate recently and tonight showed off his cannon.
The first place Twins fall in a close one leading Cleveland by only 2.5 games in the standings.
Astros 3, Tigers 2
The Astros ended up winning a close one, but nearly let it slip away. Tarik Skubal versus Jose Urquidy ended up being a pretty good matchup Skubal allowed his first two home runs of the season but struck out nine. Urquidy went six strong not allowing a run.
Jose Altuve started the first with his third home run on the year before the rookie Jeremy Pena extended the lead by going deep in the fifth.
Wily Peralta came on in relief pitching a hitless two innings to keep in close. In the ninth, Jeimer Candelario took a Ryan Pressley curveball and made it a souvenir.
Tied 2-2 in the bottom of the ninth, Kyle Tucker beat the shift and beat the Tigers.
Rays 4, Mariners 3
A pretty typical Rays win. Not a ton of flare, just scoring more than the other team. Mike Zunino hit his third of the year giving the Rays a 4-0 lead, which was all they needed.
The Mariners big ticket free agent went 6.2 innings, allowing seven hits and four runs. His 4.38 ERA is not to a level of concern yet, but he has not looked like the Cy Young winner from last season.
Other notable acquisition, Jesse Winker, finally hit his first of the season.
Padres 2, Marlins 1
The Florida native Manny Machado was happy to be playing the fish. Hitting home runs in the first and fourth off Jesus Luzardo, Machado accounted for all of the Padres runs.
Nick Martinez was sharp going seven innings allowing four hits and one run. Taylor Rodgers, acquired from the Twins, has fit perfectly into the back of the bullpen picking up his 11th save and maintaining his 0.00 ERA.
At least the Marlins fans saw Jazz make a highlight play, something he does nightly. One of the most electric players in the league.
Cardinals 7, Giants 1
Miles Mikolas is putting together a fantastic start to the 2022 season. He wasn't perfect, walking three and giving up seven hits, but he continues to position his team to win allowing only one run.
The scoring started with a Yadier Molina home run, his first of the year.
The remaining six runs were all scored off RBI singles, including Juan Yepez's first career RBI.
Tommy Edman continues to be red hot, collecting three hits. Tyler O'Neil, who was batting .188 earlier this week, adds two hits raising his average to .213. He might be starting to get it going and if so, watch out Brewers.
Thursday had a short slate of games, but several exciting finishes. Remember, first pitch tomorrow is at 2:20 ET with all 30 teams in action