Feature
Just Baseball Highlight Reel: April 18, 2022
All of the highlights you have to see from Monday's MLB action.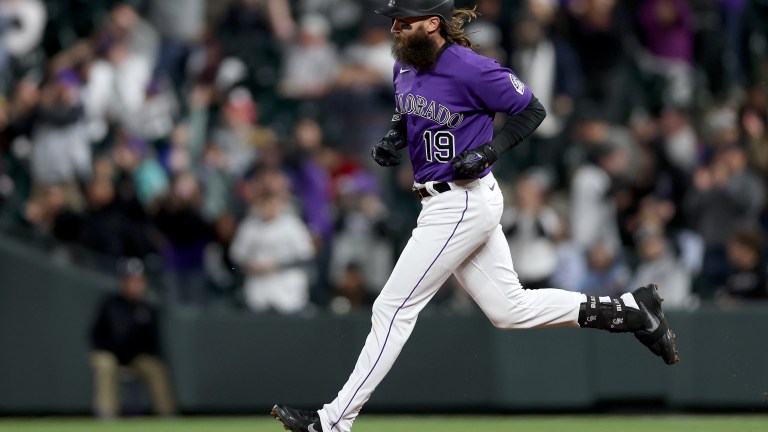 Baseball got off to an early start as the Red Sox and Twins played at 11:10 a.m. on Marathon Monday. Bad weather ruled the day, postponing three games in Cleveland, Washington D.C. and New York City. That left just eight games on the slate making it a quiet Monday across Major League Baseball.
Dodgers 7, Braves 4
The story of the night was Freddie Freeman matching up against his former team. The decision by the Braves to move on from Freeman in favor of Matt Olson will be judged throughout the years, but no doubt Freddie won on this night. What else would he do in his first AB against his former club other than club a home run? It just had to happen.
Olson did respond with a double of his own. He is arguably the hottest hitter in Major League Baseball to start the year, hitting .452 after a casual 3-for-4 with this double. He has a 1.280 OPS with two homers, five doubles, 11 walks and nine strikeouts through 12 games.
The Dodgers held a 1-0 lead until the fourth, when they poured five runs on Atlanta starter Huascar Ynoa. Trea Turner delivered the biggest blow with a bases-clearing double to really blow it open. Atlanta got to Clayton Kershaw for one in the fifth and three in the fourth, but the Dodger bullpen prevented them from getting any closer.
Cody Bellinger picked up his second homer of the season to cushion the lead to three in the eighth. If he can get back to his MVP form, this lineup will be unstoppable. LA is now 8-2 on the season.
Cubs 4, Rays 2
It was one of those nights at Wrigley Field. Cold, windy and even a few snow flurries passed through. Not exactly an offensive showcase here, but there was some highlights to show for it. The Cubs got started with this mammoth bomb by Patrick Wisdom to open up a 2-0 lead.
Shane McClanahan was great once again for the Rays, making just the one mistake. He struck out nine in six innings of two-run ball and flexed his nasty breaking ball throughout the start. He even braced the cold in short sleeves, maybe the most impressive part of what he did.
The Rays answered back, scoring a run in both the fourth and fifth innings. Kyle Hendricks was sharp early for the Cubs, but really began to struggle in those innings. He was chased following the game-tying single in the fifth. Things went quiet until the bottom of the seventh when Ian Happ came through with a two-out go-ahead single. Frank Schwindel added some insurance with a homer and that was all she wrote.
Astros 8, Angels 3
Yordan Álvarez is really, really good. After missing some time with the flu the past week, he came back with a 3-for-4 and announced his return in a big way. This bomb was measured at 415 feet, but my projected distance is no lower than 742 feet.
The Angels tied the game in the second inning thanks to a two-run double by Tyler Wade. However, this night was always going to be Houston's. They are the last team to open their home schedule and they were on a mission to do it in a big way. Jose Siri played his part, as he saved the Astros from falling behind with the play of the night.
This night belonged to Álvarez. After his team retook the lead, he cemented it with a two-run homer in the seventh to open the lead to four. It may not have looked as big as the first one but this one went even further, measuring up at 429 feet. However, there is concern for Houston as second baseman José Altuve left the game with an apparent hamstring injury after running out a single. His status is definitely worth keeping an eye on.
Padres 4, Reds 1
Tommy Pham has sputtered out of the gates, but opened this game up with a home run against his former team.
The lead would not last long for the Reds as Manny Machado answered with a two-run home run in the bottom half of the first. It has been that kind of start for Cincinnati, they are just not a good ball club. The Padres added a couple more later in the fourth and seventh, and held the Reds off the board the rest of the game.
The good news for the Reds is southpaw Nick Lodolo settled in following the home run. He allowed just one more run and struck out eight Padres. He has a lot of fine tuning to do, but he definitely showed the potential that made him a top prospect Monday.
Rockies 4, Phillies 1
The Phillies need a day off. They have played 11 games in 11 days to start the year and still have two more to go. Chad Kuhl twirled six shutout innings in his first start at Coors Field, and Philly managed one run on just fives hits. They have not gotten all their guys clicking yet, and it is looking really rough so far. They will obviously get going eventually, but until they do it may continue to look ugly.
The Rockies meanwhile are one of the pleasant early surprises in the league. They sit at 7-3 following Monday's victory and their offense is looking solid. As our new power rankings mentioned, they may not be all that terrible. Tonight they were catalyzed by an old friend, as Charlie Blackmon launched the longest home run of the night to break open a scoreless game in the sixth.
Brewers 6, Pirates 1
After Milwaukee took the lead first, Pittsburgh answered back in the fourth thanks to a home run by Diego Castillo. However, that was it for the Pirates. Immediately his team tied it up, Pirates starter Zach Thompson surrendered five runs and it was over just like that. The big blow came from Christian Yelich who is looking more like his MVP self to start 2022. He clubbed his first homer of the season, the grand slam that made sure the Brewers would never look back in this one.
Twins 8, Red Sox 1
Minnesota spoiled Patriots' Day for fans in Boston by trouncing their beloved Red Sox. It started early as Kyle Garlick hit a two-run homer before the clock even struck 11:30. They put up two more in the third, then the Sox cut it to 4-2 before a four-run eighth sealed the deal for the Twinkies. Christian Vasquez homered off Jhoan Duran, who put his nasty stuff on display again. Despite the early start, not a whole lot to write home about in this one.
Athletics 5, Orioles 1
The A's are off to a shocking start, now sitting above .500 at 6-5. However, neither of these teams are very good. It was a 1-1 game into the sixth when the Orioles did Orioles things, allowing four runs on two hits and two errors in the inning. Sean Murphy got everything started in the first inning with a double that set the A's up to score. He is simply a very good ballplayer.