Feature
Just Baseball Highlight Reel: April 13, 2022
All of the highlights you have to see from Wednesday's MLB action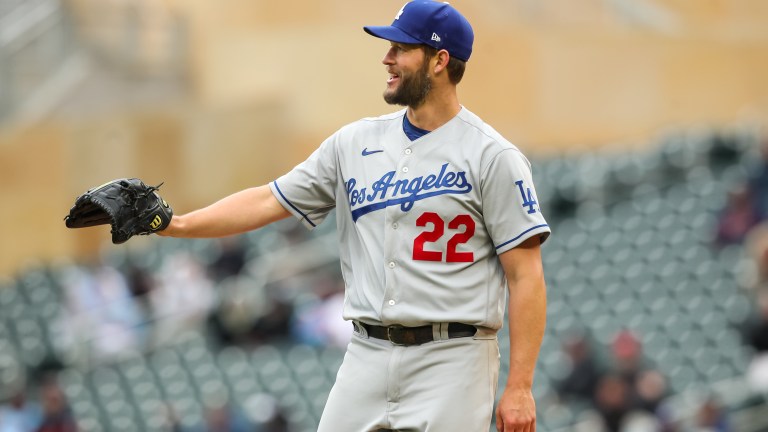 There were plenty of Opening Day starters making their second starts, and one that was nearly perfect. Lots of afternoon games meant baseball went to bed early on Wednesday night, as the first full week of the 2022 MLB season is now in the books.
All you need to know about Wednesday's action across the league is right here in the Just Baseball Highlight Reel.
Kershaw Near Miss
The story of the day happened in Minnesota. Clayton Kershaw has accomplished nearly everything he possibly can over the course of his Hall of Fame career. Except one thing: he has never thrown a perfect game.
I would say he flirted with one Wednesday but technically he actually threw one. He just did it in seven innings, and no it was not a doubleheader.
For some reason, with Kershaw sitting on just 80 pitches through seven perfect innings, Dave Roberts pulled his Hall of Famer. I understand it is early and there was a shortened Spring Training, but sometimes entertainment trumps all. Just listen to ESPN's Jeff Passan.
It was a very upsetting decision for baseball fans. Why should we care about perfect games if teams do not even care about them?
It is a shame that Kershaw was not given the proper chance to accomplish that amazing feat.
Either way, Kershaw was fantastic as he has been many times throughout his career. He set down 13 hitters on strikes, and the other eight batters he faced grounded out. The final strikeout before he was pulled came against Byron Buxton on the pitch he has dominated with throughout his career.
Cody Bellinger hit a homer and the Dodgers put up seven in a shutout victory over the Twinkies.
Vladdy Tops Daddy
Wednesday's game between the Blue Jays and Yankees took a back seat to the incredible talents of Vladimir Guerrero Jr. He accomplished feat that his Hall of Fame Dad never reached by hitting three home runs in one game.
On the night he went 4-for-4 with 14 total bases, and each home run was more impressive than the last. Enjoy them them in all their glory.
Dad even took to Twitter to brag about his star son. The Blue Jays would take the win 6-3 behind Vladdy's heroics. Just for good measure, Guerrero Jr. ended the night by making a tremendous stab at first base for the final out.
Red Sox Pounce On Old Friend
Eduardo Rodriguez faced his old team Wednesday and the revenge appearance went about as bad as it could have. He lasted just 3 2/3 innings, allowing seven runs on five hits and three walks. However, just two of those runs were earned as the Tigers had a rough day in the field. It started with this double by Jackie Bradley Jr. that was mishandled by Austin Meadows in left.
Meadows' rough day would continue, this time on a double by Kiké Hernandez that plated another run.
Raffy Devers would add another double to finish off a six-run fourth inning. It has been a rough go for Rodriguez in Detroit, allowing 10 runs in just 7 2/3 innings in his first two starts as a Tiger. The Sox would add two more in the seventh, and the Tigers pulled it back a bit but still dropped this one 9-7.
Also of note, Spencer Torkelson hit the first of what should be many home runs in the Major Leagues.
White Sox Rain On Ray
The rain started in the second inning of this one and did not relent. It was a near monsoon when it began, and it was clear reigning Cy Young winner Robbie Ray struggled with it. The Sox pushed across four runs in that frame, including this 449 foot bomb from Eloy Jiménez.
The M's got two back to find themselves back in it, but in the seventh the Sox sealed the deal. Tim Anderson and Luis Robert launched back-to-back home runs to chase Robbie Ray. They went ahead 6-3 and did not look back.
The game may have actually been saved in the sixth with the catch of the night. Adam Engel took away a homer from Jesse Winker with this tremendous leaping catch to preserve the lead. It turned out to be key as the Sox 4-3 lead was all they needed after the back-to-back homers.
Late Excitement In Arizona
After the Astros won a snoozer at the end Tuesday, things got really exciting late Wednesday. It was once again 1-1 late in the game, this time in the 10th. The Astros cashed in the ghost runner in the top half, then sent lockdown closer Ryan Pressly to the hill in the bottom.
However, Pressly was uncharacteristically rocky. First he allowed the ghost runner to score on this Seth Beer single to tie the game.
Pressly then could not find the command and loaded the bases with one out for Ketel Marte. The D-Backs star hit a ball deep enough, and was helped by a drop by Chas McCormick. The run would have scored either way and Arizona took a 3-2 victory.
Mets Take Another From Phils
Even when the Phillies lose, they make it fun and whacky. The Mets got out to an early lead thanks to Brandon Nimmo's second homer in as many games.
That started a run of four straight innings in which the Mets scored runs. Aaron Nola made it through just 3 1/3, allowing three runs on three hits and three walks.
In the sixth, the Mets really poured it on when they put up a four spot to make it 8-1. That inning was catalyzed by Pete Alonso's second home run of the year.
The Phillies, as usual, at least made it interesting. They scored two runs apiece in the sixth and seventh, but that was as close as they got. Bryce Harper hit his first homer in the ninth but it was too little too late. In the end, it was a 9-6 final in favor of the Metropolitans.
Burnes Dazzles And Brewers Survive
Corbin Burnes looked like his Cy Young self Wednesday, dealing seven scoreless innings and striking out eight. The Brewers held a 2-0 lead for most of the game as their ace allowed just three hits and one walk on the night. That cutter that helped push him to the Cy Young award was on in this start.
However, Devin Williams got roughed up and only managed to get one out in the eighth. He was charged with two runs and Trey Mancini tied the game with a sac-fly.
Luckily for Milwaukee, they came through in the ninth with two more runs to take the lead. Kolten Wong delivered the go-ahead hit, then Rowdy Tellez added an insurance run with a double. The Brewers have trailed in both games against the Orioles, but have come back in both to avoid two bad losses.
Hayes Lifts Pirates
Willson Contreras opened the scoring in the first inning of this one with the longest home run of the day, a 451-foot blast.
However, the Pirates would rough up Kyle Hendricks for six runs in 3 2/3 innings. Kyle Hendricks allowed seven hits and four walks, an extremely uncharacteristic performance from The Professor. Ke'Bryan Hayes was the man for Pittsburgh, picking up four hits. Ben Gamel's three-run homer was the big hit of the day, giving the Buckos a lead in the first inning they never looked back from.
Guardians Power Way To Victory
Another football score between Cincinnati and Cleveland!
Steven Kwan did not have a hit today, but his teammates picked up the slack for him. The Guardians hit four home runs as a team, including two by Owen Miller, to cruise to a 7-3 victory over the Reds. It was definitely not the debut that Nick Lodolo and the Reds were hoping for, as the young southpaw was roughed up for five runs on seven hits and three walks. José Ramírez smacked his third home run of the season, showing he is worth every penny he was paid this offseason.
A's Get Past Rays
It is hard not to think the A's have been the better team in this series. They won Monday, had a lead Tuesday and won again Wednesday. Frankie Montas put together a quality start, allowing just two runs in 6 1/3 innings and striking out six. Sean Murphy put them ahead with a three-run homer off Shane McClanahan in the third and it was all they needed. They ended up taking a 4-2 victory and have a chance to take three-of-four from Tampa Thursday.
Webb Gem Leads Giants
Logan Webb is showing 2021 was no fluke. He was fantastic on Opening Day, then even better Wednesday. The Giants' ace dealt eight one-run innings, allowing just four hits and striking out seven. He has allowed just two runs in 14 innings of work over his first two starts.
The Pads scored in the first, then Luke Williams notched a two-run double to give the Giants the lead in the second. Neither team scored again and San Francisco took a 2-1 victory.
Nats And Braves Go Quiet
After each team blew the other out to start the season, the action screeched to a halt Wednesday. There was not a whole lot of offense on either side in this one. The Nats scored two runs in the first thanks to some small ball, then added another in the sixth. The Braves got one back but mustered up nothing else.
Josiah Gray had a solid outing for the Nationals, definitely better than Opening Day. He went five shutout innings and struck out five along the way.