Feature
Just Baseball Highlight Reel: April 11th, 2022
All of the highlights you have to see from Monday's MLB action.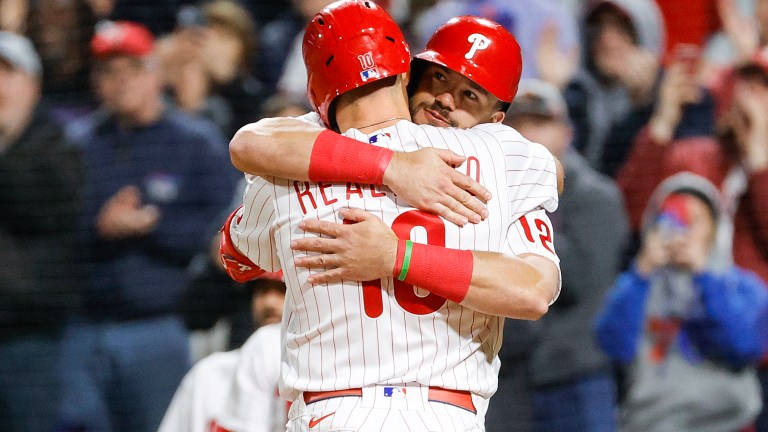 This is the all new Just Baseball highlight reel, your daily recap of everything you need to know about the day in baseball.
Each day, one of our writers will bring you a brief recap of each game using highlights of the most important action. Some games only need one play, some games need more. Either way, we've got them all covered right here in the highlight reel.
Phillies Storm Back
The Phillies are exactly who everybody thought they would be and it is awesome. They fell behind 3-0 in the first inning as Ranger Suárez got touched in the first inning. Mark Canha came through with a hit as he continues his great start in a Mets uniform.
While the Mets got hits to capitalize, they really just took advantage of the Phillies poor defense. Alec Bohm was the worst offender, committing three errors, but overall the Phillies were playing a sloppy game.
The Mets would stretch the lead to four, but Philadelphia had an answer of their own in the eighth inning. Their offense flexed its muscles and showed just how dangerous it will be this season. With a run already in, JT Realmuto launched a ball deep into the seats in left to bring it within in a run.
Then Nick Castellanos drew a walk, and Rhys Hoskins doubled him in to tie the game at four. At this point everybody knew what was coming, and it was Didi Gregorious who delivered the final blow. He traded places with Hoskins on a double of his own and gave the Phillies the lead.
It was the first time they had come back from down four runs later than the seventh since 2019. Brad Hand would shut the door with a 1-2-3 ninth against his former team to take the epic victory.
Late Drama in Texas
The Rockies and Rangers kicked off their series with a wild game. There was some early action from both teams, but let's pick it up in the ninth of a 3-3 game. CJ Cron gave the Rockies the lead with this 451-foot bomb, the longest of the day across the league.
The Rangers would answer right back thanks to an absolute nuke from Willie Calhoun. Statcast said it went 402 feet, but I'm convinced this ball traveled at least 685 feet.
Either way, the game went to extras where the Rockies would cash in the runner on second to take the lead. They then bought an insurance run thanks to a home run from #ConnorJoe.
The game ended on a weird interference call on an attempted double play, and the Rangers were not happy. While they had an argument for sure, they still would have had to scratch another run across if the play had stood.
El Mago Powers Tigers to Victory
Matt Manning pitched very well for Detroit and held the Red Sox to just one run in six innings. The bullpen did an even better job, holding them scoreless the rest of the way. Javier Báez had a great day, starting off with this tremendous web gem.
Then it was time for the bat to come through and deliver the victory. El Mago learned about the dimensions of his new digs quickly over the weekend, but left no doubts with this rocket. The 396-foot blast would have been out in all 30 ballparks.
Also in the game, Miguel Cabrera picked up hits number 2990 and 2991, the former of which was also his 598th double.
Sometime soon, Cabrera will add the 3,000 hit and 600 double clubs to a resumé that already includes being in the 500 home run club. In doing so, Cabrera will join Hank Aaron and Albert Pujols as the only three players in MLB history to accomplish all three feats.
Youngins Power Angels
The Angels jumped on Marlins start Elieser Hernández for four runs in the first two innings. It was all thanks to their two stud outfield prospects. The first one was a three-run blast by Brandon Marsh in the opening frame.
Then it was Jo Adell's turn, a player whose breakout they have been desperately waiting for. They will be hoping both of these young guys can join Jared Walsh as homegrown prospects to blossom into stars and form a dangerous lineup. Not to mention that Trout guy, or the reincarnation of Babe Ruth, or *checks notes* Anthony Rendon.
The Marlins' young center fielder Jesús Sánchez hit not one, but two moonshots for Miami's only two runs of the game. The Angels won 6-2, but Jazz Chisholm Jr. did make another spectacular play at second base.
Jays Handle Yanks in Bronx
There was not a whole lot of offense to go around in this one, but it was Toronto that delivered it. George Springer hit his second dinger in as many days, this one a missile that squeaked out of Yankee Stadium.

Alek Manoah was tremendous, striking out seven Yanks in six one-hit innings. He managed to keep New York off the board despite issuing four walks. In his final inning he set down Judge on strikes, Stanton on a groundout, then went up the ladder to get Gallo. The bullpen was great, especially Adam Cimber who worked 1 2/3 hitless innings, and locked down a 3-0 victory.
A's Sting Rays
The A's jumped all over Rays starter Chris Mazza for eight runs in the first two innings. It was kicked off by back-to-back home runs from Seth Brown and Chad Pinder.
The game got so out of hand that Tampa Bay brought in right fielder Brett Phillips to pitch. He worked two innings and made the play of the night, which you have to see to believe.
Kwan Lifts Guardians
Steven Kwan is maybe the story of the season so far. He has reached base 15 times (!) through his first four games, including 14 times in a row to begin his career. The Guardians' 15th ranked prospect, according to MLB Pipeline, is making an incredible first impression. He came through yet again Monday to secure a victory over the Royals with this bases-clearing triple.
O's Nab First Win
The Orioles picked up their first win of the season as they pounce on Milawukee starter Adrian Houser and never looked back. It was Cedric Mullins who came through with a two-RBI single in the first inning for the only runs of the game.
It was the second time the Brewers have been shut out in four games to start the year. I know it's early, but this team looks to be in some serious trouble.
Nats Roll Braves
The Nationals were all over the Braves from the jump and stole an 11-2 victory to start the series. Maikel Franco stole the show, going 4-for-5 with five RBI including this three-run bomb to blow the game open early. It was a rough night for Huascar Ynoa, who allowed five runs on seven hits in just three innings of work.
Gloves Shine in Padres Win
It was a rough night to be a hitter at Oracle Park. A huge park played even bigger on a cool night by McCovey Cove. Austin Nola did give his team the lead with a home run in the fifth, but the Giants answered back and the game went tied to the seventh.
The Pads scored in their half, and later tacked on an insurance run in the ninth to take a 4-2 victory. There were some incredible defensive plays in this one, but none topped this run-saving catch in the gap by Jurickson Profar.
Twins Top Mariners
Not a whole lot to report in this one. The Twinkies won 4-0 behind five one-hit innings from Dylan Bundy. They had just three extra-base hits, including two doubles by Byron Buxton, and no home runs. The lack of highlights from this game gives us another chance to look back at Buxton's mammoth blast over the weekend.
There is a full slate of 15 games scheduled for Tuesday, beginning with the Red Sox and Tigers facing off at 1:10 p.m.
We will have another full breakdown of all the top highlights for you tomorrow morning in the Just Baseball Highlight Reel!