Analysis
J.P. Crawford Is Rewarding the Mariners for Having Faith in Him
The Seattle Mariners believed in J.P. Crawford, and the young shortstop is proving that they made the right call.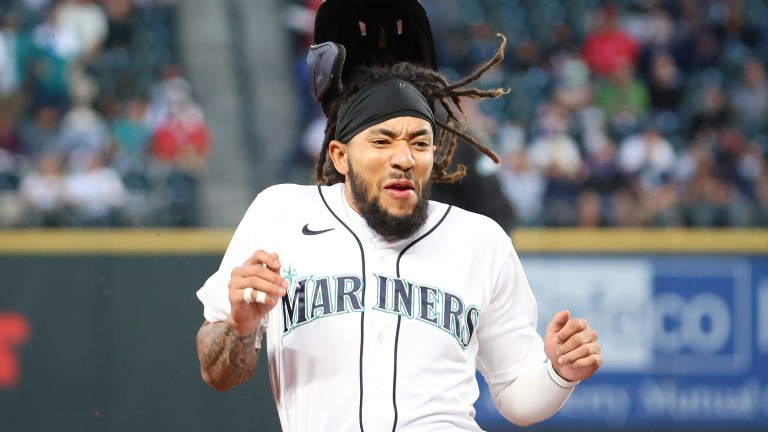 You heard the echoes and cries from the moment Julio Rodríguez flew out to center field for the final out of the ALDS until Dansby Swanson put pen to paper in Chicago: It was imperative that the Mariners sign one of the big four free agent shortstops.
J.P. Crawford was coming off a season in which he posted just a 103 wRC+ for the second consecutive year. He had a disappointing season in the field, too, with -4 Defensive Runs Saved and -11 Outs Above Average (he did battle through injury issues in 2022).
Seattle opted to go a different path, choosing not to pay Trea Turner, Carlos Correa, Xander Bogaerts or Swanson on a gargantuan contract that would take them well past their prime years – a move that would have pushed Crawford over to second base.
They stuck with their guy in Crawford, who they had recently extended on a team-friendly five-year, $51 million deal hours before the first pitch of Opening Day 2022.
And it has proven to be the right decision. The Mariners believed in Crawford, and he has proven that they made the right call.
Crawford has had an exceptional season, particularly with the bat. He ranks second among all qualified shortstops in wRC+ (131), behind only Corey Seager, who is on a collision course to the podium as an AL MVP finalist.
The Mariners shortstop is slashing .264/.381/.425/.806 with a career-high 15 home runs.
While he is striking out slightly more than in recent years (although nothing astronomical at 20.1%), he is drawing a ton of free passes, walking at a whopping 14.1% clip. His walk rate leads all shortstops and is tied for fifth in all of baseball.
Crawford began the year as the no. 9 hitter. When Julio Rodríguez was struggling to find his footing in the first half and moved down in the lineup, Crawford got pushed all the way up to the top spot and hasn't looked back.
He now serves as a perfect leadoff hitter to set the table for Rodríguez in the two-hole due to his high on-base percentage, his knack for working walks, and his fantastic bat-to-ball skills, which all complement the explosive season he has had with the bat.
This past off-season, Crawford truly committed to making improvements at the plate to hit the ball harder and with more authority. Thus, he dedicated his winter to working at Driveline in Seattle with the hopes of using data-driven training to fix the root of his issues.
And that he did.
Crawford has jumped from the fourth percentile of the league to the 17th percentile in barrel rate (per Baseball Savant). He climbed from the third percentile to the 40th percentile in average exit velocity. He maneuvered from the fifth percentile to the 26th percentile in hard-hit rate. And he went from the tenth percentile to the 23rd percentile in xSLG.
He also has a knack for the big moment. While Crawford has always fared well in clutch situations, it has been next level this season. He has put up a .340 average, a .970 OPS and a 169 wRC+ in high-leverage spots throughout 2023, constantly coming up with key hit after key hit late in games for his club.
Above all, Crawford has been a driving force in Seattle's second-half offensive turnaround. The Mariners have been one of baseball's hottest teams since the All-Star Break, with the bats collectively coming to life, and Crawford has helped anchor the lineup with his .896 OPS and 155 wRC+ over that span.
While his defense has still been shaky at times (-1 DRS and -10 OAA, the latter ranking in the second percentile of the league, per Baseball Savant), it has been balanced, if not simply outweighed, by his performance at the plate. The former top-five prospect has become one of baseball's premier offensive shortstops.
Crawford has significantly outperformed all four of the aforementioned coveted free agent shortstops. He has a higher fWAR than Correa, Turner and Bogaerts (Swanson is slightly ahead), while out-hitting all four by 20% or more, per wRC+.
Spending a lot of money doesn't always equate to success.
The Mariners could have found their fair share of reasons to diminish Crawford's role. But they believed in him. They knew what he was capable of. And their investment in the 28-year-old has netted them some serious return on investment. The Mariners wouldn't be anywhere close to where they are now without Crawford.
Not to mention, for about $250 million less than they might have paid.
Stats and rankings as of Sunday, September 10.