Feature
Jim Edmonds' Incredible Catch, 25 Years Later
On this day 25 years ago, Jim Edmonds made one of the greatest catches by a center fielder in MLB history.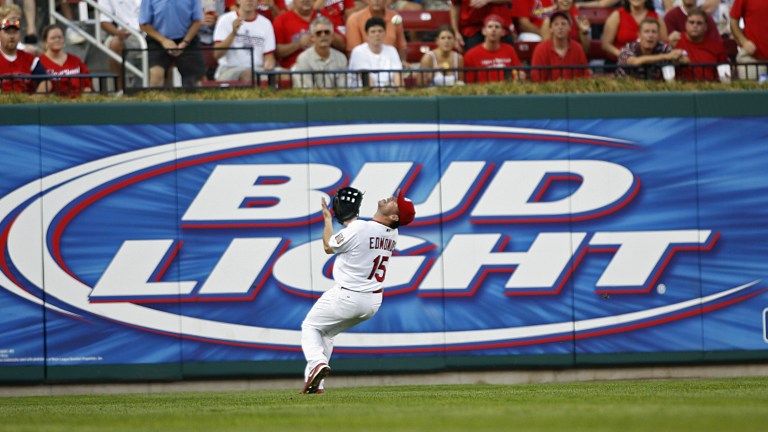 There's almost an injustice trying to write about a play that needs to be seen to be believed.
The play made by Jim Edmonds on June 10, 1997 needs no words, but we'll try our best.
It was the bottom of the fifth of an otherwise ordinary game at Kauffman Stadium between the Kansas City Royals and Edmonds' Anaheim Angels.
David Howard hit a ball to straightaway center field certain to go for extra bases. It didn't have a lot of hang time. Edmonds was playing a shallow center as he was known to do thanks to his terrific range. Still, there was no way.
He ran with his back turned towards the ball in what seemed like a desperate attempt.
As the ball sailed over his head, Edmonds dove and and blindly reached out his glove as far as he could and…well…watch for yourself:
Edmonds wound up on the edge of the warning track, rolling onto his back with his legs in the air, left hand reaching up to display the ball. He then sat up with an incredulous look, as surprised as any by what he just did.
Angels broadcaster Steve Physioc instantly noted the tremendous nature of the catch. Many in the crowd in Kansas City did too.
Edmonds probably should've been awarded the Gold Glove on the spot, but he wound up winning his first after this season. He would win seven more as one of the best center fielders in the late 1990s and early 2000s.
It conjured up comparisons to Willie Mays' catch in Game 1 of the 1954 World Series at the Polo Grounds. The significance to the Mays play cannot be understated and it has a rightful place at the top of the greatest defensive gems ever made.
But when it comes to degree of difficulty alone, Edmonds' catch might be it.