Analysis
Jeff McNeil is the Hottest Hitter on the Planet Right Now
No player in baseball is having a better August than New York Mets All-Star Jeff McNeil, who is hitting well over .400 this month.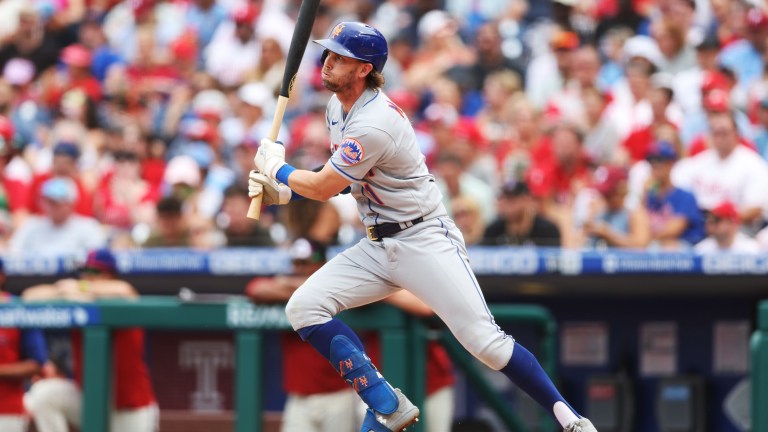 Since July 30th, no team in baseball has scored more runs than the New York Mets. The Mets offense has been firing on all cylinders, most recently coming back multiple times to beat the Phillies on Sunday in a game where they scored 10 runs.
Between Francisco Lindor, Pete Alonso and Starling Marte the Mets have plenty of star-level players who are part of their vaunted lineup, but it is their underrated All-Star who is making the biggest impact as of late.
Jeff McNeil made his second All-Star appearance this season, coming back from a dreadful 2021 campaign to post very strong numbers all year. McNeil has taken his game to another level lately though, providing the Mets with an incredible spark both in the lineup and in the field defensively.
McNeil's numbers across the season have been great, but they have been particularly stellar over his last 23 games played dating back to July 30th. During that span, McNeil is leading all of baseball with his 2.0 fWAR.
The 30-year-old is hitting .438/.463/.697, with 14 doubles, 15 runs scored and 13 RBIs. His 227 wRC+ since July 30th leads the league, as he is also hitting over 40 points better than anyone else.
McNeil is making a late-season push to win this year's batting title, although Paul Goldschmidt has a healthy lead with his .340 average compared to McNeil's .321 mark. Freddie Freeman currently sits in second at .324, but it is McNeil who has gained the most ground since the All-Star break.
Coming into this season, there were many who were torn on which player McNeil projected to be moving forward. In 2021, McNeil hit to a paltry .251/.319/.360 line with a 92 wRC+. The Mets tried to get McNeil to hit the ball harder and change who he was as a player and that approach could not have backfired more.
This season, McNeil has gotten back to being a pesky slap hitter, who seeks out the holes in a team's defense and hits the ball there. His .358 BABIP is a career-high for a full season. While other hitters having a high BABIP could predict a regression is coming, for McNeil, it is more indicative of a successful approach playing to his strengths.
McNeil is hitting .368 against the shift this year, as any team foolish enough to give him a hole in the infield is sure to regret it when he peppers it with slow grounders that make it into the outfield as hits.
Batted ball data is very deceiving with McNeil because of how he leverages his elite bat-to-ball skills into getting hits multiple ways. He ranks in the bottom 15% of the league in average exit velocity (14th percentile), HardHit% (10th percentile) and Barrel% (7th percentile), yet finds himself in the 88th percentile or better in Whiff%, xBA and K%.
For a man who hits a lot of doubles, Jeff McNeil's hits spray chart is fascinating to explore, as not many balls are landing near the warning track.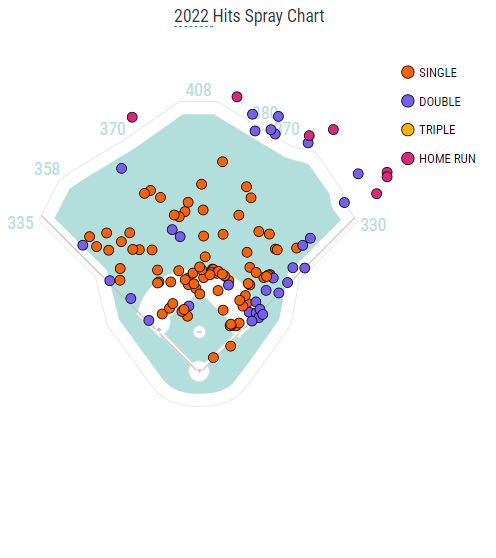 McNeil may have average sprint speed (50th percentile), but he is a smart baserunner that knows when he can take an extra base to stretch a single into a double or a double into a triple.
With 33 doubles, McNeil has more two-base hits (8th-most) than some of the best sluggers in baseball, like Manny Machado and Rafael Devers.
Back in 2019, McNeil put together a remarkable season, where he hit 23 home runs, drove in 75 and played to a 4.9 fWAR. His 144 wRC+ was the ninth-best mark in baseball, tied with teammate Pete Alonso (who hit 53 home runs that year).
While he hasn't tapped into nearly the same power this year (no juiced ball), McNeil is arguably having the best season of his career.
Through 109 games played, McNeil has posted a 4.5 fWAR and he still has a little more than a months worth of games to add to that mark. He is hitting .321/.374/.465, with a 142 wRC+. Despite the fact that Pete Alonso has 30 home runs and 102 RBIs, McNeil still has the best wRC+ on a first place Mets team.
Where the "Flying Squirrel" really adds extra value though is with his glove.
Not only is McNeil a versatile defender, he is a net positive no matter what position he plays in the field. He has started 68 games at second base and 33 in the outfield this season. McNeil has graded out as an above-average defender in both spots.
Primarily a second baseman, McNeil has posted 7 OAA playing up the middle this season. In left field, he has been worth an additional 2 OAA. Altogether his 9 OAA put him in the 97th percentile among MLB fielders.
This season, Jeff McNeil has once again put the league on notice that he is one of the best all-around players in baseball. Not bad for a 12th-round draft pick who didn't make his debut until he was 26 years old.
If the Mets are going to win their division and make a push come October, there is a good chance it is due to the play they are getting up the middle from their double play combination of Francisco Lindor and Jeff McNeil.