Podcast
Jayson Stark Discusses Hall of Fame Voting, MLB Lockout, Free Agency
Jayson Stark joins Outside the Box with Jeff Conine to talk about Hall of Fame voting and the craziest couple days we have seen in baseball for some time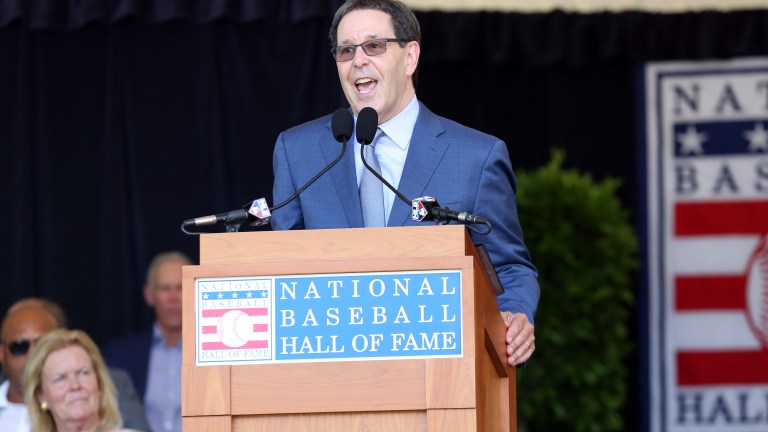 What a crazy 48 hours it has been for Major League Baseball. Nearly a billion dollars has been spent across the league, a majority of that by teams many would consider to be small market–most notably the Texas Rangers shelling out half a billion dollars.
Senior MLB Writer at The Athletic and Insider for MLB Network Jayson Stark joined Outside the Box with Jeff Conine to discuss the craziest 48 hours in recent memory for MLB. If a major signing seemingly every hour wasn't enough, it's officially Hall of Fame ballot season. Jayson did an amazing job of bringing us into his mind as a voter and what the process is like for him annually as well as what the process may be like for him in what is arguably the most controversial ballot ever.
It's not often that you get to sit in the middle of a conversation between a professional baseball player of 20+ years and an esteemed baseball writer of 30+ years, so naturally I had to ask if we have ever seen a frenzy like this before.
"You see it every year in the NBA, you see it every year in the NFL. You never see it in baseball because the pace of free agency is so different," Jayson said on Outside the Box. "This is how it ought to be! In the NBA, LeBron becomes a free agent at nine in the morning and he's signed by dinner. Bryce Harper becomes a free agent and signs three weeks into Spring Training."
Things should keep rolling until the December 1st expiration of MLB's CBA as I admittedly am checking twitter periodically while writing this article under the assumption that something will happen every time I click on the bird icon. While I am enjoying the Hot Stove explosion, it's worth asking why players and teams are willing to lock in these mega deals ahead of a ton of uncertainty, where the only thing that is clear is that MLB will have a lockout.
"What you have is a bunch of players and a bunch of teams who are basically jumping on a boat to nowhere"

Jayson Stark on MLB's Free Agency
A Historically Controversial Hall of Fame Ballot
In Jayson's recently released column laying out the important things to watch for this year's Hall of Fame ballot, he highlights some of the most thought-provoking and difficult topics of conversation within a very complex ballot.
"We had an election last year where nobody got elected and now we're looking at another one where I think there is a reasonable chance where there will be nobody getting elected for a second-straight year," Jayson said.
As Jayson pointed out on the episode, MLB has not had back-to-back whiffs on ballots in over 60 years. We also have not had so much controversy on a ballot either. Not only are writers forced to make up their mind on a slew of PED users who would be first ballot Hall of Famers based on just their Baseball Reference page, but players like Curt Schilling and Omar Vizquel have made things difficult on voters with their off-the-field conduct.
As we slowly see Hall of Fame ballots start to trickle in, Jayson has said he is weeks away from submitting his. He revisits every player on the ballot every single year with as fresh of a perspective as he can. For that reason, he couldn't totally clue us into his entire ballot for 2022. That said, through our conversation you may be able to make your own takeaways on where he leans on certain players.
"It's easier for me to be able to deal with players (have been caught and suspended for PED use) than it is to try to judge all of the players who had ties from before there was testing," Jayson said.
Getting away from the PED discussion, an interesting Hall of Fame debate is former center fielder Andruw Jones. Through most of his twenties, Jones was a surefire Hall of Famer, but as Jayson explained in his column from last year's ballot, Jones was one of the cases that delayed his ballot submission. The steep drop-off after age-30 is one that we have not seen from anyone presently in the Hall and it was interesting to get Jayson's perspective on the matter and gauge where he is at on Jones, who now enters his fifth year on the ballot after receiving 33.9% of the vote last year.
MLB Rule Changes
Jayson put out an awesome article a few weeks back reviewing the 2021 season and some of the most notable things that we learned. Now, Jeff is as much of a baseball purist as you're going to find so it was a really awesome conversation between Jayson–a deep thinker who is always exploring ways to improve the game–and Jeff who loves the game for what it is after playing it professionally for two decades.
The crack-down on sticky stuff led to the first year where we saw a decline in three true outcomes, but the three batter minimum rule has been a big whiff. Games were not sped up and as Jayson points out in his column, same-handed pitchers and hitters squared off more in 2021 than prior to the rules implementation in 2019.
The ineffectiveness of the rule change begs the question, is it really worth impeding the strategy of the game to maybe shave off a few minutes?
And does shaving off a few minutes of game time really make a difference for casual fans?
Those questions could probably be an entire podcast episode themselves, however Jayson brought up the topic of a 15-second pitch clock which he honestly sold both Jeff and I on.
Another big rule adjustment that seems imminent is the league's playoff structure. The 106-win Dodgers being forced to play in a one-game playoff and then not having home field advantage in the NLCS against a Braves team that won way less games was a big part of what rekindled the conversation.
"I am a little conflicted because we have had some great Wild Card Games and they are tremendous theatre," Stark said. "The problem is, I have been in so many of these games and there is one bad thing about that game. If you lose. Your whole beautiful season goes down the drain in a few hours."
Jayson referenced the infamous infield fly rule game in what was the first edition of the new Wild Card format between the Cardinals and Braves during the 2012 Postseason. He went on to say that he has never seen a group of players more angry after a loss than the Braves in that clubhouse after. It's a great reference point because it shows just how fragile the fate of a team can be in a one-game playoff. A bad call in one game can really undermine the preceding 162.
As for what to look forward to from Jayson Stark and the Athletic during MLB's lockout, Jayson said to keep an eye out for some fun ideas on how to continue to improve the game on the other side of what is hopefully a short-lived work stoppage.
The full interview with Jayson Stark is available on both Apple and Spotify, which you can access by clicking either of the hyperlinks or wherever else you get your podcasts!