Analysis
Jarred Kelenic Primed For Breakout Season After Torrid Spring
While he's struggled during the first few years of his career, Jarred Kelenic's hot spring brings optimism that a breakout is coming in 2023.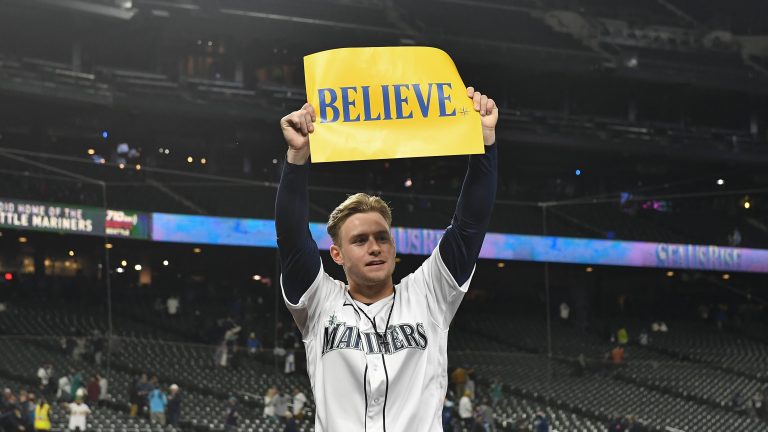 Aaron Judge put up a 62 WRC+ in his age 24 season. Jose Ramirez was demoted from the big leagues four times in 2014 and 2015 at ages 21 and 22. He couldn't find his rhythm.
Kyle Tucker was shown the door out of the Houston clubhouse twice after being called up in 2018, only to spend nearly all of 2019 back in the minors before having everything click in 2020, his age-23 season.
For everyone impatiently chomping at the bit to proclaim 23-year-old Jarred Kelenic as the next Dustin Ackley, let's take a little bit of a breather.
Sure, as a consensus top-five prospect when he debuted in 2021, expectations were put on his shoulders (and by nobody more so than Kelenic himself) to ascend to greatness as quickly as his teammate Julio Rodriguez eventually did. But that is the outlier, not the standard. Even for a blue-chip prospect (see above).
There is no denying that his career is off to an astonishingly rocky start. Something that almost nobody, no matter who it was, foresaw. But player development is anything but linear. No one player is cut from the same cloth.
While Kelenic turning it all around is not a slam dunk, it is simply too early to cast away a guy that would be just nine months removed from graduating out of a four-year university.
And there has never been heavier optimism around the Waukesha, Wisconsin product since he arrived in the majors than the off-season adjustments he has shown off throughout the entirety of 2023 Spring Training.
How Kelenic Arrived At This Point
Okay, before we get to Kelenic's encouraging progressions, let's back up a little bit. Because there's a little bit more to this storybook in terms of how he got here than the average "he has struggled out of the gate" chapter.
Most will just look at the numbers and call it a day: He hit .181/.265/.350/.615 with a 71 WRC+ in 2021, then hit .141/.221/.313/.534 with a 55 WRC+ in 2022. Not to mention three trips back to Triple-A Tacoma across those two seasons.
But peeling the onion back a few layers, his struggles may not be as surprising, or as unwarranted, as most tend to believe.
After Kelenic was traded to Seattle from the Mets, he got his first taste of full season minor league ball beginning in 2019.
He absolutely exploded. Between a combination of Low-A, High-A and Double-A in his age-19 season, Kelenic slashed .291/.364/.540/.904 with 23 home runs, 59 extra-base hits, topped off by a 143 WRC+ in 21 games in Double-A Arkansas.
But then 2020 hit. There was no minor league season. There was barely a major league season, something Kelenic was not yet ready for. He, like nearly all high-upside prospects within the game, spent the summer at the team's alternate training site.
While handfuls of at-bats in simulated games, against the same arms over and over again, is better than not picking up a bat at all, the room for any player's improvement in that setting is marginal. In what was supposed to be a crucial season for the then-20-year-old, Kelenic lost an entire year of development.
Fast forward to 2021. A few weeks after the heavy rumors of Seattle manipulating Kelenic's service time (well, it was more than a rumor. Former CEO Kevin Mather essentially said it out loud to the public while on a Zoom call with a rotary club) along with an early Spring Training injury setback, Jerry Dipoto and his collective team still deemed their top prospect not ready for big league action.
So, back to Double-A or a jump to Triple-A Tacoma right? Well, not exactly. The minor league season had been delayed one month. So Kelenic remained in Arizona during April playing in back field games against some other minor leaguers. But not the high-end minor leaguers. For the most part he was facing pitchers that were years younger than him and, much more often than not, nowhere near up to speed with his talent level. He wasn't being challenged. At all.
Once minor league action did start up in early May, Kelenic was sent to Tacoma. He didn't waste time. Through the first six games, he was 10-for-29 (.370) with two home runs, and seemingly playing with a real vengeance due to not cracking Seattle's Opening Day roster.
Meanwhile at the big-league level, the Mariners offense was scuffling. Floating right around the .500 mark in mid-May, there was a sense that the season could deteriorate to a level of irrelevance if the bats didn't get going. They were desperate. And they were in dire need of a spark.
Insert Kelenic. After a 21-game stint a year and a half prior in Double-A, and a half dozen contests in Triple-A, he got the call and was on his way to the show.
But not with the intention of the team slowly easing him in. In his very first game, the Mariners wrote his seven-letter surname into the top slot of the lineup card to hit leadoff. They begged for the 21-year-old, as early as in game one of his career, to be the offensive savior the Pacific Northwest had been in search of for over a decade. As if there wasn't enough pressure on him already.
Not too long after his promotion the struggles began, sending him on this two-year rollercoaster with aspirations to now exit that ride for good in 2023.
Let's say it out loud again: 21-year-old Jarred Kelenic had played 27 career games above A-ball before his big-league debut.
While it wasn't talked about at all at the time, it really isn't surprising to see why Kelenic has had his share of tough times thus far in the big leagues. An entire lost season and nowhere even close to the amount of high leverage minor league contests a player should need before getting a taste of the majors. Truthfully, the Mariners could have handled his development a lot better than they did.
Why Kelenic Is Primed For A Breakout Season
Okay, enough dwelling on the past. The Mariners are a true contender for the AL Pennant in 2023. And Kelenic has put himself in position to have significant impact on just how dominant Seattle can be. He is almost undoubtedly the team's X-factor.
He started to find some success when he was called back up for the final couple of weeks in 2022, along with the postseason, putting up an 1.107 OPS in his first week back before some hard hit luck went well against him in the final week.
But something about Kelenic looked different at the tail end of last season. He looked much more relaxed. He started to use the opposite field. He posted a K% of 24.1% and a BB% of 12%, both gargantuan improvements from where he had been (28.1% K% in 2021 and 33.7% K% in total for 2022). Simply put, you started to see a part reincarnation of the hitter that was tabbed the best prep hitter in the draft in 2018 and a can't-miss prospect.
But after Houston swept Seattle in the ALDS, with Kelenic going 2-for-13 in the series and (much like the majority of the lineup) 0-for-7 in the 18-inning finale, he knew there was more that had to be done on his end. He was determined. And he got to work.
Nobody on the Mariners roster has turned more heads than Kelenic this spring. As early as the first game, there were noticeable differences in his stance and swing. There were way fewer moving parts. He wasn't crouched with heavily bent knees. The bat was rested on his left shoulder rather than hanging above it. His load and stride were compact, both in his hands and legs. Everything just looked easier.
But would it translate to results?
In Kelenic's second game of the spring he homered in his first at bat. His very next time up he deposited another. Two days later he circled the bases again. Then after waiting an additional 48 hours, facing the Brewers, he cleared the center field batters eye against Devin Williams, who put up a 1.93 ERA last season.
Kelenic was locked in. But it wasn't just the power, he's always had that. It was the approach that went along with it.
Kelenic looked lost at times against changeups and breaking balls through his first two big league seasons, constantly flailing out and chasing pitches low and well out of the zone. This spring that almost never occurred. When he would swing and miss, it was mostly at in-zone pitches. He was making the right swing decisions.
He struck out at about 24% of the time this spring, a perfectly respectable mark, and one that the Mariners will take every day of the week if that rate can carry over into the regular season (for reference, Mike Trout struck out about 28% of the time in each of the last two years).
And while his power has had no shortage of display, he hasn't sold out for it, something he also tended to be a victim of in 2021 and 2022. He has not shied away from spraying the ball to all fields, collecting 18 hits on the spring, with eight going for extra bases. Matter of fact, one of his home runs went opposite field.
Kelenic is expected to platoon with AJ Pollock in left field for a majority of 2023, shielding him from tough left-on-left matchups. He has slashed just .157/.228/.243/.471 against southpaws in his first two seasons. But a final promising nugget to make note of from Spring Training, although a very small sample, Kelenic went 6-for-9 with a home run against lefties this spring. He didn't look overmatched at any time against the left-handers either. While he'll likely see strictly righties for awhile, that is a sign that feels encouraging going forward.
Kelenic finished the spring slashing .353/.389/.706/1.095 with four home runs.
Carrying It Over To The Regular Season
All of the adjustments that Kelenic has made feel sustainable. And he hasn't tried to tweak with his swing and approach much at all over the spring, opposite of what he did over his first two MLB seasons, where he was consistently inconsistent with his swing, changing it around what felt like every other week at times.
To be clear, having the success carry over certainly does not mean he has to go out and win an MVP or sustain an 1.100 OPS like he did in the spring.
Let's throw some numbers out there: If he hit .211/.284/.489/.774. Would you call that successful?
Because those are Cal Raleigh's numbers from 2022, as he put up a 121 WRC+ and a 4.2 fWAR. One would be pressed to find someone that would deem Raleigh's campaign last year anything short of a success.
Kelenic has the defensive capabilities to rack up some WAR on the other side of the ball, totaling three DRS in 54 MLB games last year. If he puts up Raleigh's slash line from 2022 with around a 120 WRC+, not only would that be a success, but that's a borderline All-Star (a 4-5 WAR player is considered All-Star level). Truthfully, he has a chance to bring the average up higher with the shift rules being altered, especially with Kelenic showing willingness to spray the ball to all fields the way he once did in the minors.
The fiercest uphill battle Kelenic may face is how he handles some adversity. Every player goes through a slump at some point during the course of 162 games, even the elites. How they handle it is the separator. Kelenic has been known for his colorful outbursts when things go the wrong way, and some of his early career struggles appear to very much be mental. He seems to be much more confident and in a better headspace so far, but we have to see that carry into the regular season.
The Mariners ceiling for this season is already high. There is an argument to be made that they're the second-best team in the American League behind Houston. If this really is the year Kelenic breaks out and comes into his own, this team has a shot to win the AL West. He is that talented and can make that much of an impact when at his best.
People have played the "what if" game with Jarred Kelenic for awhile now. With the swing retooling he has crafted for himself and the way that he has performed so far, 2023 could take the "what if's" and shape them into reality.