Analysis
Jarred Kelenic Has Arrived
Mariners' outfielder Jarred Kelenic is crushing baseballs, making game-saving catches, and finally living up to the prospect hype.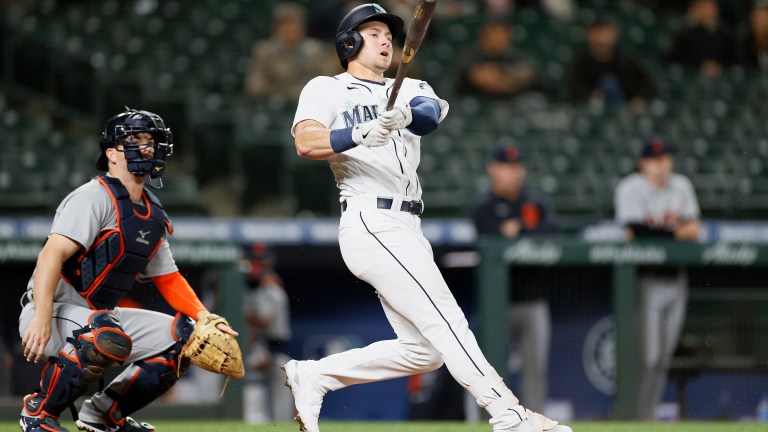 Yes, former top prospect Jarred Kelenic has taken part in big league action across three separate seasons since his debut in 2021. But you know the narrative by now: the first two seasons were filled with struggles and frustration (74 WRC+ in 2021, 55 WRC+ in 2022). Many were ready to cast Kelenic aside and give up on the 23-year-old.
But between his revamped swing, his newfound maturity/lack of meltdowns, and his roaring success through the first month of 2023, we can finally say it: Jarred Kelenic has arrived. The version of Kelenic that had everyone on the edge of their seats when he debuted, oozing with superstar potential, is finally here. And it all looks very real.
Kelenic is not just breaking out. The young Mariner has been one of the best players in all of baseball during the first month of the season.
Kelenic is slashing .308/.366/.615/.982 with seven home runs, 14 extra-base hits, and a sky-high 174 WRC+.
His wRC+ ranks ninth in all of baseball, while Kelenic ranks sixth in slugging, tenth in OPS, and is tied for ninth in home runs.
Maybe most important of all, his K% is in a much more manageable spot. He is striking out 27.7% of the time, a mark that the Mariners will surely accept; he was sitting at 33.7% in 2022.
Plenty of players punch out around 25-26% of the time these days. Mike Trout struck out 27% of the time or more in each of the last two seasons, while Fernando Tatis Jr.'s career K% sits at 27.2%, just to name a couple of the many possible examples. Considering everything else that Kelenic is bringing to the table, he can live around that mark.
His peripherals were off the charts in April. 95th percentile in xBA, 96th percentile in xwOBA, 97th percentile in HardHit%, and 99th percentile in xSLG. So again, everything Kelenic is doing feels pretty sustainable. And he is hitting the ball with elite authority right now.
Most would say the true beginning of his surge was his monstrous series at Wrigley Field from April 10-12 (5-for-9, 3 HR, 2 BB), where he managed to go deep in each of the three games, topped off with a 482-foot moonshot into the center field bleachers. (Kelenic would extend his home run streak by one more game in his next contest at home against Austin Gomber and the Rockies).
We can also point to a specific matchup, and even a particular plate appearance, in which we started to see the new and improved Kelenic.
It was April 9 on the road against the Guardians in the Sunday finale. Seattle was up by one in the top of the ninth with closer Emmanuel Clase on the bump, a near-impossible matchup. Kelenic found himself in a 2-2 count, fouled off two deadly cutters from Clase, then spat on two hard sliders in the dirt to work an eight-pitch walk.
Not only is Clase's stuff incredibly difficult to lay off, but one of Kelenic's glaring issues in his first two years was how often he would chase offspeed and breaking balls low and well out of the zone. He looked poised at the plate. Calm. Unfazed. And it led to a ninth-inning insurance run.
Then, when Kelenic found his way up again in the 11th of the same game, he got down 0-2, worked the count back to full, and once again did his damage on the eighth pitch, scorching a go-ahead RBI double off the top of the wall in right-center.
From there, Kelenic hasn't looked back.
When the season began, Kelenic was expected to be the left-handed platoon in left field with AJ Pollock, strictly starting against right-handed pitching. He had struggled mightily against southpaws in his first pair of big-league seasons (.168/.238/.252/.490 in 2021, .130/.203/.222/.426 in 2022). But those plans were thrown into the fire and burned quickly. Kelenic started to get opportunities to play every day after heating up in the first couple of weeks against righties. Fast forward to today, and he is slashing .381/.435/.762/1.197 in 21 PA against left-handed pitching.
And on top of all of that? He is playing quality outfield defense. Kelenic ranks in the 67th percentile in Outs Above Average (he has recorded 1 OAA so far) and has made a couple of fantastic catches, none shining brighter than his game-saving diving grab in right field in the eighth inning against the Rockies to help secure a 1-0 win and complete a series sweep.
Oh, by the way: the one run scored in that win? A sixth-inning RBI single off the bat of Kelenic.
Sometimes it just takes time with prospects. To follow in the footsteps of Juan Soto, Ronald Acuña Jr., or Kelenic's friend and teammate Julio Rodríguez is far from the norm. The Mariners stayed patient and did not waver on the promise of Kelenic. And now it is paying grand dividends.
When the rest of the offense starts clicking (which most would assume will be sooner rather than later), the emergence of Kelenic will raise the ceiling of the Mariners to new levels – heights they couldn't quite bank on in the past.
And for Kelenic? He may not OPS over 1.000 all season, but all of a sudden his ability to be an impact middle-of-the-order bat is a reality; the possibility of hearing his name called in mid-July at his home ballpark does not seem out of reach.