Analysis
Jake McCarthy Is the Best Rookie No One Is Talking About
Jake McCarthy has been one of the best rookies in baseball this year and is making his case to be a part of the long-term plans in Arizona.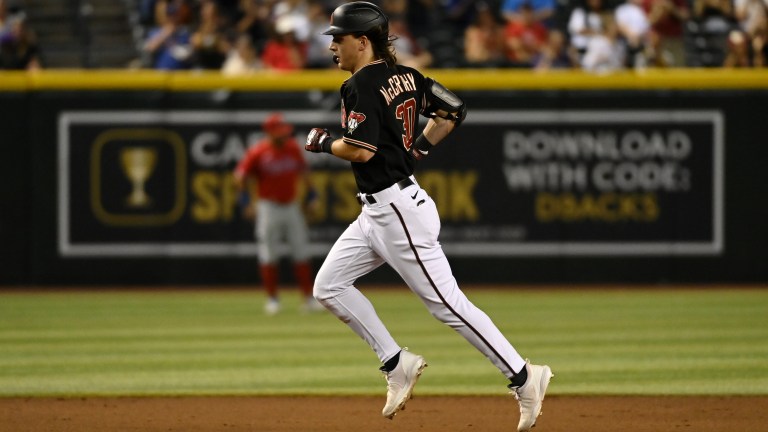 In such a strong freshman class, it makes sense that names like Julio Rodriguez, Spencer Strider and Adley Rutschman are stealing all the headlines.
But if you look at a list of the top rookie producers so far this season, Jake McCarthy's name may come up a lot sooner than you'd expect.
The 25-year-old has been the eighth-most valuable rookie by fWAR (2.4) this season and ranks ahead of players like Bobby Witt Jr. and Seiya Suzuki, despite only having played in 83 games so far. 
When you think about the Arizona Diamondbacks future outfield, McCarthy is not one of the names that first pops to mind. But with his play through 2022, he's making his case that he should be a fixture in the D-Backs future plans.
His play of late has even got him drawing the attention of athletes across sports. The Phoenix Suns Cam Payne recently attended a Diamondbacks game not only in a McCarthy jersey but also an 'NBA JAM' themed shirt that featured the two of them on the front.
Corbin Carroll, Alek Thomas, Daulton Varsho and Stone Garrett may all be more recognizable names and are all playing with the team right now. But McCarthy's production has been enough to earn himself consistent playing time and the number three spot in the batting order.
McCarthy has been making his mark to the tune of a .300/.360/.471 slash line with 18 stolen bases and a 131 wRC+. His biggest tool may just be the speed that has gotten him those 18 stolen bases. He ranks in the 99th percentile of all MLB runners, running 30.1 ft/s and he knows how to use it. 
Even with his foiled attempted walk-off steal of home against the Dodgers on Sep. 14, McCarthy has a 90% success rate on stolen bases this year, only having been caught twice on 20 attempts.
Despite struggling in his initial trip to the big leagues this season, McCarthy has really hit his stride with the bat since being recalled on July 11. Since that date, he's slashed .331/.394/.500 and has decreased his K% from 34.9% to 14.1%. 
A big part of his success comes from how McCarthy has dealt with different arsenals this season.
He's been hitting .277 and slugging .454 against fastballs. He's hitting .318 and slugging .459 on breaking pitches and hitting .355 with a .581 slug against other offspeed pitches.
He's more than held his own when facing lefties this year, as he actually has reverse splits.
He's hitting .314 with a 148 wRC+ against southpaws this year, giving him another element to his game that some other young players may lack when they arrive in the big leagues.
One area of his game that could still be improved is his defense. McCarthy has played all three outfield spots this season but has a 0 OAA and ranks in the 18th percentile of outfield jump. While his speed may be able to make up for poor routes, providing solid defense in the huge outfield at Chase Field could be another way to earn more playing time in the future.
Despite what some of the numbers say about his defense, if McCarthy can maintain his level of offensive production without opposing pitchers and teams finding a way to get him out, he could be at the heart of Arizona's hopeful transition from rebuild to contention.
All stats courtesy FanGraphs and Baseball Savant and from before play on September 15th