Analysis
It's Time for the Detroit Tigers to Call Up Parker Meadows
The Detroit Tigers should take advantage of what is left of the 2023 season and give Parker Meadows a look at the big league level.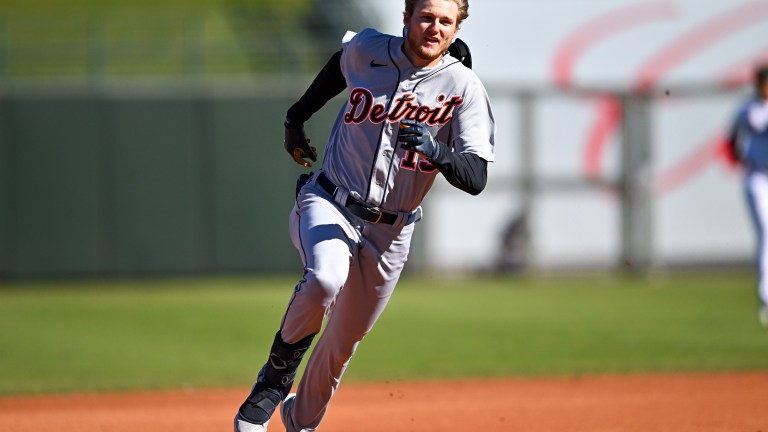 This Tigers season has looked far too much like recent Tigers seasons. Another losing season without much hope from the beginning. Usually the silver lining to a lost season is getting to watch the prospects come up and dream on what they could be in the future.
Well, we are into August and the Tigers have yet to have a prospect position player called up for a chance to crack the lineup. A lineup with nine players regularly getting at-bats with an OPS under .700. Keep in mind, .750 is around league average.
It's time to call up Parker Meadows. The Tigers 2018 second round pick (44th overall) has slowly climbed his way through the system, spending the entirety of this season in Triple-A Toledo. Through 104 games, he's slashing .258/.338/.477 with 18 home runs and 16 stolen bases. Some power, speed, and new energy could help this lineup that needs more offense.
Meadows has done a great job this year showing patience at the plate. His ability to lay off tough pitches and work deep in the count has resulted in a 11% walk rate, which typically translates well to the majors. He's struggled a bit when falling behind in the count, slashing .160/.157/.295 with 63 strikeouts and no walks in those situations. An area he needs to work on, but can do so at the big league level.
While he's not lighting the world on fire in Toledo, neither are the options in Detroit. This has more to do with opportunity than anything else. He's already on the 40-man roster, so one hurdle has already been crossed. The next will be playing time. Zach McKinstry and Matt Vierling have seen their fair share on time in the outfield, but both are getting more looks in the infield recently.
On a good team, Vierling is a utility player, so getting him reps at second and third down the stretch is more important than working him into the outfield mix. McKinstry has been a solid pick up, but like Vierling, is more of a utility option. Meadows could work in with the other outfielders, who all happen to be lefty bats.
Riley Greene should be in center most days, but moving Kerry Carpenter to DH would allow Meadows to work into the lineup. If they value getting Carpenter reps in the outfield to hopefully improve his defense, Akil Baddoo could see less time.
Baddoo flashed as a rookie in 2021, but has been rather pedestrian since. A 65 wRC+ last season followed by an 86 this season leaves plenty of questions. He has the tools, walks enough to be effective, but has not hit nearly enough to be counted on as an everyday player going forward.
It's hard to imagine a competitive roster with both Meadows and Baddoo on it. More likely than not, both are fourth outfielders. But, there's only one way to find out. Unless there's an offseason move, you are looking at the same options next season. Why not get a head start on the competition now, during a lost season? Give yourself a larger sample size to help you make a call between the two in the future.
I don't think Meadows has much more to show in the minors. He's close to being about what you should expect from him. He's earned a shot to prove he can be an major leaguer, while some on the current roster have proven they are not.