Analysis
How These Five Unheralded Relievers Became Elite
A deep-dive into the keys to success for five of baseball's top lesser-known relievers.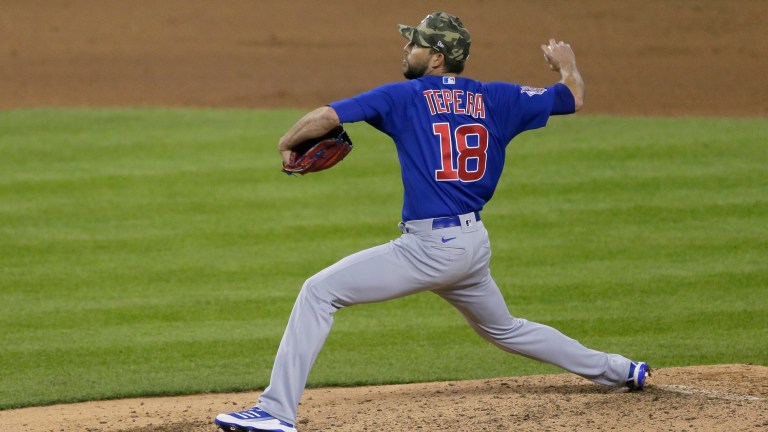 Let's talk relievers. Each season, a number of pitchers rise from relative obscurity to join the ranks of the most elite bullpen arms in the game. These can be failed starters who find a home in the bullpen, late-bloomers getting their first taste of the Big Leagues or guys who finally put everything together after years of struggles. Oddly enough, finding these new relief aces is one of my favorite things to watch each season. I know, I'm weird. Baseball is one of the only sports where guys come out of nowhere to become stars in their late 20's or early 30's and I love that. That's what this list is all about. Today, we're highlighting the Ryan Tepera's and Scott Barlow's of the world, who are just hitting their prime after a decade-plus in pro baseball.
Ryan Tepera – Chicago Cubs
Ryan Tepera appears poised to make his first career All Star game in his age-33 season. The veteran righty has a 1.96 ERA in 36.2 innings this year. Additionally, his 0.68 WHIP is the sixth-lowest of any pitcher that's logged at least 20 innings in 2021. Not bad for a guy making just $800,000 this season. Tepera has come a long way since being released by the Blue Jays after the 2019 season. He signed with the Cubs before the abbreviated season last year and posted a decent 3.92 ERA in 20.2 innings, but he's become a different animal in 2021.
Throwing his slider more than ever, it's become one of the most devastating pitches in baseball. Before this season, Tepera had never thrown his slider more than 16.6% of the time. This year, however, the 33-year-old is using his slider at a 44.4% clip, allowing a .107 batting average and inducing an eye-popping 51.2% whiff rate with his hammer. Currently, he ranks 13th in reliever WAR on Fangraphs at 0.9. Last season, Tepera received an "unintentional" MVP vote after St. Louis Post-Dispatch writer Rick Hummel mistakenly clicked on the wrong player on his ballot. If he keeps rolling the way he has for the rest of this season, he might just earn some intentional votes this time around.
Tejay Antone – Cincinnati Reds
Before shifting to the bullpen in the Bigs, Tejay Antone was a starter throughout his time in the Minors. The 27-year-old righty debuted last year as an opener and multi-inning reliever, flashing signs of the brilliance we've seen this season. In 35.1 innings last year, Antone logged 45 strikeouts with a 2.80 ERA. This season, he has his ERA down to a minuscule 1.60 in 33.2 frames. Beyond the unconventional way he spells his name, Tejay Antone also attacks hitters unconventionally. Antone throws his curveball and slider a combined 67.8% of the time as part of a three-pitch repertoire with his sinker.
So far this year, Antone's curveball usage is up over 17% from 2020, and it's been one of the best pitches in baseball. Batters are 3 for 40 with 20 strikeouts and a 42% whiff rate against one of the game's filthiest hooks. His curve ranks in the top 5% of the sport in spin rate at an otherworldly 3,003 RPM. With the elite off-speed offerings he possesses, it won't be a surprise if Antone ultimately rejoins the rotation at some point down the road. But for now, he's a multi-inning weapon out of the Reds bullpen.
Jordan Romano – Toronto Blue Jays
Sporting one of the weirdest deliveries in baseball, Jordan Romano keeps hitters off-balance with a devastating fastball-slider mix. His electric fastball averages 97.2 MPH and batters are hitting just .140 against it with a 35.8% whiff rate. Amazingly, that same unhittable fastball allowed a .361 batting average and .722 slugging percentage when Romano debuted in 2019. He had a 7.63 ERA in the majors and 5.73 ERA in triple-A that year. Now, the 28-year-old is one of the best relievers in the game.
Romano showed what he was capable of last year in a small sample-size, posting a 1.23 ERA in 14.2 innings. Interestingly, Romano basically flipped his fastball and slider usage from last year to now. In 2020, he threw the slider 60% of the time and the fastball had a 40% usage rate. But after limiting hitters to an absurd .050 batting average, with a laughable 52.4% whiff rate with his heater last year, he's now throwing it 55% of the time. So far, it seems like a pretty good choice. Romano has a 1.37 ERA and 34 strikeouts in 26.1 innings this season and ranks as Fangraphs' No. 18 reliever in WAR.
Scott Barlow – Kansas City Royals
Known for his luscious locks, Scott Barlow has been brutal on hitters this season. A former starter coming through the Dodgers system, Barlow was released by Los Angeles following the 2017 season. The Royals signed him a few months later, he transitioned to the bullpen full-time in 2019 and now he's one of 11 relievers with a WAR of 1.1 or better on Fangraphs in 2021. Barlow has picked up between 1 and 2 MPH on each of his pitches since last season, and it's allowed him to take the next step in his progression.
He hasn't made any discernible changes over the last few years, his stuff has just simply gotten better. Barlow has always been slider first, with his fastball and curveball working as secondary offerings. He's had a K/9 of 11 or better every year since 2019, but this season he's allowing the fewest hits and home runs of his career. That's why his ERA is at 1.96 in 36.2 innings this year, after being over 4.00 in both 2019 and 2020. Barlow's best pitch this season has been the curveball he's using only 21.5% of the time. It's limiting hitters to a .146 batting average and has a 38.8% whiff rate. It'll be interesting to see if that usage goes up in the second half of the season.
Michael Fulmer – Detroit Tigers
Just five years ago, Michael Fulmer was one of the best young starting pitchers in baseball. As a rookie in 2016, Fulmer had a 3.06 ERA and 1.12 WHIP in 159 innings (26 starts). He won AL Rookie of the Year and finished 10th in AL Cy Young voting. Fulmer followed that up with an All Star appearance in 2017 before injuries derailed his career. He was limited to just 132.1 innings in 2018, and Tommy John surgery cost him the entire 2019 campaign. Fulmer returned as a starter last year, but was a shell of his former self. He finished with an 8.78 ERA and 2.06 WHIP in 27 innings.
Those struggles paved the way for Fulmer to recreate himself in the bullpen. So far in 2021, Fulmer has a 2.73 ERA and 35 strikeouts in 26.1 innings as a reliever. Notably, he's using his slider more than ever. Typically around 20-25% usage, Fulmer is throwing his slider 35.4% of the time this year and has logged a 36% whiff rate on the offering. As a result, he has a career best 9.7 K/9. And like most pitchers who go from starting to relief, Fulmer has gained about 2-3 MPH on each of his pitches. Expect Fulmer to be one of the most coveted bullpen options at the trade deadline, as he's not a free agent until after next season.