Analysis
How Taijuan Walker's Splitter Turned Him Into the Mets Best Starter
With Jacob deGrom and Max Scherzer out, Taijuan Walker has stepped up in a big way for the Mets this season.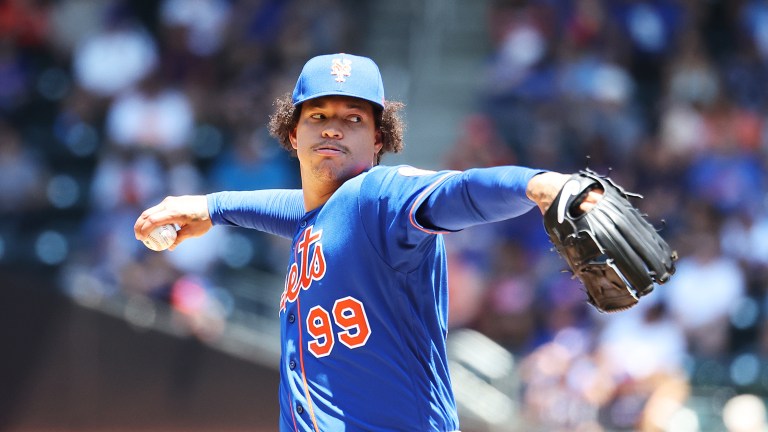 Despite coming off an All-Star campaign in 2021, Taijuan Walker's place in the New York Mets starting rotation was tenuous to say the least when they entered spring training.
New York shopped heavily to add front-line starter depth in the offseason and landing two arms to pair with Jacob deGrom atop the rotation in Max Scherzer and Chris Bassitt. With Carlos Carrasco returning healthy after offseason surgery to clean up his elbow and Tylor Megill coming off a solid rookie campaign, the Mets had a packed depth chart of viable starting pitchers.
Walker needed to prove himself to remain in the Mets rotation, as he finished out last year with a dreadful second half that saw him pitch to a 7.13 ERA over his final 13 starts. Compare that to the 2.66 ERA he had prior to the break and it really was a tale of two seasons for the 6'4″ right-hander.
Now as the calendar gets ready to flip to July, Walker is suddenly back to where he was a year ago, if not better. He has quietly been the Mets most consistent starting pitcher this season, thanks in large part to a splitter that is keeping the ball on the ground and in yard.
How the Splitter Has Changed Everything
Last year, Taijaun Walker threw his split finger 14.2% of the time. This year, he has more than doubled his splitter usage up to featuring the offering 29.6 percent of the time. This uptick in usage has led to a lot of groundballs, while still being an effective out-pitch for Walker as 32 of his 52 punchouts have come on the splitter.
Batters are hitting .151 with a .179 slugging percentage against the pitch. While the expected batting average (xBA) of .218 and xSLG of .321 predict slight regression, that could solely be based on how hard batters have been hitting his splitter based on exit velocity. The thing is, when they are hitting it hard, most of the time they are hitting it straight into the ground.
The average launch angle against Walker's splitter this year is -3 degrees. He has not given up a single home run on the pitch and has only allowed three doubles. For the season, Walker is generating groundballs on the sinker 73% of the time, which is a massive improvement from last year when the groundball percentage against the pitch was at 53.4%.
One of the great stats we can use to measure the effectiveness of a pitch is run value, which is the run impact of an event based on the runners on base, outs, ball and strike count. Essentially this stat tells us how effective a pitch is in limiting runs.
If the bases are loaded with one out, a strikeout has a run impact of a -0.789 runs, as a pitcher becomes way more likely to get out of that jam once there are two outs.
Because Walker's splitter is his primary weapon to not only get strikeouts, but also get double play balls, the pitch has been remarkably good when it comes to run value this season.
Last year the run value of Walker's splitter was 2, meaning it was a below-average pitch. This year, the run value is -10, which ties him with a eight guys for having the 12th-best pitch in baseball.
Now we can take run value a step further and look at RV/100, which averages out a pitch's run value over 100 pitches to put everyone on the same playing field when it comes to sample size.
The RV/100 for Walker's splitter is -3.1. Compare that to Sandy Alcantara's change-up, which has a RV/100 of -2.3 and it starts to become clear just how incredible Walker's top pitch has been this year.
At 49.3% Walker's groundball percentage is the best it has been since 2017 (48.9%), when he pitched to a 3.49 ERA and had a career-best 2.5 fWAR. When Walker keeps the ball on the ground, he is able to keep it in the yard as well, which has been the biggest difference from his struggles last season.
When Walker pitched to a 7.13 ERA in the second half last season, most of those runs were coming via the longball. He allowed 20 home runs after the All-Star break and pitched to an absolutely dreadful 2.80 HR/9. Giving up three home runs a start is not a recipe for success.
This year, Walker's 0.37 HR/9 is by far the best mark of his career. On the other end of the spectrum, Walker's strikeouts are at an all-time low with his 6.44 K/9, but the Mets will trade K's for groundballs any day.
Especially when Walker has Luis Guillorme and Francisco Lindor playing defense behind him.
Walker has given up two earned runs or less in nine of his 13 starts this season. He now has a 2.72 ERA and has gone at least five innings in each of his last 10 starts, while going at least six in each of his last five.
With Jacob deGrom having been out all year and Max Scherzer out for over a month now, Walker has stepped up and been the most consistent and valuable starting pitcher in the Mets rotation. His 1.7 fWAR leads the team.
Only time well tell if Walker can keep this up and avoid another dreaded second-half regression. For now though, the Mets can count on the 29-year-old more than just about any arm in their rotation.