Analysis
How Michael Wacha Resurrected His Career With the Red Sox
After disastrous seasons in St. Louis, New York, and Tampa Bay, Michael Wacha has finally found his groove again with the Boston Red Sox.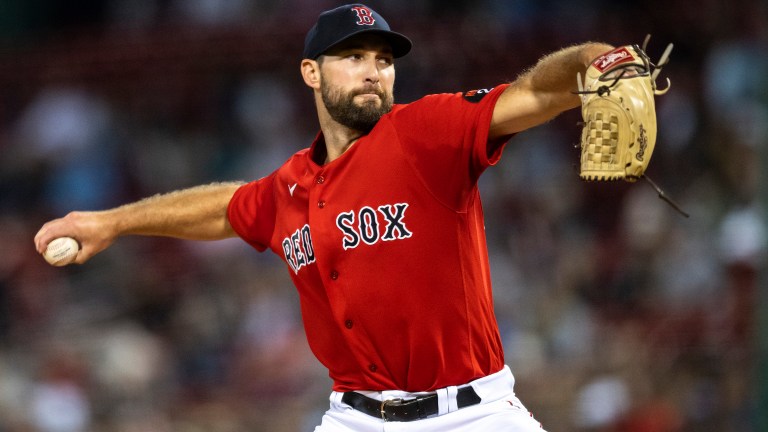 For the first six years of his career, Michael Wacha looked like a really solid starting pitcher.
He showed flashes of brilliance in his rookie season, posting a 2.78 ERA in 64.2 IP at just 21 years old. Wacha even won the NLCS MVP that year, pitching 13.2 scoreless innings and collecting two wins in the series. He could never quite maintain that brilliance over a full season, but he was a capable number three starter from 2013 to 2018, with a 3.77 ERA in 741 innings pitched.
In 2019, unfortunately, the wheels started to fall off. Wacha struggled terribly through his first eight starts, and the Cardinals eventually had no choice but to move him back and forth between the bullpen and the rotation for the rest of the season. He had an equally hard time in both roles.
St. Louis let him walk away in free agency agency that winter.
Over the next two seasons, Wacha attempted to bounce back with the Mets and then the Rays, but neither team was able to help him turn things around. In 37 games from 2020-2021, he had a 5.39 ERA. To many a casual observer, his once promising arm was starting to seem cooked.
It was, therefore, more then a little surprising when Wacha signed a one-year, $7 million contract with the Boston Red Sox ahead of the 2022 season. It was more than he had ever made in a single season. Clearly, the Red Sox saw something in him – and clearly, they were right.
In 20 starts this season, Wacha has pitched 114 innings with a 2.61 ERA. Among American League starting pitchers (min. 100 IP), that ranks eighth, ahead of names like Nestor Cortes, Shane Bieber, and Gerrit Cole.
Wacha is 11-1, and Boston has gone 15-5 in his starts. That's particularly impressive considering the Red Sox aren't even a .500 team this season. Win-loss record is a flawed metric for evaluating pitchers for many reasons, but in this case, it does a good job of illustrating just how important Michael Wacha has been for Boston.
A turnaround like Wacha is experiencing is going to prompt one obvious question: what is Wacha doing differently? How has he suddenly turned his career around at age-30 after three consecutive mediocre seasons?
The answer? He's just putting it all together.
There doesn't seem to be one clear reason Wacha is succeeding this year, just like there was never one clear reason he was struggling before. Except for throwing his sinker a bit more often, there isn't much Wacha is doing this season that he never tried before, and he still doesn't throw the sinker often enough for it to explain such an incredible bounce-back.
Instead of one major change making all the difference, Wacha has been succeeding because of all the little things going right at the same time – something that just hasn't happened for him over the past few years.
In 2019, he struggled because his home run rate ballooned and his strikeout-to-walk ratio tanked. The following year, he got his K/BB back up – higher than ever before – but his home run rate also jumped. In 2021, he finally got his home run rate down a ways, but his K/BB fell too.
And that's just one example of the ups and downs Michael Wacha went through over those three seasons. One year his walk rate would go down, but his opponents' batting average would rise. The next, his batting average against would drop, but his walk rate would double.
One year he allowed too much pulled contact, and another year he allowed too many barreled balls. One year he struggled to locate his four-seam fastball, and the year after that he got his four-seam under control but ran into trouble with his cutter.
Each year, there were things Wacha was doing right – things that proved he could still be a capable big league starter – but there was always a new problem. Finally, in 2022, everything is clicking. The Red Sox are backing him up with solid defense. His home run rate is way down. All of his pitches are working for him. He allows a lot of contact, but he has limited hard hit balls. He isn't a strikeout machine, but he keeps runners off the bases with a low walk rate.
Add all that together, combine it with a low batting average on balls in play (BABIP) and a high left on-base percentage (LOB%), and you've got a starting pitcher having a career year.
Is Michael Wacha a top-ten pitcher in baseball like his ERA implies? Probably not. If everything has to go right for him to pitch like an ace, he's not really an ace after all. That being said, Wacha is still a talented player with a reliable arm. His success this season proves exactly that. And after three-straight seasons of mishaps and setbacks, Wacha deserved a year where everything went right.