Analysis
How Can the Seattle Mariners Lineup Turn The Season Around?
The Mariners have gotten solid pitching so far this season, but their offense has been holding them back from reaching their full potential.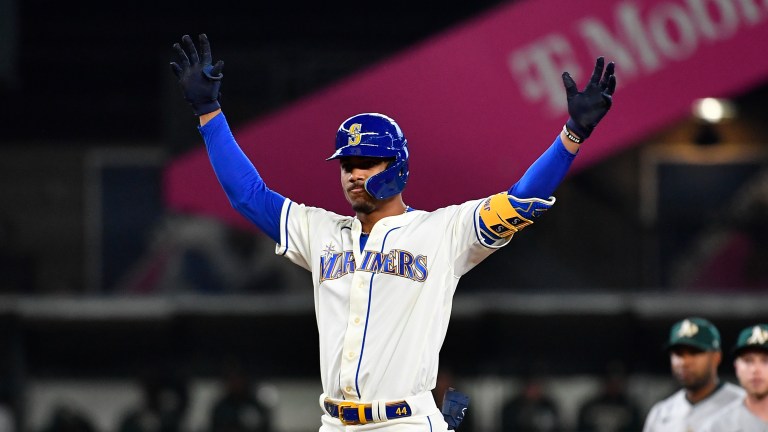 The Mariners have the best pitching staff in baseball (by fWAR). They sit on the throne in team FIP (3.56) and place in the top-10 in ERA (4.08). Robbie Ray got knocked down and underwent Tommy John Surgery, Marco Gonzales is currently on the shelf with a forearm strain, yet it didn't faze Seattle. 
They yanked two rookies straight up from Double-A in Bryce Miller and Bryan Woo who have picked up where their predecessors left off, if not building on it, especially in Miller's case. With the pair augmenting the three-headed unit at the top of the rotation (Luis Castillo, George Kirby, Logan Gilbert), it is tough to find a more imposing one through five.
Not to mention their bullpen is lights out again for the third year in a row and recently added their best reliever in Andres Munoz back into the stable.
Yet the Mariners sit at 35-36 on June 21st. So, why is that?
In a nutshell, the offense simply hasn't been up to par. But it the reasons stem much further than just that, including several key pieces they are relying on performing well below expectations. So let's take a look at what needs to happen for the bats to steer the ballclub back on track.
All stats taken prior to play on June 21st
Slash The Strikeout Rate Or Add Pop
This team has way too much swing and miss in their game. They are punching out at the second-highest rate in all of baseball (25.9%) trailing only the Twins. Six of their nine starters are throwing up strikeouts at a 25% clip or higher. That's not even including a handful of the bench players, whether it be guys currently on the roster (such as Tom Murphy) or players that have now been sent to Triple-A (Cooper Hummel, Sam Haggerty, Taylor Trammell) who were also well above the 25% mark.
Now, you can maneuver the waters of substantial strikeout portions if it is made up by baseballs leaving the yard. But Seattle, despite having their offense built on the reliance of long balls, are not displaying nearly enough power the way they did a season ago (8th in team WRC+ at 107).
The Mariners sit right at about the league average mark in WRC+ (98), placing them in a tie for 16th, while ranking 19th in isolated power, 21st in home runs, 24th in OPS and 24th in wOBA.
Those numbers are not going to cut it, especially when you combine it with the sky-high strikeout rate. The strikeouts have started to marginally deteriorate over the last couple weeks, but the authoritative hitting still needs to increase.
Julio Has To Be Julio
There cannot be many people out there that expected Julio Rodriguez to be slashing .240/.299/.422/.721 with a WRC+ only slightly above 100 by this point of the season. And frankly, it is a major reason that Seattle's offense is not motoring at the level that they are capable of.
This offense goes as Julio goes. He is the unquestioned anchor.
After a rocky first couple of months, it seemed like Rodriguez had turned a corner right around Memorial Day Weekend. From May 22-29 he slashed .471/.486/.853/1.339 with three home runs.
But once June rolled around Julio reverted to a lot of the same issues that he had faced early on. Much of which has to do with balls on the ground.
He is running out a GroundBall% of nearly 60% for the month. He is also pulling the baseball much less than he was a season ago, which has resulted in decreased power (41.7 Pull% in 2022 compared to a 35.3 Pull% in 2023). He has a .659 OPS for the month in addition to just an 87 WRC+.
Rodriguez is still hitting the ball extremely hard (90th percentile in Average Exit Velocity, 89th percentile in HardHit% per Baseball Savant), but more often they are beaten into the ground rather than launched into orbit.
As unordinary as it may sound, could participating in the Home Run Derby (in his home ballpark in front of his own fanbase) help his ability to lift the ball heading into the second half, similar to the way that Juan Soto has said the contest helps him?
One way or another, Julio has to flip the switch if this team wants to keep their postseason aspirations a reality. And he knows it.
Eugenio Suarez Has To Find His Power Surge
Eugenio Suarez and his "Good Vibes Only" swagger was such a shot in the arm not only for the team in 2022, but Suarez himself as well who returned to his peak form (.236/.332/.459.790 with a 131 WRC+ and 31 home runs).
This year is a much different story. Not only is Suarez racking up less hits in general (.215 average) but his power has practically disappeared. With just seven home runs so far on the year, he is down to an 87 WRC+ and just .290 wOBA, the lowest mark of his career.
His isolated power is also down to .117, which is far underneath the league average and his lowest since his rookie year in 2014 with the Tigers. Suarez has actually cut down on his strikeouts this season and his third base defense has been exceptional (96th percentile in OAA). But the pop has just not been there. 
Some of his peripherals suggest that he may be due for a little bit of a turnaround in the near future. And the Mariners will take any upward trend that they can get from Suarez, as he is such a vital part of the lineup when he is playing to the level that he is capable of.
Ty France and Teoscar Hernandez Keep Hitting
A pair of positives for the Mariners are the in-season emergences of Ty France and Teoscar Hernandez. France started slow in April, showed a gradual uptick in May and has now exploded in June with a 148 WRC+ and a .871 OPS.
France can be a streaky player, but when he gets hot is often be unstoppable for an extended period of time. He right in the midst of a streak that mirrors those features at a time where the Mariners need him desperately.
Hernandez, meanwhile, finally looks like the player that the Mariners expected to acquire.
After slashing .209/.248/.427/.675 with a 32.5% strikeout rate in April, followed by a whopping 35.2% strikeout rate in May, to go along with a .252/.289/.364/.653 slash line, Hernandez has turned on the jets.
He is corralling a 1.058 OPS and an incredible 195 WRC+ for the month along with three home runs and seven extra-base hits. He also continues to do what he always does, which is hit the ball extremely hard. And it has picked up even more so in June.
Sure, these two will probably not sustain levels of success to this magnitude throughout the remainder of the year, but if they can swing the bat at their career average thresholds the rest of the way as opposed to well below it, that is one more step in the right direction for Seattle.
Final Thoughts
For perspective, the Mariners were right around 10 games under .500 at this time last year before ripping off 14 consecutive wins in what was part of emerging victorious in 22 of 25 games and catapulting themselves into a Wild Card spot.
To expect that again is unwise, but this time the Mariners are just one game under .500 and four games out of a Wild Card spot.
The Blue Jays, Red Sox and Astros all sit ahead of them along with the Angels holding the second Wild Card spot. The new schedule with less in-division games will also make it tougher for the AL East teams to beat up on each other, or even the other AL West teams for that matter.
But the Mariners can only control what they can control. And with more than half the season to go, they can absolutely shape their own destiny.
They have the pitching to do so. The offense doesn't have to be the best in baseball. It just needs to be somewhere in the 8-12 range among league ranks, similar to 2022. If the bats mold to fit those benchmarks moving forward, this is still a playoff-caliber team.