Analysis
Yordan Álvarez is Worth Every Penny of New Historic Contract
The Astros extended their 24-year-old slugger on Friday, signing him to the largest contract ever for a primary designated hitter.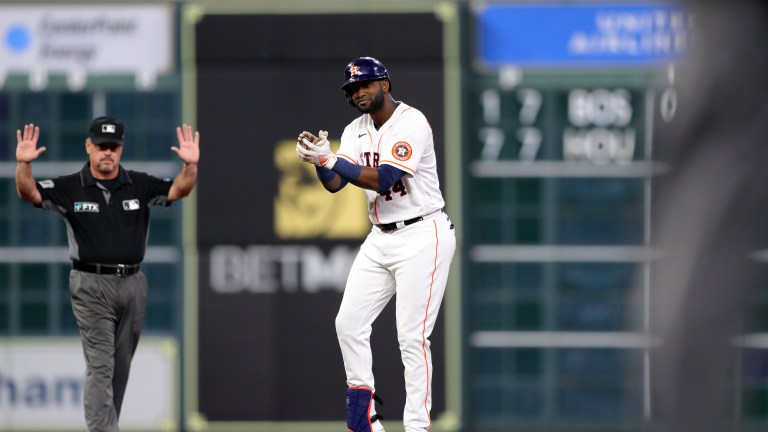 Yordan Álvarez is the latest star to be locked up with a big extension. The Astros and their young slugger agreed to a six-year, 115 million-dollar extension Friday. It is the largest deal ever given to a designated hitter, and Houston makes it clear that Álvarez is the centerpiece of their future.
The deal buys out all three years of arbitration for Álvarez and keeps him under club control until 2028. It is also one of the largest deals ever for a player yet to reach arbitration. The deal is heavily backloaded, his base salary begins at $7 million in 2023, grows to $10 million, then $15 million, before three years of $26 million to finish it off; he will be 31 years old when he finally reaches free agency in 2029.
Álvarez has done more than enough to earn this deal. Coming into the season he was a dark-horse MVP candidate, and is now emerging as one of the favorites. He currently holds a .960 OPS, 177 wRC+, and celebrated in style Friday, clubbing his 15th home run of the season.
The Cuban-born product splashed onto the scene in 2019, when he posted 176 wRC+ and 27 home runs in just 87 games. He is the heart of the Houston lineup and one of the scariest hitters in the league. I brought Colby Olson along—who has previously compared Álvarez to Big Papi—to explain what makes him so fantastic.
The Numbers Behind Yordan's Greatness
As Ethan mentioned above, Yordan Álvarez is clearly deserving of this contract and is one of the best hitters in the league. I'm going to list some stats below that will hopefully make you realize just how special Yordan is at the plate and the potential he holds.
Yordan Stat #1: Since 2019, Álvarez has a 157 wRC+. This is the second highest wRC+ since 2019 behind only Mike Trout, and is ahead of Juan Soto, Aaron Judge and Fernando Tatis Jr.
Yordan Stat #2: Through his first 279 games, Yordan Álvarez has hit 76 home runs. This is an incredible pace for a player in the midst of his age-25 season. Looking at home runs per game for every player since 1947 through their age-25 season, Yordan Álvarez's home run per game pace is behind only Fernando Tatis Jr. and Ralph Kiner (1948-1949).
Yordan Stat #3: Yordan Álvarez has a career 153 OPS+. Since 1947 (the expansion era), that's the 14th highest OPS+ through a player's age-25 season; even higher than Willie Mays and Hank Aaron through age-25.
Yordan Stat #4: Bringing things back to present day, Álvarez currently leads baseball in expected weighted on-base average and has a 62-point gap between his wOBA and xwOBA, meaning he has not even reached his production ceiling this season.
Yordan Stat #5: Yordan Álvarez has a 63.7% hard hit percentage. Not only is that the highest hard hit rate in 2022, but is currently the highest hard hit rate ever in the statcast era (since 2015). Aaron Judge owns the highest full season hard hit rate: he had a 57.9% hard hit rate in 2021. No one is better in baseball at consistently hitting the ball hard than Yordan Álvarez.
Yordan Stat #6: Álvarez has hit a home run about every 15 plate appearances. Assuming he stays on this pace and reaches 600 plate appearances in each season, he would average 40 home runs per season and could reach 500 career home runs by age-36. Assuming a lot, but he has a real shot!
The Yordan stats can go on and on, but I will leave you with that for now. Just know that Yordan Álvarez is a generational hitting talent and has a chance to be among the best hitters this game has seen. It sounds hyperbolic, I know, but he is the real thing.